1. I used several strategies to save on white tees
Now that it's colder, my short-sleeve white scrub tops are feeling a little too breezy.
Luckily, we ARE allowed to wear a plain white long-sleeved tee underneath our scrub tops. Yay!
Unfortunately, I only own one white tee. Boo.
Soo, I logged onto Lands' End to take advantage of a sale, and I found several marked-down tees that would fit the bill.
I added them to my cart and then remembered to go to TopCashback to get 4% back on my purchase.
My cart total was only $5 away from free shipping (which otherwise would have cost $9).
That was a no-brainer, so I added a 3-pack of clearance socks to my cart.
Then I made sure to select the slow, free shipping at checkout. My stuff won't get here for a bit, but that's fine. I will patiently wait in order to save $9.
In the meantime, I will just strategically plan my laundry to wash my one tee. 😉
2. I used Upside to get gas for $2.99/gallon
I was going to fill up at Royal Farms, which is my usual spot, but then I noticed that my Upside app had an offer that made the Shell gas $2.99/gallon, which was even cheaper than Royal Farms.
SWEET.
My gas tank was pretty low, so I got to take full advantage of this sub-$3 price.
In case you've never heard of it: Get Upside is a gas savings app that gives you cash back on gas purchases. As with many apps, it gives you super awesome deals at first, and then the deal quality goes down a bit.
But sometimes they send good offers, even for older customers like me!
Which is how I got my $2.99/gallon price.
I have an invite code that will give you an extra $0.15/gallon discount when you sign up (and I will also get a $0.15/gallon discount). Just use code 97N2J when you make your account.
Or if you click this link to download the app, the code should already be embedded.
3. I ordered a backup pair of walking shoes
I recently told you guys about the Altras I've been wearing for walking. Well, I paid something like $140 for my first pair, from a local running shop, and when I looked up the link for you guys recently, I noticed that they were on sale on the Altra site for $112.
As I thought about that, I wondered if maybe they are going to discontinue this shoe!
So, I decided to order a backup pair. $112 is a much better price than what I paid initially, and this way I'm guaranteed to have another pair of the shoes I like.
And since I'm still managing to walk about 100 miles each month, even in nursing school, I know my current Altras are not going to last me forever.
4. I got a rotisserie chicken for $3
I was at school from 8:00-5:30 yesterday, and I knew I wasn't going to feel like cooking after that. So, when I made a menu, I planned to get a rotisserie chicken.
Before I went into Safeway, I opened my app to do a quick scan of the deals and I found a $5/$5 purchase coupon in my account.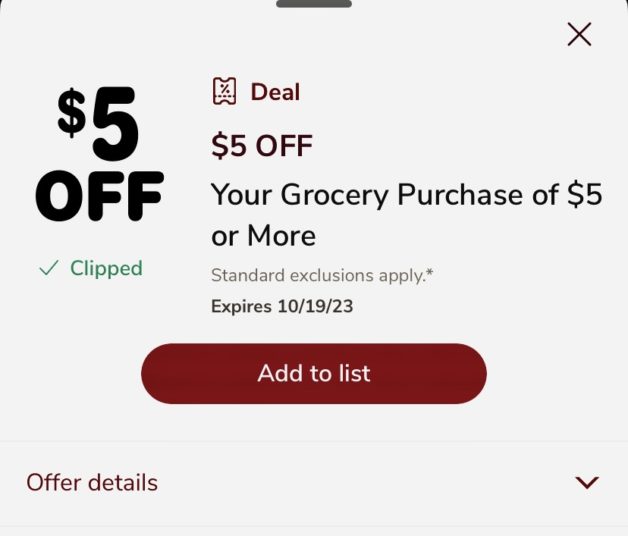 SWEET.
So, my chicken only cost me $3.
We ate it for dinner last night with sweet potato fries, and tonight I will make a small batch of chicken and biscuits with the leftover meat.
Annnnnd of course I will use the bones to make some of this chicken broth.
5. The usuals
I…
made coffee at home
made a batch of this granola
packed my lunches
I used up odds and ends for breakfasts and lunches
Your turn! What frugal things have you been up to lately?
P.S. If you open a new account with TopCashback through this link (or the one earlier in the post), you should get a little sign-up bonus, and so will I!