1. I bought a Luna Guard
My dentist told me it looks like I grind my teeth at night (whoops) and she recommended a Luna Guard.
So, I ordered one, molded it to my teeth, and I'm two nights in to wearing it.
This cost $26, but I consider it to be an investment in my dental health, which should save me from expensive and painful dental issues down the road.
And $26 is way cheaper than a custom-made night guard.
I don't think it's the most comfortable thing in the whole world, but then again I've never worn a dental appliance in my life, so I figure this will just take some getting used to.
(Has Mr. FG had to listen to me complain about it both nights so far? Yes.)
2. I gave Zoe a hair trim
Over a year ago, she had a style that involved one side of her head being buzzed pretty short.
She got tired of that and ever since, she's been in the process of growing it out. Obviously, those hairs are a step behind all the other ones.
She wanted to cut some of the longer back hairs to help even things out, so I gave her a quick trim.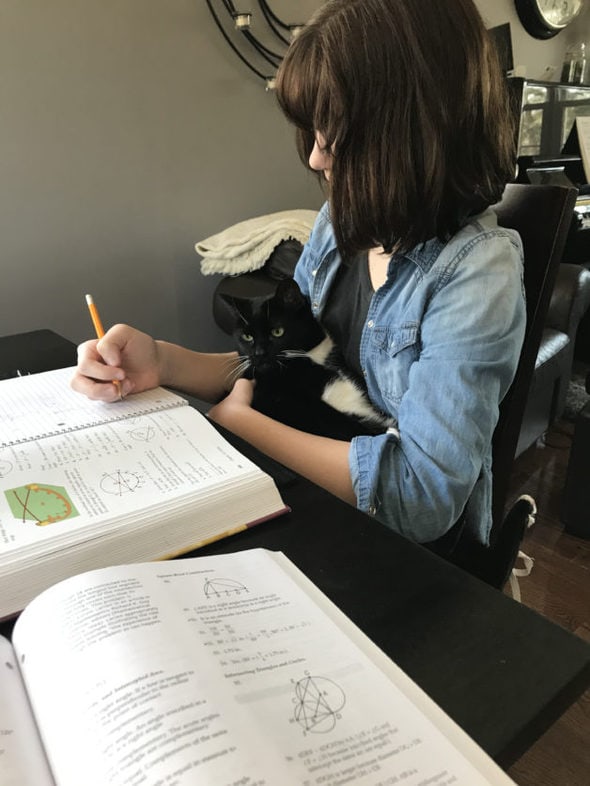 Normally I am loath to cut her hair, because it is so, so thick.* But she currently has an undercut all around the back, and that's brought her hair level down to a more manageable thickness. So I said yes when she asked.
*It is not possible to overstate how thick her hair is. Even if you buzz her undercut with no guard, her skin is barely visible. Without the undercut, it is extremely difficult to get her hair into a ponytail at all, much less a bun. As a person with rather, uh, skinny hair, I am quite jealous of Zoe!
So, $0 output, and now her previously buzzed hairs are that much closer to matching the rest of her hair.
3. I had an extremely random lunch yesterday
It consisted of:
the last four slices of lunch meat
the last of the sliced cucumber
the last of the sliced strawberries from Lisey's birthday
half a banana
a grilled cheese sandwich to use up the ends of a loaf of bread
a slice of chocolate cheesecake from Lisey's birthday (this was not a sacrifice)
No one would put all these things together on purpose, but hey, it worked, and I used up a bunch of random stuff.
4. I helped Zoe save 5% on a Target order
She wanted to spend some of her clothing budget, so I let her use my Target debit card to save 5% off her order, and then she just paid me back.
5% is not a lot, but when you are 15 and have limited funds, every little bit helps!
5. We un-froze the freezer coils. Again.
Someone has kept on not shutting the freezer door all the way at night, and then in the morning, everything is frosted over, including the coils.
So then the freezer stays cold, but the fridge won't cool.
This has happened several times in the last year, and despite everyone being in the know about this problem, it has still kept happening.
(we could perhaps blame it on the cat?)
I looked for a freezer door alarm, but the ones I found don't seem like they would work with the way our freezer is set up (it's a bottom drawer).
Anyway. Mr. FG and I are getting good at taking the freezer apart at this point, and it is significantly cheaper to do this ourselves than to call someone else to do it.
Still, I hope the mysterious household member can remember to shut the door all the way.
Your turn! Share your frugal five in the comments.