This week, I am thankful:
that we are halfway through the spring semester
I am enjoying my biology class and lab, but those two classes are definitely eating up a lot of my time. So I'm glad to be halfway through.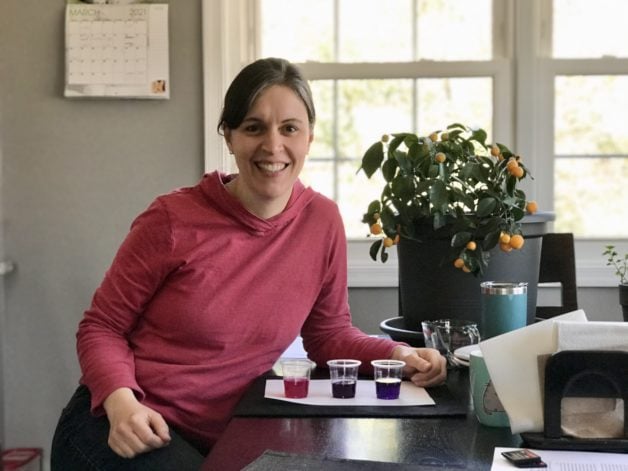 that I'm doing well in my classes
I had some trepidation about this after such a long college break, so I'm thankful it turns out I can still keep up with all the young people. 🙂
that my lab professor is so lovely
She has such enthusiasm for her subject, which makes her a very engaging teacher.
Also, she does a very good job of teaching online (and online teaching is a special art!)
that Sonia and I can laugh together about funny things in class
One of our lab classmates is always doing something unpredictable in class…like, two weeks ago, he was at the gym, riding a stationary bike and then walking on a treadmill, and the sight of him bouncing up and down in the camera was so funny.
You'd have to see it to appreciate it, which is why it's fun to have Sonia in class with me…she did see it! 🙂
for promised sun
Our yard was SO soggy yesterday from all the rain. But the forecast promises a bunch of sun in the next week.
that there are buds everywhere
The world is going to be green soon! And I am excited about that.
that Sonia's spring allergies are not as bad now
She's been getting allergy shots for the last few years and that has definitely eased her spring allergy symptoms.
that I'm going to be able to go to my brother's wedding in Boston
He's getting married in June, and when he first got engaged, I wondered what the traveling situation would be like. But I'm definitely going to be able to go, and Mr. FG should be vaccinated by then as well.
that this spring feels so much more cheerful
I know I said this in previous Thankful Thursday post, but it bears repeating:
as I see the signs of spring in the world, I keep remembering back to last year at this time and I keep thinking how glad I am to be in the spring of 2021 vs the spring of 2020.
for Zoe's hugs
She gives me very sincere hugs and I really like that!
that Sonia will be able to get her driver's license soon
This process has taken much longer than it would under normal circumstances, but in May, she's finally scheduled for a test. Yay!
for funny cats each week at the shelter
Sonia and I always find ourselves laughing at their antics. The really vocal cats especially crack us up.
for a good night's sleep
I was really, really tired when I went to bed last night, and I slept like a rock.
Thinking back to the years when my kids were little and I was up at night a lot really makes me appreciate the fact that I get to sleep without interruptions now!
And now I have to run to my online biology class.
What are you thankful for this week?