Hey, everyone! Rachel emailed me last week because Amanda's Meet a Reader post inspired her to want to participate too. And since Rachel sent her answers back so fast, here she is. 🙂
1. Tell us a little about yourself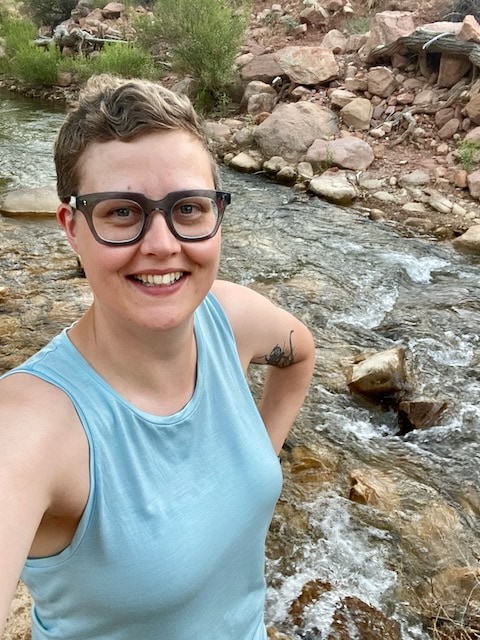 I'm a 39-year-old queer woman who lives in Salt Lake City with my partner and dog. I'm originally from the South, moved to the midwest for college and stayed for 19 years, and then moved here in June 2021 because of a work opportunity for my spouse.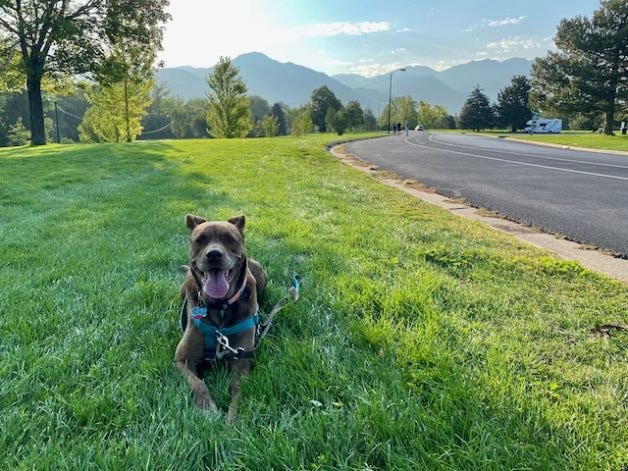 I'm a two-time cancer survivor, which has greatly shaped the course of my life for the last eight years and given me a deep well of compassion for people living with disability/chronic disease or going through an acute illness (because cancer is often all of those things, not just the latter).
I've worked in public health and healthcare for twenty years, and my experiences as a patient influence the impact I hope to have at work.
I also have many passions and hobbies outside of work. I'm a quilter-turned-garment sewist, I love eating and cooking (harder to maintain constant cooking enthusiasm though!), and I've recently resumed reading for fun.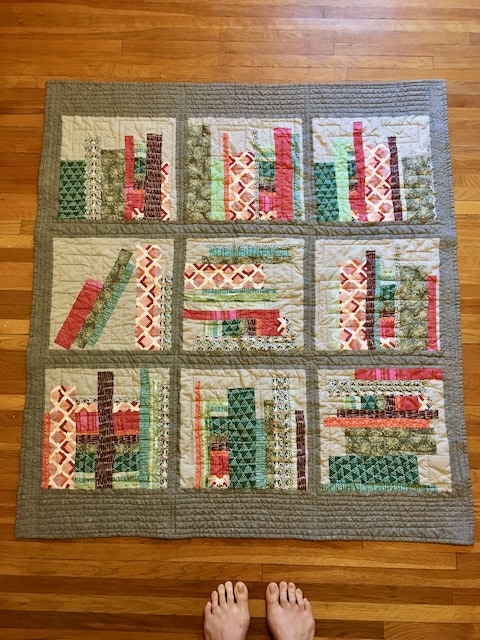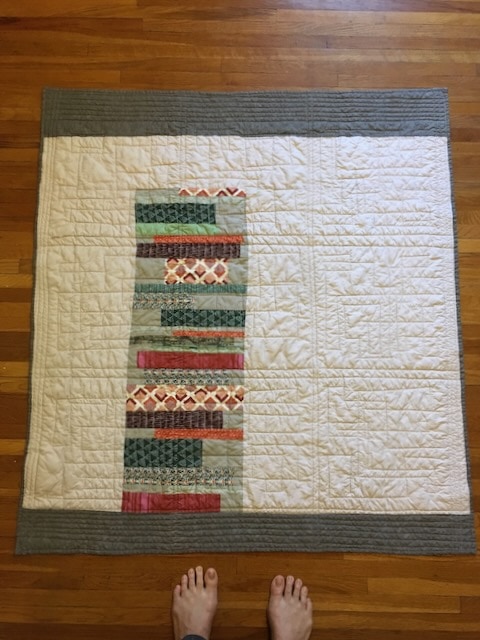 I absolutely love lifting weights, and I'm pretty active outdoors year-round (walking, cross-country skiing, and biking are my favorites).
2. How long have you been reading The Frugal Girl?
I think I've been reading for over ten years now! All four of Kristen's kids were little and participating in the annual Christmas cookie decorating activity.
I can't remember if I initially found it after searching for baking recipes or frugality – maybe it was both!
I was also reading other personal finance blogs at that time, but Kristen's is the only one I have stuck with because it is clearly the best. I love her vulnerability, practicality, insight, and perspectives on contentment.
3. How did you get interested in saving money?
Growing up, money was always a huge stressor.
I'm the youngest of four children and there's a significant gap in age between my older siblings and me.
My father had his own business and was an amazing craftsman but not the savviest businessman. My mother was a professor at a major university but never got her Ph.D./tenure, so her pay was lower than her peers and her job security was always a little theoretically tenuous.
We were never poor – I always had a home, heat, food, and clothing – but we always had to be careful and it sometimes felt like disaster was lurking just around the corner. I could see how much energy and time it took my mother to manage our household within the means we had.
As my older siblings grew up and went off to college, I could also see how my parents' lack of financial savvy was impacting my siblings' money trajectories.
4. What's the "why" behind your money-saving efforts?
Given how stressful money was for my family growing up, I wanted to avoid being in that situation. But I didn't really develop a personal compass around money until after I got dumped by my ex-girlfriend (nearly married) six days before starting my graduate program and had to completely rework my finances and student loans to be able to continue my plans without her.
The next two years were a whirlwind but after I graduated, I was ready to try to be as conservative as possible with my spending to begin to save and invest and to reach some financial goals like buying a house and paying off debt.
Now, my "why" is that I don't want to work for institutions or people that don't align with my values. I want to be work-optional and choose work that really fills my cup.
I also want to be able to give generously to friends and acquaintances in need. I've been the recipient of such generosity and want to pay it forward.
5. What's your best frugal win?
I don't feel like I have a best "frugal" win, per se, but I do think one of my superpowers is negotiating salary.
There's only so far you can cut down your expenses, so increasing your income is another way to accelerate living within your means.
Sometimes you have to leave a job to get paid more because it's often much harder to negotiate big raises once you are in a system.
I always negotiate my salary while considering an offer, and have spent a lot of time mentoring other people in my life who have been marginalized because of their identities on how to effectively negotiate.
Since 2012, I have increased my salary by 270% (i.e. I now get paid 2.7x what I did 2012).
6. What's an embarassing money mistake you've made?
I bought a used car from my sister that she'd bought from my grandparents. It was only $800 but it immediately had major mechanical failures right after I acquired it and I sunk well over $3,000 into it.
I think she was just as surprised and sad about that as I was.
Now I spend a lot of time researching cars for their reliability and longevity before I buy them, and I don't buy them from loved ones! I also plan on driving the car I have now – a 2018 Subaru Forester – as long as I possibly can.
Unlike when I was in my 20s, I now am fastidious about regular maintenance and cleaning to extend its lifetime.
7. What's one thing you splurge on?
High-quality kitchen gear, though I will buy used/discounted when I can.
For example, I found a brand new, blue 5.5 quart Le Creuset dutch oven that had a miniscule chip in the lid, and it was marked down over $150.
It was still very expensive, but I use it almost daily and it gives me great joy every time I do! Being frugal in other areas allows me to make spontaneous decisions like this when the opportunity arises.
8. What's one thing you aren't remotely tempted to splurge on?
Makeup, hair, spa treatments, etc., and other things that are gendered and are marketed towards women to make them feel like they are "worthy."
9. If $1000 was dropped into your lap today, what would you do with it?
I would probably invest all of it in our Roth IRAs (one is fully funded, we're still working on the second one).
10. What's the easiest/hardest part of being frugal?
I don't find it particularly easy to be frugal, but I do find it worthwhile. I love seeing the progress toward our goals.
The hardest part is having to say no to friends about hangouts that don't align with our plans for how we want to spend our money. It helps to tell them what our goals are and why, and many of them are flexible about changing the plans to be more in line with our needs.
Friday night homemade pizza with our neighbors is one way we've modified plans with them to spend less money on going out! We each make two pan pizzas and bring our own beverages.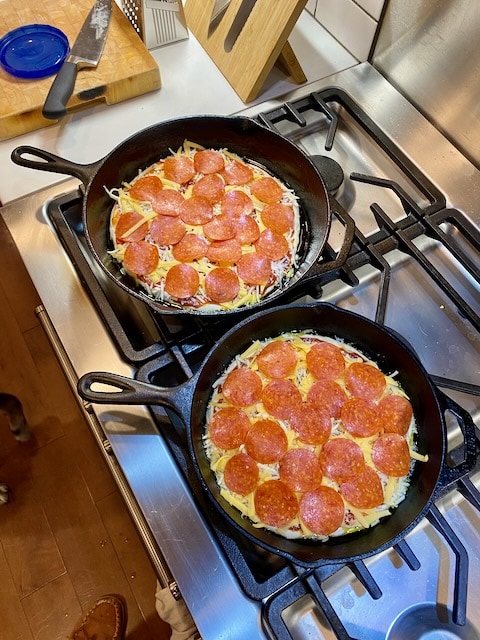 11. Is there anything unique about frugal living in your area?
We live in a state which abounds in outdoor recreation opportunities.
Salt Lake City is nestled between two mountain ranges and one of them has several canyons where people run, camp, mountain bike, hike, ski, snowshoe, and more.
Downhill skiing is not a cheap endeavor (entry to resorts is expensive and so is gear!), but hiking, camping, snowshoeing, and cross-country skiing are much more affordable and/or can be free.
There are also five national parks in Utah, and those are relatively cheap to visit (especially if you buy a national parks pass!).
On the way up the famous Angel's Landing hike at Zion National Park – I made it to the top!
12. What frugal tips have you tried and abandoned?
Coupons, apps like Fetch, Rakuten, etc. I don't love having all of my spending habits tracked by those apps and I felt like I never could do enough to earn rewards. Not for me!
13. Which is your favorite type of post at the Frugal Girl and why?
Literally all of them? Really!
I love the Five Frugal Things posts because they validate and make visible all the small actions I take daily that help save money (Like Kristen, I'm really good at fighting food waste.)
I also really appreciate Kristen's posts that are more about her life and the struggles she is experiencing, because they are always, always relatable on one level or another.
14. What single action or decision has saved you the most money over your life?
Starting to use YNAB (You Need a Budget). I have so much clarity about my/my partner's spending, and I love how I can continually tweak our budget to align with our priorities, which have changed over time! In three years my partner and I have increased our net worth by 5,682.8%! Yes, you read that right.
Clearly, there were many things that factored into that improvement, but cutting out credit card float (i.e. spending money that you don't actually have yet on a credit card), tracking and monitoring our spending, and aligning money to our goals has significantly accelerated our progress.
15. What is something you wish more people knew?
Unsolicited advice is exhausting and harmful, in just about every realm of life, from being a cancer patient to being the new person at a gym.
If you don't already practice asking for consent before giving advice, I implore you to do so!
16. How has reading the Frugal Girl changed you?
Kristen's consistent writing about contentment, gratitude, and resourcefulness has greatly impacted me.
Even though I don't always succeed, I attempt to embody gratitude and strive for contentment with more frequency than I used to, and I attribute that to her!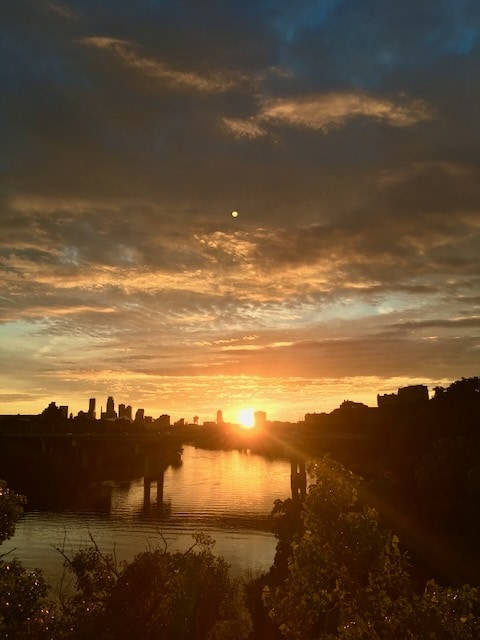 Additionally, in a cancer camp I went to, I learned about the concept of "beauty emergencies." I feel like Kristen captures these all the time with her Thankful Thursday posts and the small things she notices in nature that are strikingly beautiful.
__________
Rachel, thank you for sharing! I am impressed that you love weightlifting (I do it begrudgingly) and I am so happy for you that you've beaten cancer not once, but twice.
I can just imagine how that gives you a sense of appreciation for the life you've been given.
Can you tell us more about the concept of "beauty emergencies"? I'd love to hear!
Also, I am touched to hear that my posts have inspired you to look for the beauty in the world. Yay!
Readers, the floor is yours!
P.S. I don't have any other reader interviews in the queue right now*, so if you want to participate, let me know. Or if you've already emailed me got the questions and have been meaning to send them back to me, send 'em on back and I'll get your post put together.
*If you did email me yours back and I just missed them, please let me know so I can go dig through my inbox and find them. 🙂