This is going to be a challenge because in the week since the last Five Frugal Things post, I was out of town with my blogging mastermind group for four days.
So, my frugal five are probably not going to win the "Most Exciting and Creative" award this week.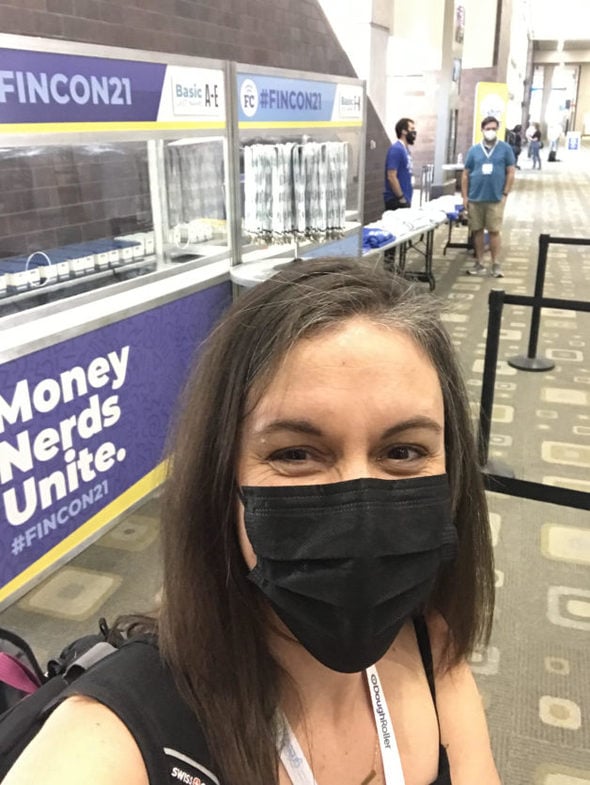 Let's see what I can come up with.
1. I used a $10/$20 Venmo offer at CVS
I have never used Venmo in a store before, but they've sent me some in-store offers this week.
So, I picked up a few things at CVS, using the $10 cashback offer.
(Do I like 50% discounts? Yes, yes I do!)
And there's also a $10/$10 Panda Express cashback offer in my Venmo app, so as long as this CVS one comes through without a problem, maybe Mr. FG and I will go to Panda on our date night this week.
2. I split Uber rides with my friend Whitney
Her plane got in last Wednesday about two and a half hours after mine.
Since I thought 2.5 hours of quiet time at the airport sounded like not a terrible punishment (!), I waited for her to arrive and then we picked up an Uber together to the hotel.
And on the way back, we rode together again, although this time she had to wait an extra hour.
(Whitney is the podcaster behind Money Nerds, and you can read all about her here.)
3. I used some Erie Your Turn rewards* to buy a coffee
One morning, we hit up the Starbucks in our hotel, and I redeemed some of my Erie rewards for a Starbucks gift card.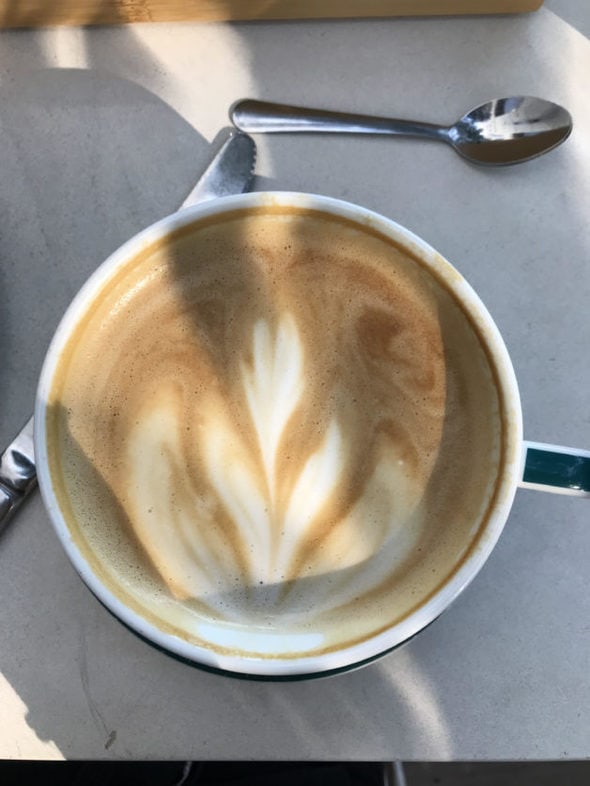 Amazingly, they had a cinnamon dolce latte available; every other time I have been traveling this year and have tried to get one, it's been unavailable.
I shared my delight with the barista and she seemed extremely unimpressed with my joy. Heh.
But that's ok; I texted Lisey (a fellow cinnamon dolce lover) and she understood my joy.
*Erie is my car insurance provider, and they have an app that gives you gift card rewards for safe driving. If you have Erie, ask your agent about the app!
4. I split a hotel room with Whitney
Splitting a room = instant 50% discount.
Also, I love hanging out with Whitney, so sharing a room with her was like having a super delightful multi-day sleepover.
Cheaper, plus way more fun? Such a win.
5. I brought some snacks with me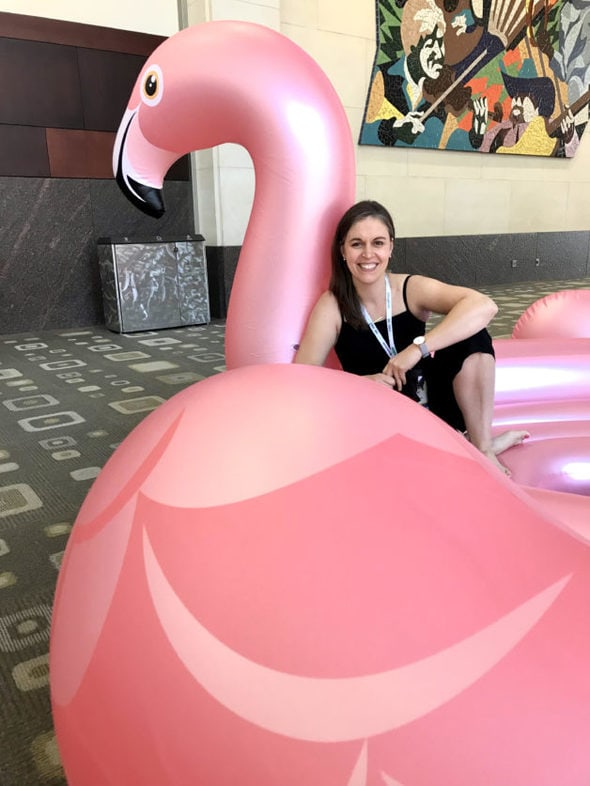 If there's a giant inflatable flamingo somewhere, you kind of have to get your picture taken in it
I am one of those people who doesn't just feel hungry if I go for a while between meals; I actually start to feel physically terrible.
This is not usually a problem because I am never far from my kitchen for super long periods of time. But when I'm traveling, this can be an issue. So, before I left for my trip, I went to Trader Joe's and bought some granola bars and trail mix packets to throw into my bag.
That way, I could make sure to have food available without needing to stop in somewhere (and pay more!) on my trip.
And a bonus one: while I did have to eat all of my meals out, I drank water almost every time (I got a bottle of Coke once), and I did not drink any alcohol.
I don't like the taste of alcohol, and besides, I want to go to sleep after a few sips, so I am extremely un-fun if I drink!
Because of this, I am inadvertently frugal at restaurants. 🙂
What frugal things have you been up to this week?