1. I modified my piano bench cushion
After I moved last year, my piano bench was having a hinge issue.
It's not the first time…this poor bench has been through the wringer. I bought it with my piano in 1997, and since then it has endured countless piano students, plus the abuse of my own four children.
So I took it for a ride over to my dad's garage.
My dad replaced the small individual hinges with a single long hinge that runs the length of the bench. And he did some serious reinforcing.
Because the new hinge had no gaps, the cushion ties could no longer run underneath the lid from front to back.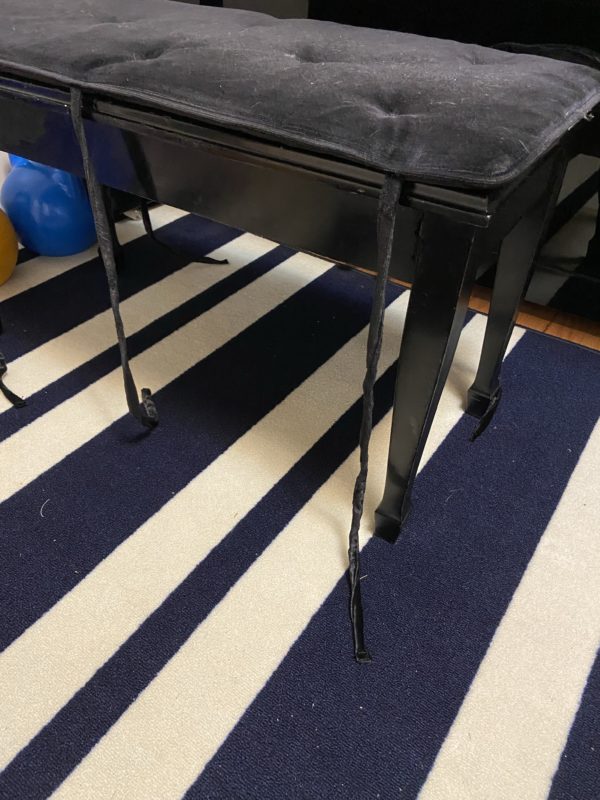 The cushion was sort of useless this way, so I decided to attempt a modification.
I cut all the ties off, leaving me with six.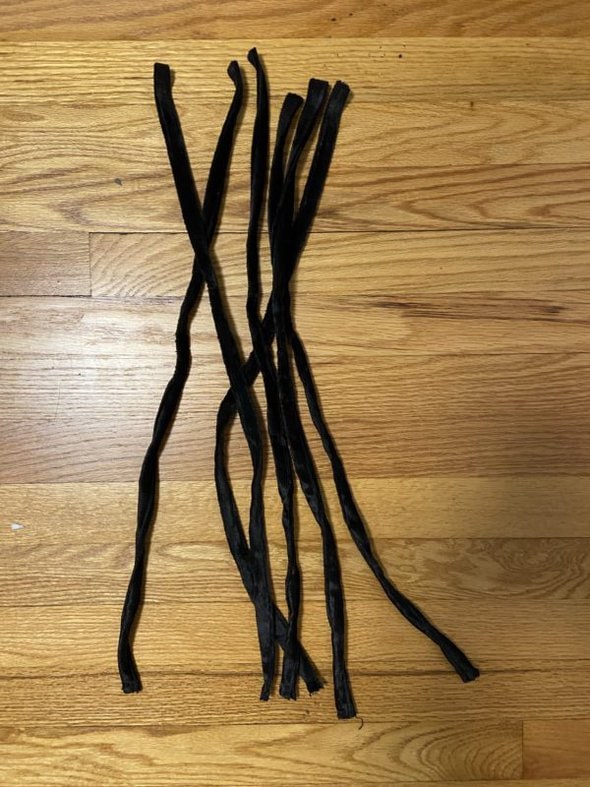 I wanted them to run under the bench longways, so I sewed the first four together, two at a time.
But then I realized, oh, I'd better not sew the last two together, because I needed two more ties, not just one!
I poked through the jar (a repurposed candle jar) where I keep ribbons that I've saved, and I pulled out some black ones that I think came with a blanket I'd bought.
(You know how blankets are often packaged with a wide ribbon holding the labels on? Click here to see what I mean. I usually save those ribbons!)
I cut the velcro parts off and then sewed two ribbons to the remaining two original bench straps.
Then I hand-sewed them all onto the cushion (it was too thick to use the machine.)
And I'm happy to say my fix works! My bench cushion is back in business.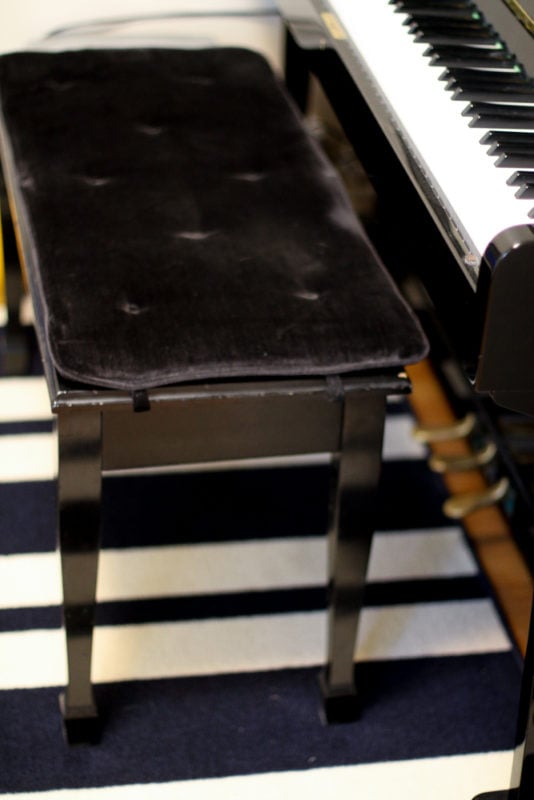 I love low-stakes projects like this; the cushion was no good as-is, so I had nothing to lose by trying to fix it.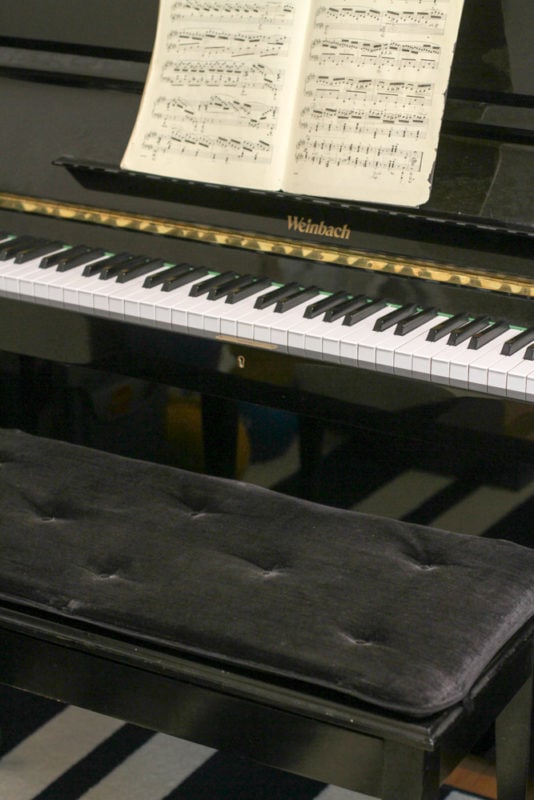 Click here to see another way I reused some ribbon I saved from a bedding package. It's a serious throwback! Scroll toward the end of the post to see the ribbon part.
2. I got a bottle of Fray Check for my shorts
I have this pair of Old Navy shorts that was inexplicably fraying a LOT by one of the seams.
You've seen these shorts before when I showed you my Converse.
I thought I had some Fray Check, but it must be at my other house.
So, I popped into Jo-Ann's, loaded up a 40% off coupon on my phone, and got a fresh bottle of Fray Check for a couple of dollars.
(You can see Fray Check on Amazon here, but you will get it cheaper by going to a craft store and using a 40% off coupon.)
I used it on the shorts, and now I should be good to go.
3. I fixed my Vans again
Remember how I sewed up the side split last year?
Well, the fabric frayed and so my stitching had now come undone.
Sooo, I stitched it up again.
And then I brushed on some Fray Check to keep my new repair job from getting destroyed again.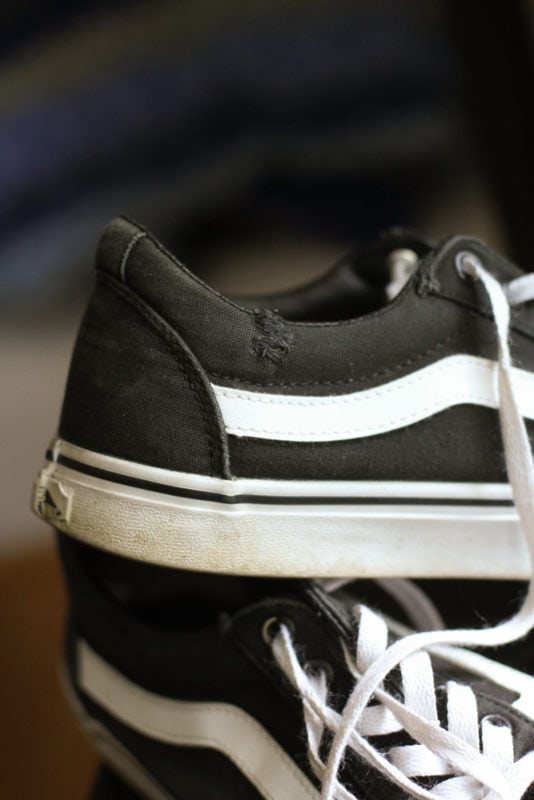 I also brushed some Fray Check on a spot on the other shoe, to help prevent it from splitting in the future.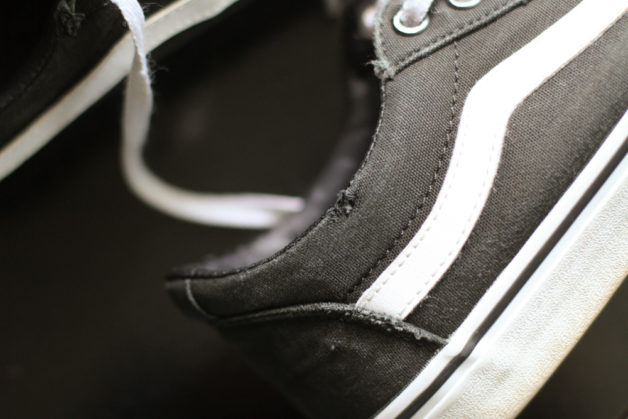 I know these Vans are nearing the end of their useful life, but…I like to squeeze every bit of life possible out of my stuff. 😉
4. I got a pair of kitchen scissors for $5
Kohl's sent me a $5/any purchase coupon for my birthday, so I popped in and picked up a pair of kitchen scissors.
They were originally $10, so my coupon brought them down to $5.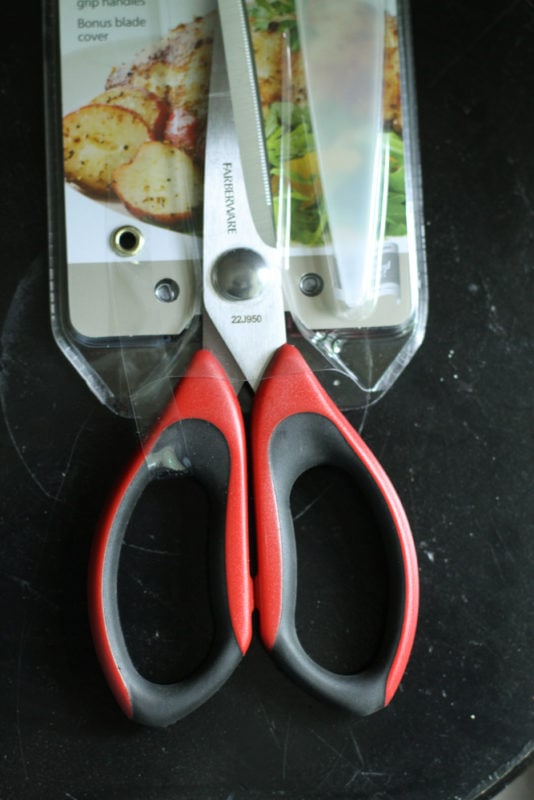 I already had one pair for kitchen use, but it's really nice to have two pairs; that way when one is dirty, you still have one available!
5. I…
used up some green onions in my breakfast potatoes
planted the green onion ends so that they will regrow more onions
Your turn! What frugal things have you been up to?