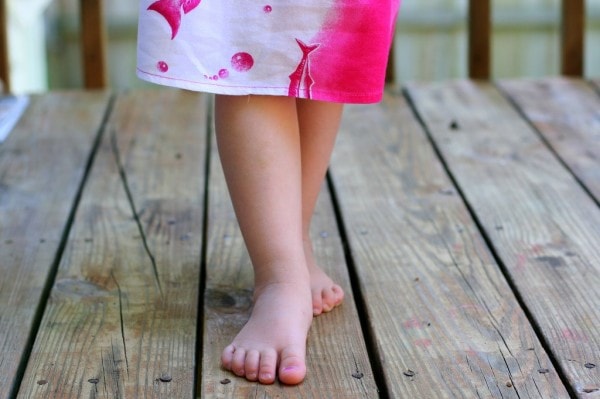 This project has been a long time coming. Last fall sometime I spied a dress at Goodwill and it caught my eye because of the fish print (in case you're new around here and aren't aware of this, Zoe is completely and utterly obsessed with fish and really, with any animal that lives in the water).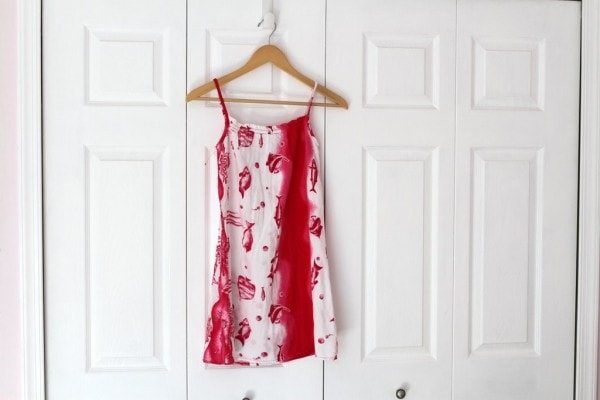 It wasn't in particularly good shape (some of the seams were coming loose, the elastic at the collar wasn't very stretchy, and the elastic casing was coming apart.). So, I exercised my new haggling skills and managed to pay $1 for the dress.
The dress was way too big for Zoe (really, it was a little too big even for Lisey), but I figured that I could modify it and make something that would work for Zoe.
But you know how good intentions are.
The dress sat in my office closet all winter long, taunting me.
Happily, summer is here, formal homeschooling is over for the year now, and I have some free time (or at least something close to that), so I dragged my sewing machine out of the closet and gave this a go.
I didn't use a pattern for this and kind of figured it out by trial and error (mostly error, it seems! If I ever do this again, it'll be a lot easier.)
Using a dress of Zoe's, I traced out the basic shape of the dress and cut it out. I sewed two new side seams, a new neckline seam, and then I ironed over the edges of the armholes and sewed those.
Using some of the extra material I'd cut off the dress, I made some casing (I think that's what it's called!) to use for the straps of the dress.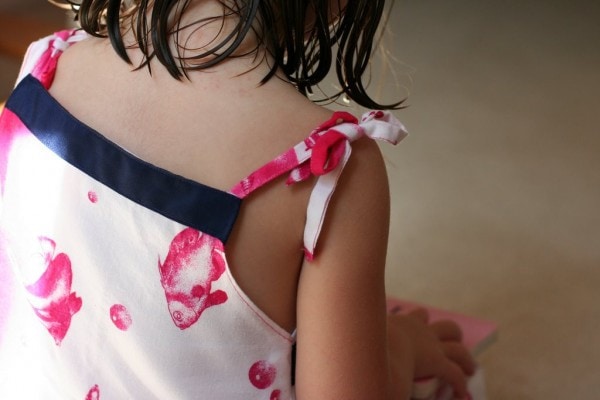 After I finished with that, I was still kind of unhappy with how the dress looked. Dresses without a waistband are super easy to make, but I don't really like the way they just hang shapelessly. Plus, my topstitching on the necklines wasn't super-duper straight.
So, I rummaged in my scrapbooking drawer and found this.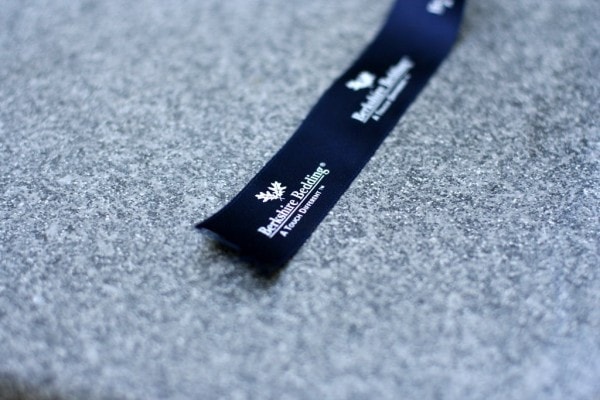 This ribbon came with a fleece sheet set we gave Sonia at Christmastime, and I'd saved it in hopes that I'd be able to use it for scrapbooking purposes.
Obviously, I wasn't hoping to emblazon my scrapbooks with the Berkshire Bedding logo…no, what tempted me to keep this ribbon was the plain underside. It kind of reminded me of grosgrain ribbon, and I couldn't bear to throw it away.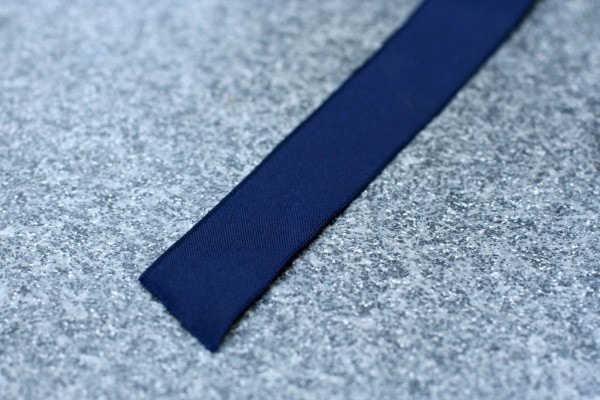 First, I sewed a strip at the neckline, but the dress was still looking a little too shapeless, and the one strip of blue ribbon looked kind of random. So, I scrounged up another piece and much to my delight, I found it was long enough to make a sort of faux waistline for the dress.
Ahh, much better!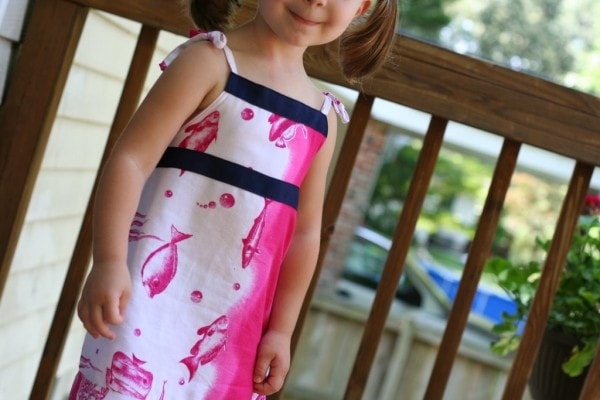 As you can see in one of the previous pictures, I also used a piece to trim the back of the dress.
My final problem was that the dress ended up being a little shorter than I wanted it to be. Fortunately, I had not hacked up the strip of fabric I cut off of the bottom of the dress, so I simply reattached it (I tried gathering it, but I didn't have enough fabric).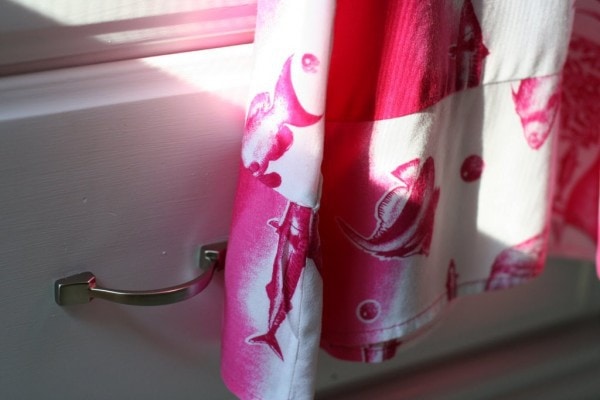 I actually kind of like it this way because it gives the bottom of the dress more interest.
So, what does Zoe think?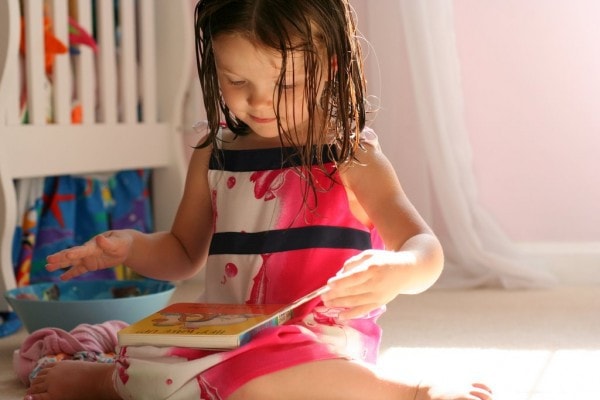 She's very pleased.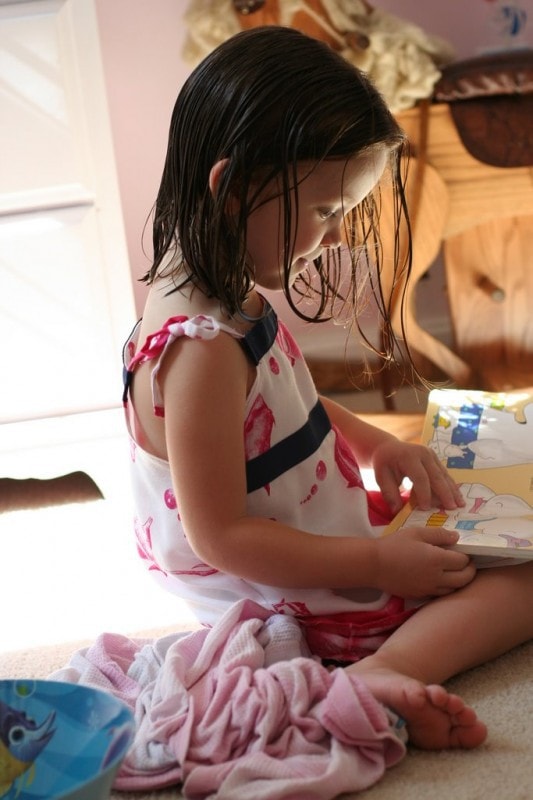 Since the armholes on this dress are pretty big and the straps are infinitely adjustable, I think Zoe will get several summers of wear out of this dress, much like she has with her white dress.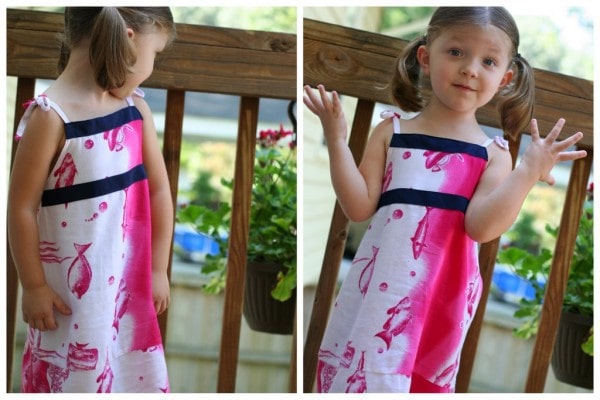 Who knows? It might even be a shirt for her someday.
This dress is all sorts of imperfect (my top-stitching wouldn't win any awards, some parts of it aren't exactly symmetrical), but I think that it's going to bring Zoe a lot of joy.
And me? I'm happy that she's happy. And I would be lying if I didn't also mention that I am ridiculously tickled by the fact that this project only cost me $1 and that it re-used two things that were previously pretty unusable (the packaging ribbon and the falling-apart dress).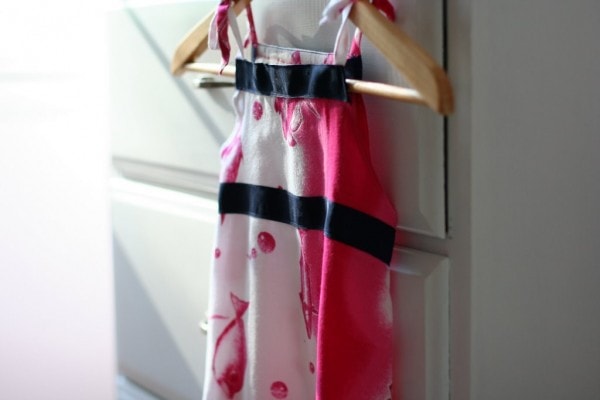 What can I say? I'm easily pleased. 😉