1. I got a free 1962 mirror
From where? The Buy Nothing group OF COURSE.
I thought it was going to be just your run-of-the-mill type of mirror, but this thing weighs over 30 pounds, and the label on the back says it was made in 1962!
I wanted to hang it over my bed, but I did not want to risk a concussion from a mirror landing on me in the middle of the night.
So my dad brought his stud finder over, and mercifully, two studs were perfectly placed to hang the mirror.
When we toured Monticello years ago, the tour guide said that Thomas Jefferson tried to make a habit of hanging mirrors opposite windows, to reflect the light.
So, now I have a mirror hanging opposite one of my bedroom windows, and I'm delighted.
Most of the seals on my rental's windows are broken, which makes the windows a little cloudy and dark. And that means a little more light reflection is a very lovely thing!
2. I bought a refurbished ice cream scoop
We've been getting by with a spoon-as-ice-cream-scoop situation here, but we all know that eventually leads to bent spoons.
(No spoon is made to withstand the force of ice cream scooping forever!)
I saw that Cook's Illustrated recommended the Zeroll scoop, and since I wanted to buy one and be done forever, I decided to spring for it.
But then I saw that there was an Amazon warehouse refurbished scoop for $19, so I ordered that one.
It's only a $5 savings, but it did make the scoop price point slightly more reasonable.
3. I got some free drill bits and screwdriver bits
I had a drill already, but no bits. Lisey has a set of bits I can borrow anytime while she's here, but obviously, she (and her tools) are only a temporary presence.
And even she doesn't have any screwdriver bits.
I almost stopped in at Home Depot to buy some for myself, but then someone on the Buy Nothing group had a few bits and screwdriver heads they no longer needed. Yay!
This isn't quite a full set, obviously, but it's more than I had before, and I'm especially happy to have screwdriver bits.
4. I bought snacks for my plane trip
I stopped in at Aldi before my trip and got some granola bars and almond-filled pretzels, and I stashed them in my bag. So, I made it through three flights and lots of hours at the airport while only buying one meal.
5. I've been making iced tea
A gallon of premade iced tea is not terribly expensive at the grocery store, but it is not quite as cheap as making it at home.
Also, the tea I'm using is some loose-leaf that a friend gave me when she was moving. So, that means my homemade tea is very nearly free; I'm just paying for the water and the electricity to heat it, plus a little sugar.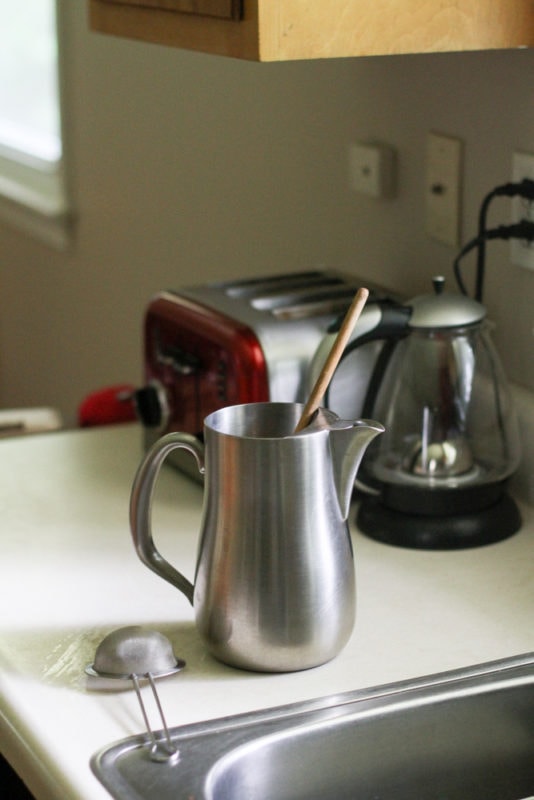 Incidentally, that pitcher is a $5 Goodwill find from some years ago. The brand is Walco, and apparently, it's a restaurant supply pitcher, which sells for $156 at Restaurant Supply!
Your turn; what frugal things have you been up to lately?