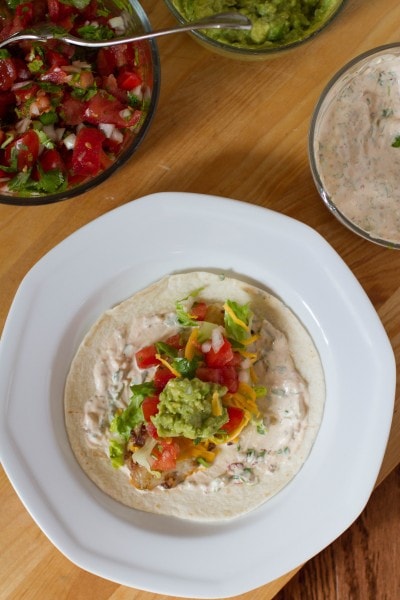 I've tried some fish taco recipes in the past, and I've always been put off by the deep-frying required.
Deep-frying is messy and stinky.
And fish is stinky too.
The combo is really not my favorite, and that's to say nothing of the not-so-healthy aspects of deep frying.
But a little while back, I tried some sauteed fish tacos at a restaurant and was pleasantly surprised at how good they were.
So when I saw a similar looking recipe in my America's Test Kitchen slow cooker cookbook, I tried it, tweaked it, and these easy homemade not-fried fish tacos are now a regular at our house.
While I did start with an ATK recipe, this has morphed into something nearly unrecognizable when compared with the original.
ATK's version is made with halibut, uses corn tortillas, is topped with a cabbage slaw, and is made in the slow cooker.
I use tilapia and flour tortillas, top the tacos with guacamole, pico de gallo, and sour cream (my family likes to add cheese too!), and I cook my fish on the stovetop.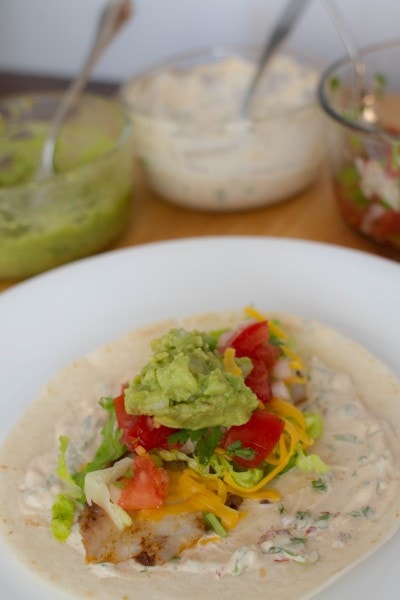 Still, ATK deserves credit for the bones of this recipe.
Tilapia is a lot cheaper than the fish ATK called for, but it is also thinner, which means that the cook times called for in the recipe would be thrown way off, so I wasn't sure a slow cooker would work for tilapia at all.
But given that I saute tilapia all the time on the stove in a skillet, I knew it would be simple to swap out the fish and the cooking method.
Like the kabobs I posted recently, this recipe uses chipotle chilies. In case you missed that post, I freeze my chilies on a plate and then transfer them to a zipper bag for easy access in the future. Highly recommend that!
Ok. So, first up, you'll make the sauce that goes on your tortillas. This is a delicious mixture of mayo, sour cream, chipotle chilies, and cilantro.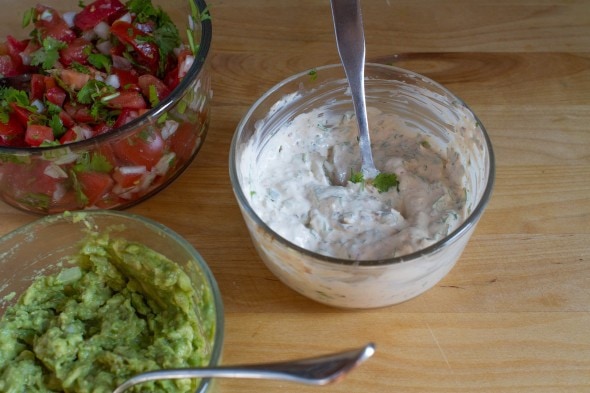 It's pretty spicy, so mostly only Joshua and I use this on our tacos. But we think it makes all the difference in the world.
More spice, he and I say. More spice.
Speaking of more spice, let's move on to the fish. You'll microwave some spices and some chipotle in oil (this blooms the spices, which makes them taste better). Then you rub this all over your fish.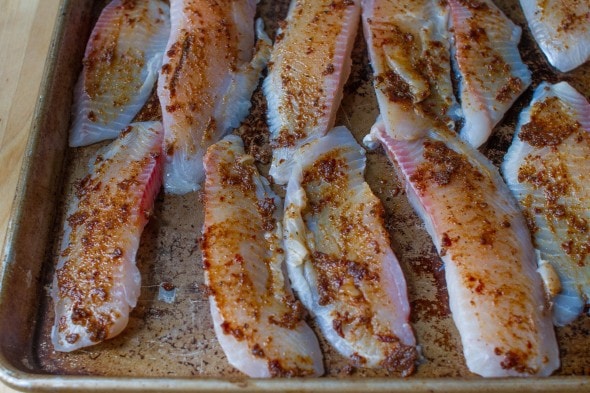 You know how tilapia fillets have a thick side and a thin side? Since the sides need different cooking times, I cut the fillets down the middle so I don't overcook the thin side while trying to get the thick side done.
Bonus: halved fillets are easier to flip!
I cook these in my All-Clad skillet, using oil to keep the fish from sticking. If you're more into fat-avoidance than I am (I feed a houseful of skinny people!), you can certainly use a nonstick skillet, though.
To use the oil method, place the pan on medium heat, add a tablespoon or so of oil, and heat for about 5 minutes. Then add a single layer of fish, and cook, flipping once, until the fish flakes easily with a fork.
This should only take a few minutes per side, and obviously, the thick sides of the fillets will take a bit longer than the thin sides.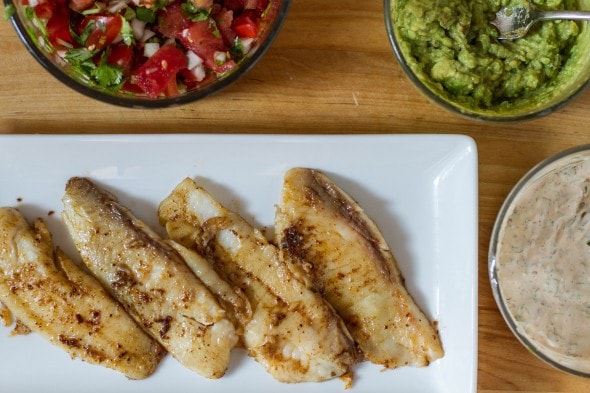 To assemble the tacos, spread a thin layer of sauce on a tortilla, top with a fish piece, and then add guacamole, pico de gallo, cheese, sour cream, or whatever manner of toppings you love.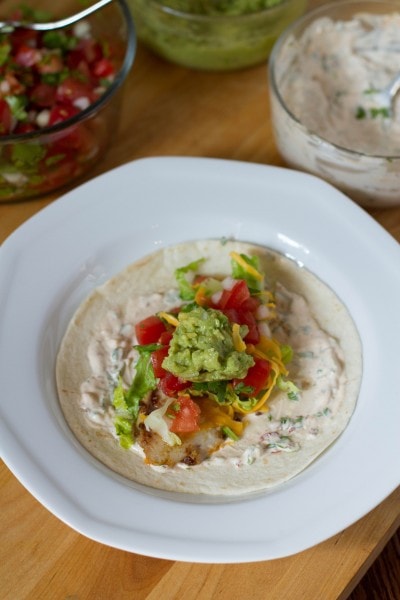 Of course, I feel that guacamole is an essential topping. 😉 Give me some guacamole, and I don't even care if there's no cheese or sour cream.
How do you like to top your fish tacos? And are you partial to the fried kind or the grilled/sauteed variety?
Easy Not-Fried Fish Tacos
Printable Not Fried Fish Tacos Recipe
Sauce
1/4 cup mayonnaise
1/4 cup sour cream
2 cloves garlic, minced
1 tablespoon lime juice
1 teaspoon minced chipotle chili pepper in adobo sauce
2 tablespoons minced cilantro
Fish Rub
2 tablespoons extra-virgin olive oil
1 tablespoon minced chipotle chili pepper in adobo sauce
1 teaspoon ground coriander
1/2 teaspoon ground cumin
1 teaspoon salt
1/2 teaspoon pepper
24 ounces tilapia fillets, patted dry
small tortillas, pico de gallo, guacamole, cheese, sour cream, or whatever other toppings you like
To make the sauce, combine all the ingredients in a small bowl; season with salt and pepper to taste.
To make the fish, in a small bowl, combine fish rub ingredients. Microwave for 30 seconds. Spread the spice mixture over the fish fillets.
Add a tablespoon of oil to a skillet and heat on medium for about 5 minutes. Add fish fillets in a single layer (you'll probably have to do two batches), and cook, flipping once, until fish flakes easily with a fork.
To assemble tacos, spread a thin layer of sauce on the tortilla, top with a piece of fish, and add other desired toppings.