Clearly, I never have that problem.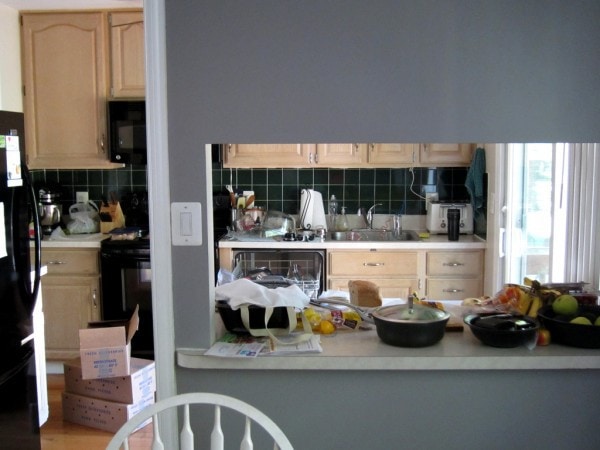 When it gets like this, I usually just tell myself to start somewhere, to clear one section of counter space.
And, one section at a time, it really does improve. It's not show-room clean, but in-good-shape-to-cook clean.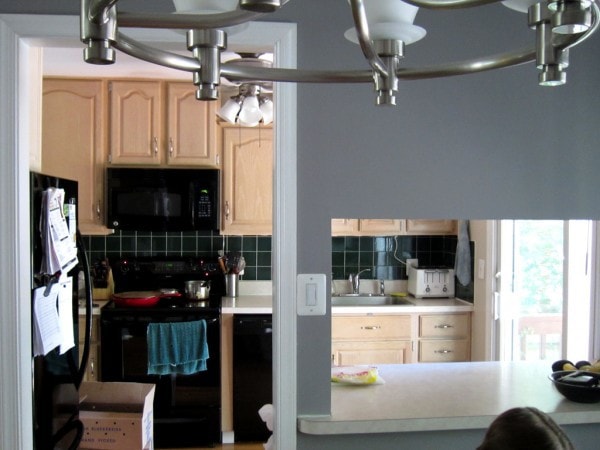 I feel so much better cooking in a space that's clean…when I have no clear counter space left, cooking stresses me out something fierce. I just hate having no place to set things down!
Of course, shortly after I took the second picture, I got my kitchen messy again and cleaned it up again.
It's the ebb and flow of life in a house that's well lived-in….get it messy, clean it up, get it messy, clean it up.
I don't like the messy part of that ebb and flow, but on the other hand, I wouldn't really want a house that never got messy because of what that would mean.
No toys on the floor would mean no children were there playing with them.
A consistently sparkling kitchen would probably mean that few meals were cooked there.
A perfectly neat bookshelf is pretty much only possible if no one reads the books.
A neatly folded blanket can't be used to make a tent.
A piano without fingerprints and sheet music would be a silent one.
A tidy, shelved bag of towels and suits belongs to a family that hasn't gone swimming.
Living is messy, isn't it?
But I want a home where lots of living is going on, so messy, clean, messy, clean, messy, clean is just where I'll need to be.