Wrapping Paper
When I posted about green and frugal gift wrapping options, I mentioned that I do use some paper for wrapping, and that I usually buy it after Christmas. Well, I did even better than that last week. During our weekly browse through Goodwill, the kids and I happened across a roll of wrapping paper from Target.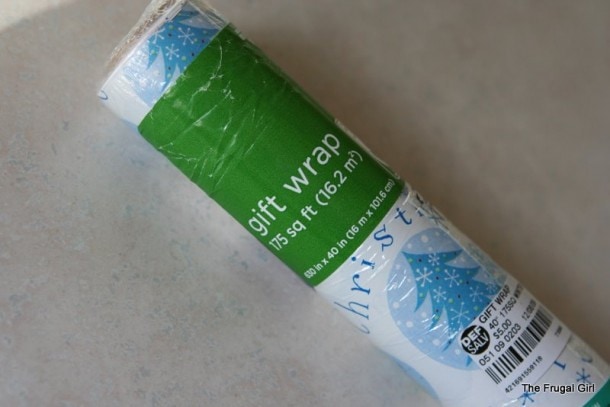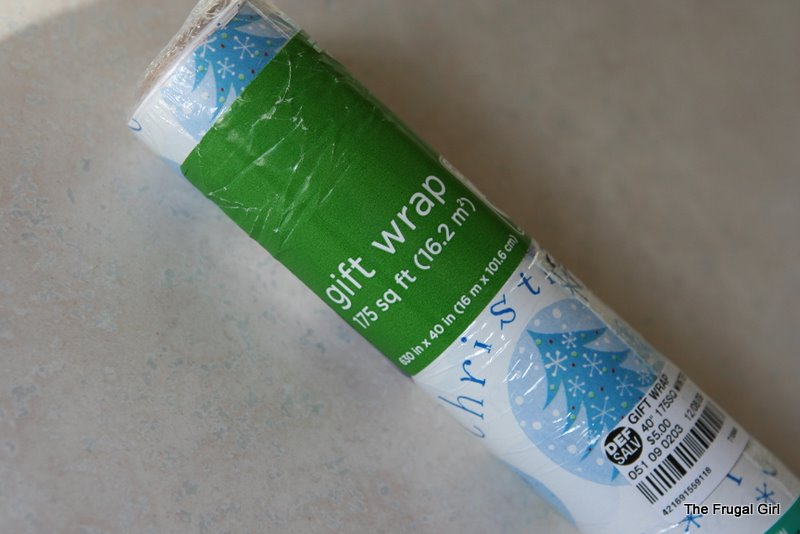 It was a little bit damaged.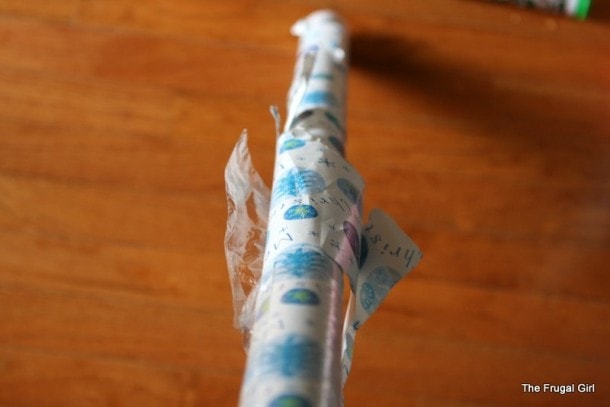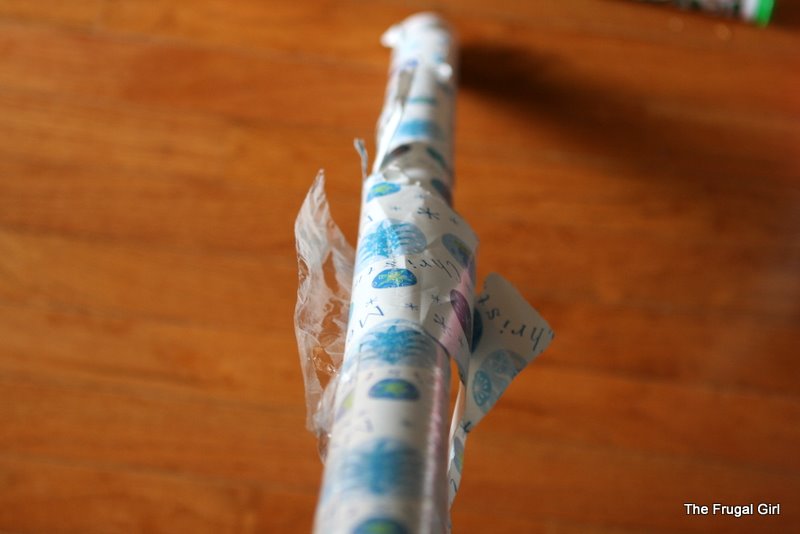 Which was no problem by me, because the roll was selling for a whole 50 cents. Yay!!!!
Yes, indeedy…that's my kind of price. Only the shrink wrap and a tiny bit of the paper was damaged. And wonder of wonders, the colors happened to be the sort that match my blue and silver tree quite nicely.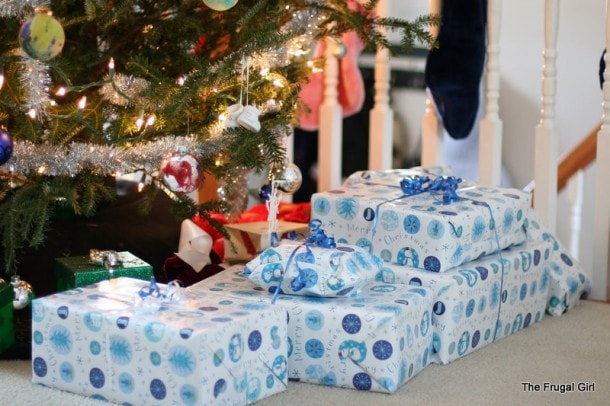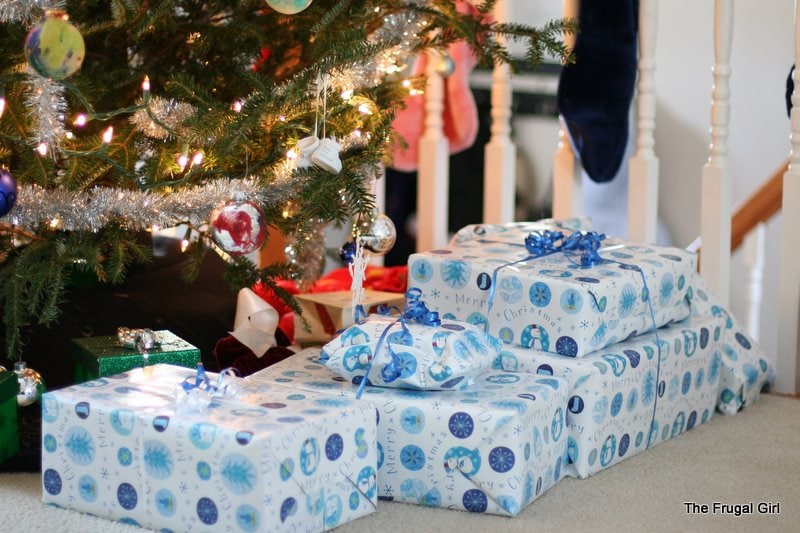 I'm 95% done wrapping my gifts, and the roll still has plenty of paper left on it. Happy sigh.
_________________________________________
Monkey Bread
When I posted the recipe for pull-apart garlic bread, a reader asked if I had a similar recipe for a sweet pull-apart bread, and I do. It's called Monkey Bread and it was actually the first Wednesday Baking post I ever did, almost a year ago now. And since it's an old post, it has the directions sprinkled in between the instructions. I now know that's really annoying, so today I'm posting the recipe in a text-only version.
This is a great Christmas morning treat because it can be assembled ahead of time, leaving only the baking for Christmas morning. (Overnight Cinnamon Twists are another good option because they rise overnight just like the Monkey Bread.)
Monkey Bread
Cinnamon Nut Sugar (recipe is below)
1 package active dry yeast(2 1/2 teaspoons)
1/4 cup warm water (about 110 degrees Farenheit)
1/2 teaspoon salt
1/4 cup sugar
1/4 cup melted butter
3/4 cup warm milk
1 large egg
about 3 1/2 cups all purpose flour
1/2 cup butter, melted
First, mix up the cinnamon sugar.
Cinnamon Nut Sugar
In a small bowl combine 3/4 cup sugar, 1 tablespoon ground cinnamon, and 1/2 cup finely chopped pecans. Stir until blended.
Next, sprinkle yeast over warm water; stir briefly and let stand about 5 minutes. Add salt, sugar, melted butter, milk, and egg. Stir until blended. Add 3 1/4 cups of the flour, one cup at a time, stirring after each addition.
Turn the dough out onto a lightly floured surface, and knead 5-7 minutes, or until dough is smooth and elastic.
Cut dough into three equal pieces; then cut each portion into 16 equal pieces. Shape each piece into a ball.
Roll each ball in butter and then in sugar mixture. Stagger balls in layers in a greased 9-10 inch tube ring mold(about 2 1/2 quart size).
Sprinkle with any remaining sugar, and drizzle with any remaining butter.
Cover tightly with plastic wrap. Let rise in a warm place until puffy(about 45 minutes) or in a refrigerator for 16-18 hours (I've let mine be in the fridge for only about 10 hours, and it's been fine)
If you've refrigerated the dough, let it sit on the counter at room temperature for about 30 minutes before baking. Bake the bread in a preheated 350 degree oven until well-browned, about 30 minutes.
Let the bread cool in the pan on a wire rack for 10 minutes, then invert it onto a plate. It will be quite hot at first, so let it cool down a bit before you dig in. Enjoy!