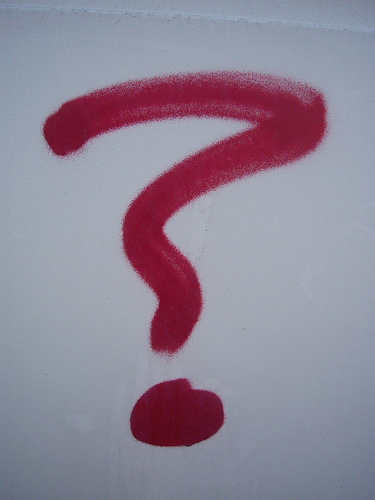 I've gotten a couple of questions lately via email and the comments section, so I thought I would just answer them all in one post!

Do you ever use margarine in your baking? I'm sometimes tempted by the margarine prices.
I really wish I liked margarine and I wish I thought it was as healthy as butter. The Aldi's ad this week has margarine on sale for $.67 a pound! Sixty-seven cents, people! The best I can do on butter as of late is $1.99 a pound, so butter is costing me a lot more than margarine would.
Alas, I despise the taste of margarine…I really hate eating it on bread, and I also am not a fan of it when it's used in baking(cookies made with butter rock!).
If I thought it was as healthy or healthier than butter, or if I had a dairy allergy, I'd probably find some way of getting used to the taste, but as it is, I'm probably going to remain a butter snob.
How did you learn to cut hair? I have never cut hair before & am pretty nervous about doing it.
Mostly I learned by trial and error. I started when my son was only one year old, so it didn't matter a whole lot if I made a mistake here or there. Basically I use a clippers with a 1/2 inch attachment to do the sides and back of his hair. I then use a scissors to cut the top of his hair. I hold small sections of hair up in between my fingers and cut the hair with the scissors. A WikiHow on it is here. And here's a blog post on a scissors-only method.
If you're lucky and your son doesn't mind having really short hair, you can just use the clippers all over his head…nice and easy!
To learn how to cut girls' hair, I took my daughter to a cheap salon and watched how they did it. The main thing I learned there was to pin up the top layer of hair and cut only the bottom layer first. I used to try to cut it all at once, and then my scissors would hop and skip and make an uneven line.
Can you use apple juice to make apple jelly?
Yes, although I've not done it myself. The recipe insert from the pectin box says the proportions should be 4 cups apple juice and 5 cups of sugar to one box of pectin. The instructions for cooking and processing are the same, though(the recipe for grape jelly is here).
Do you and your family ever eat out?
Very rarely. We used to budget $40 a month for this, but when we started to work harder on tightening our belts we decided to cut that out almost entirely. My husband and I have date nights every now and then, and we usually go out to dinner then. If we have gift cards to a certain restaurant, we go there, or we go somewhere inexpensive, like Five Guys. We also sometimes get a $5 pizza from Little Caesar's if I'm unable to cook(like if I'm sick or am away from home at dinnertime). Other than that, we just eat at home. It's more work, of course, but it saves us SO much money. Plus, I think the food I make at home is generally healthier than what we'd eat if we went out.
Thanks for the questions…keep 'em coming!
Photo by margaret