In September, Mr. FG and I took the girls on a rather last-minute trip to Myrtle Beach. We hadn't been in a couple of years, and Joshua wasn't free due to his college classes, but we decided to just head down with the girls.
Since it was last-minute, we ended up booking a condo we don't usually stay in, in an area we don't usually stay in.
When we got there, we were pretty let-down. The area was kind of sketchy. The condo was kind of sketchy. Plus, the unit wasn't clean or in good repair.
(yuck)
Between missing Joshua, feeling displaced and not at-home because of the condo issues, we were not feeling very happy at this point.
We decided to make the best of it, bought some groceries, went to bed (our mattress was reminiscent of a rock, incidentally), and the next day, we went out to use the many pools this place had.
But we soon discovered the outdoor pools had a weird pink foam in them. And the indoor pool was dirty, plus it was missing parts of the ceiling.
The next morning, we went to chat with the rental agency, and asked to be moved. So, they sent us to another building, but that unit was pretty dirty too. The third unit we were sent to was a little better, but still not great, and it was small. However, the building was better maintained, so we decided to cut our losses and stay.
It was kind of a pain to pack and unpack all of our stuff, and it used up a good part of one of our vacation days.
Suffice it to say, this trip had disappointing lodging issues.
Also, it rained every day.
We didn't see a single sunrise because it rained every morning.
Plus, Lisey missed her cousin dreadfully (normally, her cousin and her family come to the beach when we do.)
And we all missed Joshua (this was our first time vacationing without him!) Some tears might have been shed.
Oh, and I forgot my camera battery charger.
_______________
That is the womp-womp version of the trip. But….we all know that, generally speaking, nothing is all good, and nothing is all bad.
Which means that what I wrote above isn't really the whole story.
Even though our end condo wasn't awesome, we felt a lot better there because we were out of the sketchy section of Myrtle Beach. And since it's the area of beach we're more familiar with, we felt so much more at home.
It did rain every day, but it didn't rain all day. Every day, there were periods of sunshine, and we worked around the weather.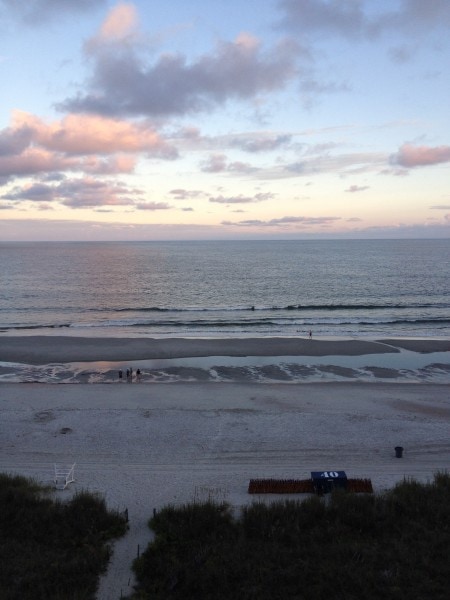 Sonia and Zoe got in plenty of wave-jumping time.
We swam in the pool and sat in the hot tub.
We took walks on the beach with the girls. And Mr. FG and I got in a walk by ourselves on the beach almost every night.
We shopped at store full of purple things, and appropriately enough, I had a purple-ish shirt on, so we documented that.
Lisey fell in love with a super cute stuffed penguin there, almost bought him, slept on it, and came back the next day to buy him. She named him Tate.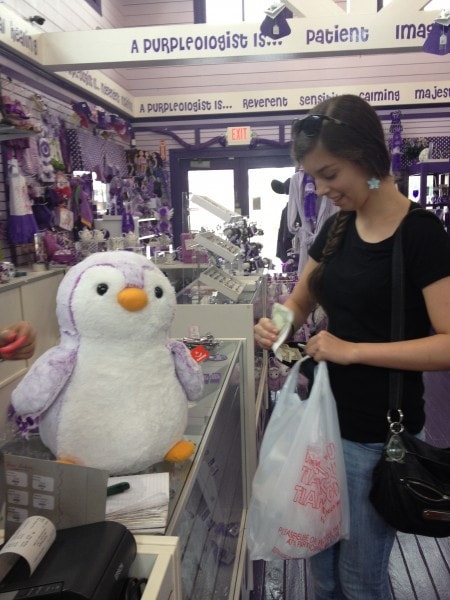 Tate has been Lisey's fast friend ever since. 😉
I love this about Lisey…she gets so excited about things like uber-fuzzy penguins.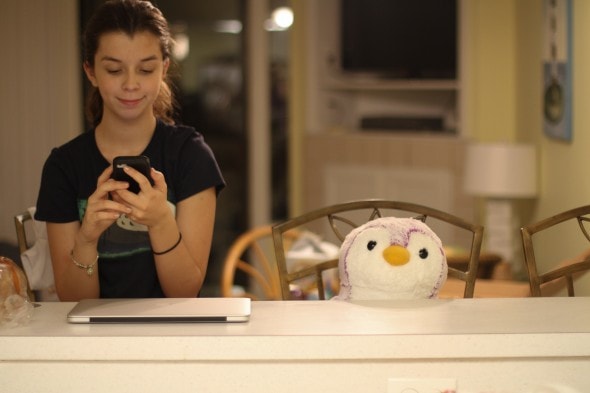 Lisey and I went to get a pedicure together (our first time!), and the technician thought we were sisters (This was before my nose surgery. I look even more like Lisey now. 😉 ).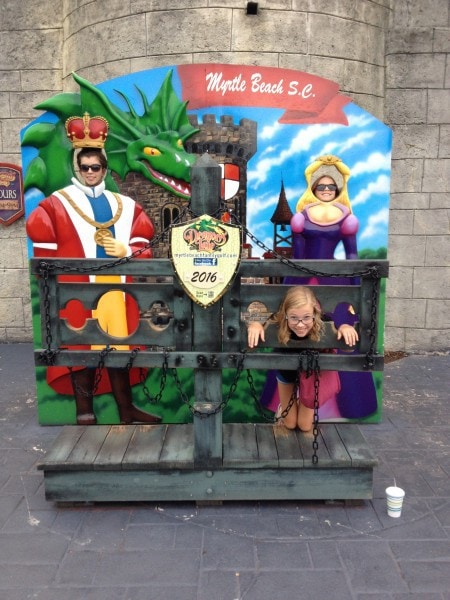 We texted with Joshua every day, so we could hear about his work and school adventures.
Joshua got to stay with a friend so that he wasn't by himself the whole week.
Mr. FG and I went out for a date one night, and before we went, we took the girls to a fro-yo place where they each made a creation to eat for dinner.
Because vacation is a time when you can eat fro-yo for dinner.
(At the end of the week, Sonia was like, "I feel like I need to eat something green. A salad, maybe?" Even vacation eating gets old after a while, I guess.)
On our date night, we had an awesome taco dinner, and the guy doing live music there was fantastic. So good.
I got a whole week off of cooking dinner, which was lovely.
The girls got an inordinate amount of joy out of using the soda and snack machines in the condo. 😉
I might not have been able to use my SLR much, but I do have an iPhone, so I got to take pictures and videos.
I don't think either version of this story is the "right" one…they're both true. But it's easy to let the womp-womp version of things take over when stuff goes wrong in life (or on vacation especially!)
I don't think we need to pretend that the bad things aren't there (the condo WAS gross! We did get a lot of rain! We did miss Joshua!), but it's important to not let them take over.
There were unpleasant things, but there were also happy things, and the older I get, the more I learn that it's important to see and expect both.
Save