I seem to have been reading blue books lately: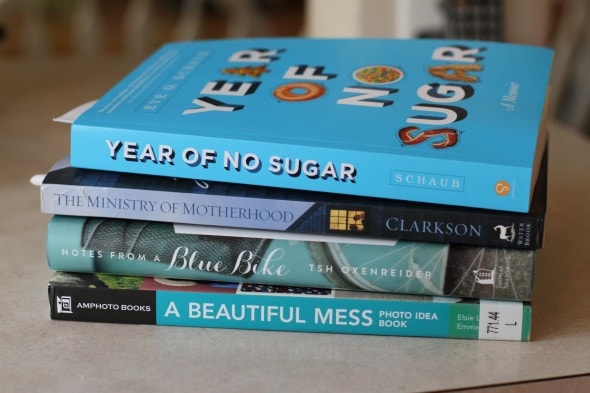 We'll start from the top.
I received a review copy of Year of No Sugar
(by Eve Schaub) and sort of reluctantly started reading it. See, I don't eat TONS of sugar, but I do have some every day, and I feel kind of attached to it.
I don't want to eat Cocoa Puffs and Pop Tarts for breakfast or anything and I am perfectly happy drinking water instead of soda or juice. But what would life be without a little sugar in my morning tea?? Or without dark chocolate??
(The horror.)
The book chronicles the Schaub's (a mom, a dad, and two school-aged girls) efforts to live an entire year without eating sugar, which means they had no fruit juice, no honey, no maple syrup, no artificial sweeteners, and of course, no white sugar or brown sugar or molasses.
It's not a scientific tome which will educate you about the dangers of sugar, but is rather a story about the ups and downs of trying to avoid sugar in our sugar-saturated culture, and I found it to be a really enjoyable read (I especially loved the journal entries from her older daughter about the tribulations of living sugar free.)
Though they gave up sugar entirely for a year, and though they continue to live a very, very low-sugar lifestyle now (Here are six ways they still live sugar-free), the book wasn't judgy or preachy, and after reading it, I felt inspired to keep trying to lower the amount of sugar we consume at our house.
(As Eve says, every little bit you avoid counts for something!)
For those of us who can't imagine going a whole year without sugar, Eve has put forth a Day of No Sugar challenge, which is in just two days, on April 9th. If you sign up for the challenge, you'll be entered to win one of 10 Year of No Sugar books.
I'm actually still working my way through this one, which I snagged for just a few dollars on half.com. I appreciate so much that this book is written by a seasoned mom.
It seems like there is a lot of mothering advice available from young moms, especially in the age of the internet, and while I think some of that is helpful and good, I am far more desperate to hear from someone who has been mothering for decades longer than I have.
Sally's kids are all graduated (her youngest is in college, I believe), so she's been at this for much longer than I have, and I'm delighted to be able to learn from what she's learned.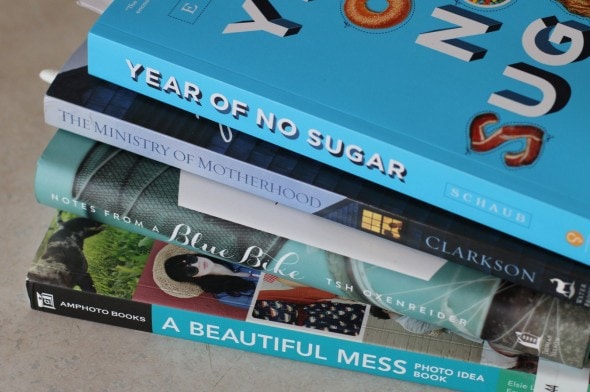 Notes From a Blue Bike
This is an easy read from Tsh Oxenreider, whom you probably know from her blog, The Art of Simple.
Notes from a Blue Bike chronicles her family's journey from expat living to U.S. living, and is basically about her efforts to make choices that help her live intentionally and in a way that accurately reflects her passions and priorities.
I did enjoy this book, but to be terribly honest, one thing that was a bit of a downer for me is that one of the ways Tsh simplified her life was by giving up homeschooling. Which is of course completely fine for her to do, but reading about it was a little bit discouraging for me, especially at this burn-out-y time in the school year.
On the other hand, reading Tsh's story reminded me that it is not very possible to homeschool four children AND grow/manage a blog as large as The Art of Simple (Tsh was overwhelmed by homeschooling and I believe she was only teaching one child.)
This is good for me to remember…yes, maybe I could be super professional at this blogging gig if I had the time, but the fact of the matter is that I am homeschooling four people right now and so I'm just not going to be able to do All of The Things that really good bloggers should do.
Anyway, as long as you aren't currently experiencing homeschooling/blogging angst , I think you'll really enjoy this book.
I put A Beautiful Mess on hold at the library after reading about it on a blog (I think!) and I was super excited. I thought it would be all about capturing every day life through a camera lens (which I really love doing).
However, the book involved a lot more contrived and formal photography situations than I expected so I was a little bit disappointed. Some of it was casual, but there was a lot about doing self-portraits and making photo backdrops and arranging things for shots, and less about shooting life as it happens.
(Some of this is possibly due to the fact that to my knowledge, neither of the authors have children, and so if they want to take pictures, it has to be of themselves or their spouses.)
Anyway. If you want a book with some good basic photography tips and self-portrait photo ideas, I think you'd like this book. You just have to not be expecting tips on photographing real, messy life.
________________
What have you been reading lately? Anything good?
I'd also love to hear your thoughts on any of the books I'm reading!
________________
Joshua's 52 Project post: Eclipse
(I bought a glass gazing globe, not for us to gaze at but for us, especially Joshua, to use for photography. So you'll probably see more of this in the future!)
Amazon links are affiliate links.