Some weeks ago, reader WilliamB messaged me with a bread problem (from a Bernard Clayton brioche recipe).
I did my best to help, and we had a pretty extensive conversation with many photo updates about how the bread rescue was going.
WilliamB suggested that this might make a fun blog post, so today I'm collating my collection of words and photos from the conversation!
The initial problem is that the dough did not rise at all. I am unsurprised by this, because in Clayton's recipe, the eggs and butter are mixed straight into the dry yeast/flour mixture.
I presume that this results in the yeast granules getting coated in a layer of grease, which makes them unable to dissolve and grow.
WilliamB looked up some other brioche recipes and most of those involved making a soft dough or sponge first, and THEN mixing in all the heavy eggs and yeast. That probably works way better. What the heck, Mr. Clayton??
Given that the dough involved a lot of butter and eggs, it was worth some rescue effort. Butter and eggs ain't cheap these days!
I remembered a time, years ago, when I made a batch of roll dough and it didn't rise at all. In that instance, the problem was that I'd completely forgotten to add the yeast.
WHOOPS.
In our text convo, I shared that in order to remedy the problem, I'd made a tiny batch of soft dough with the full amount of yeast added, and then I'd kneaded it into my unyeasted dough.
I let the newly yeasted dough rise again, proceeded with the recipe, and all was well.
So, I suggested that WilliamB try something similar.
It was tough going at first.
A little better now: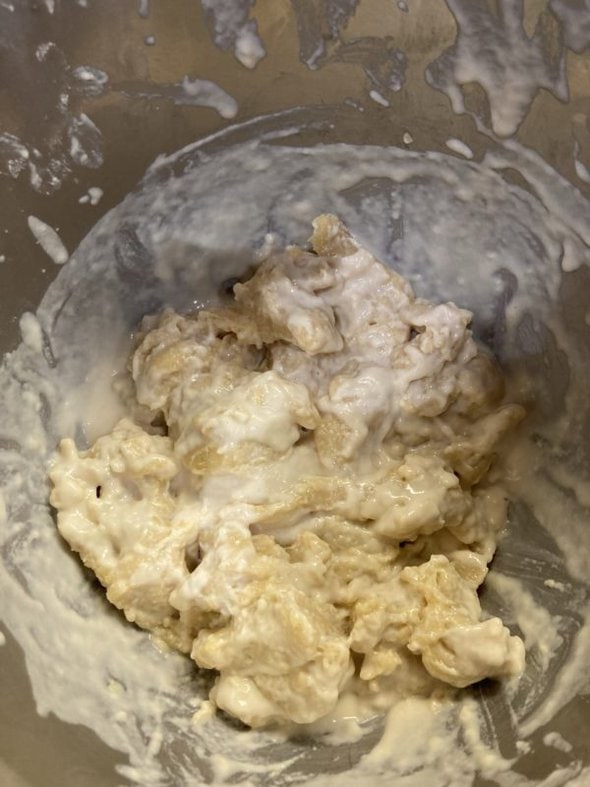 WilliamB let the dough sit for a little while, and then did more working-in by hand.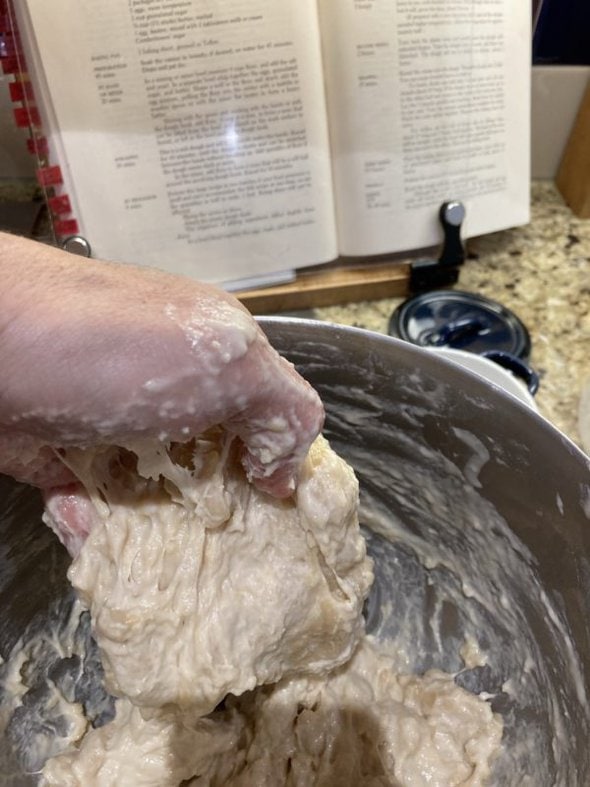 You can see the lumps of the old unrisen dough in there.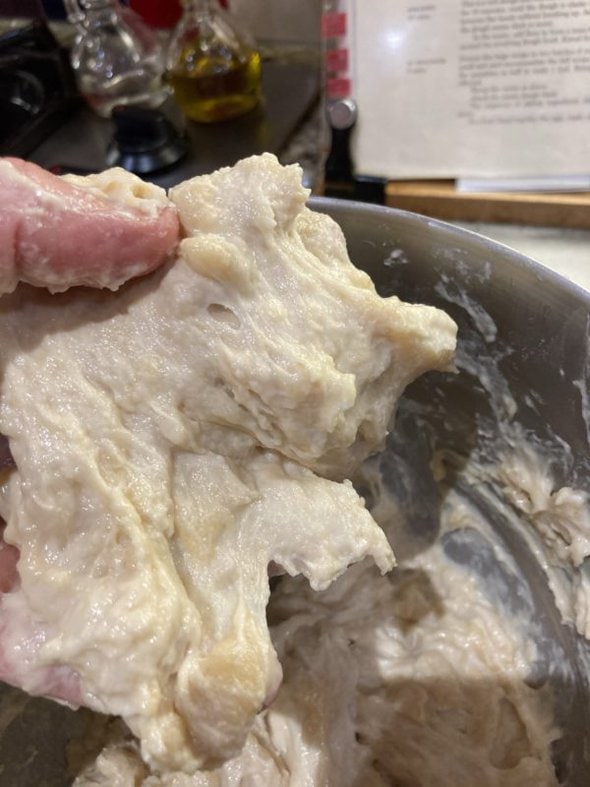 After another 15-minute rest, the dough lumps were a little softer.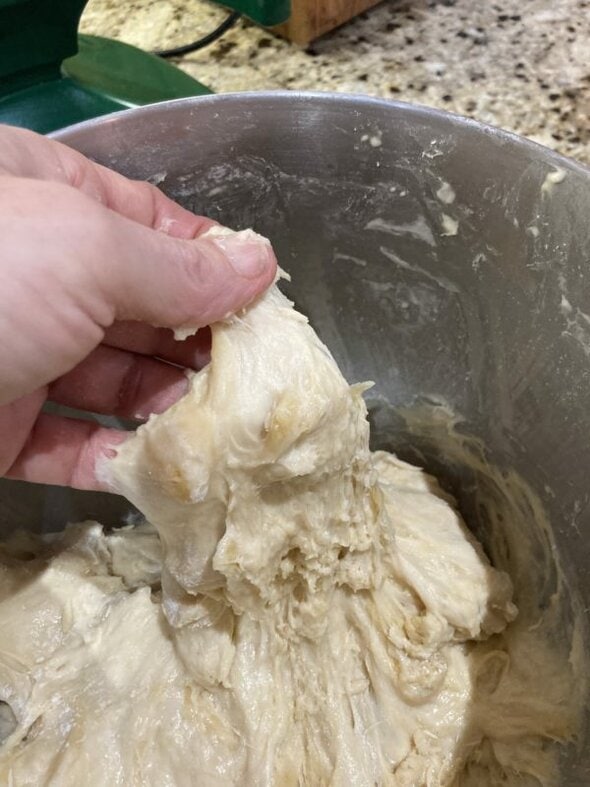 And then the Kitchen-Aid came in handy.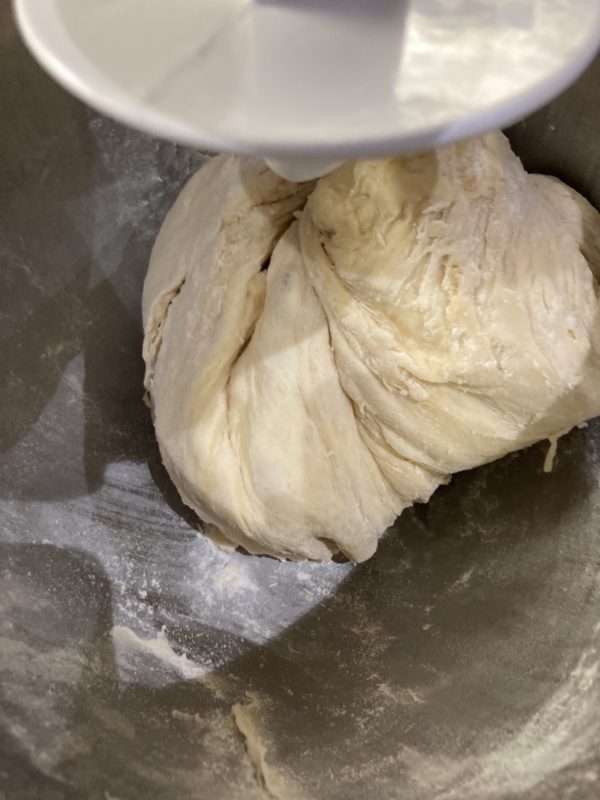 WilliamB said, "This looks auspicious." and I agreed.
Time for an official rise.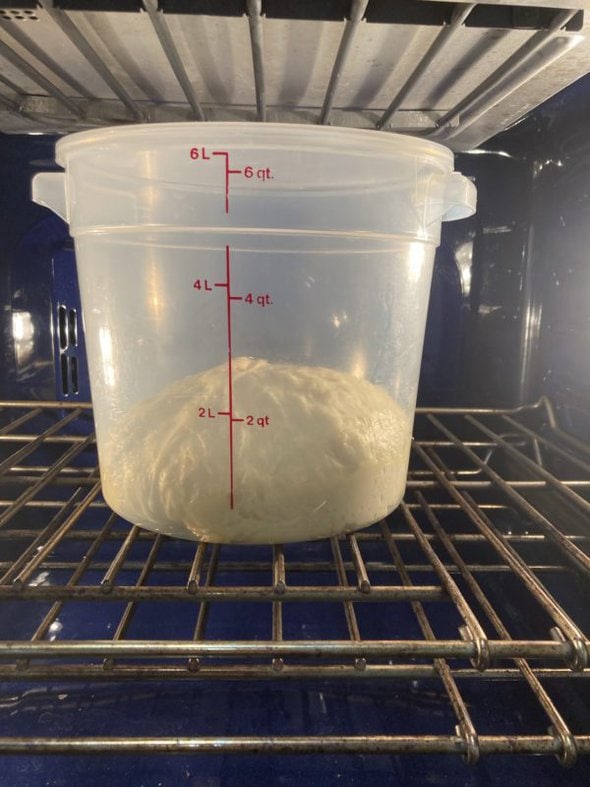 WilliamB opted for a braid with this dough: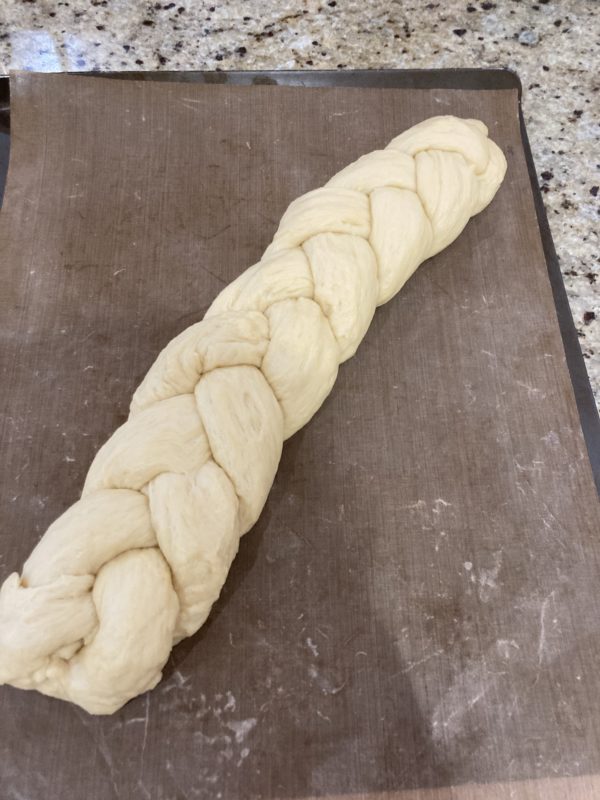 And in a move understood by many of us here, the covering of choice was a torn produce bag, even though many bread recipes suggest using a fresh piece of plastic wrap!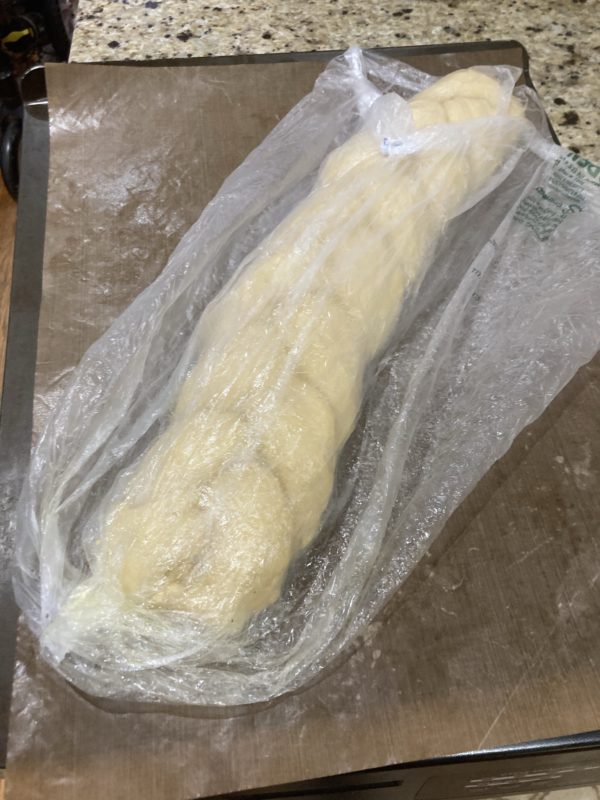 Time to bake!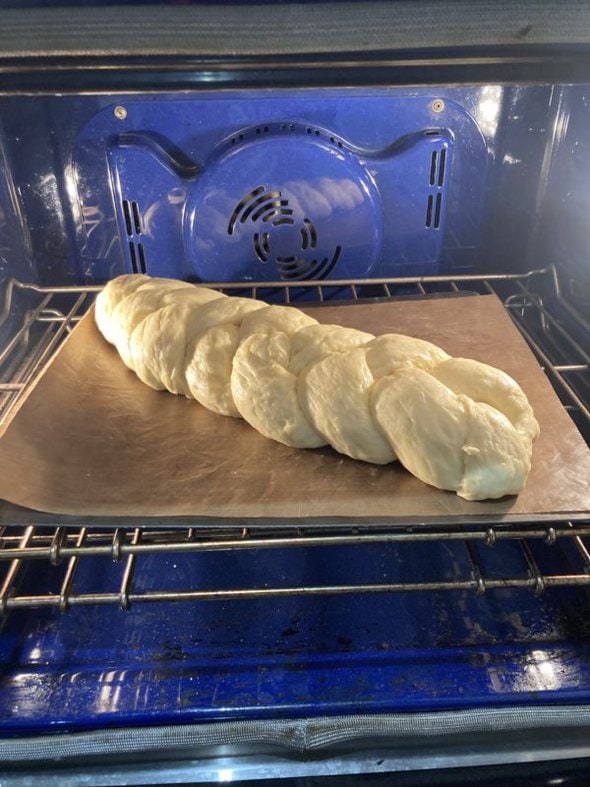 And here's the finished product.
Here's what the inside turned out like. This picture makes me hungry!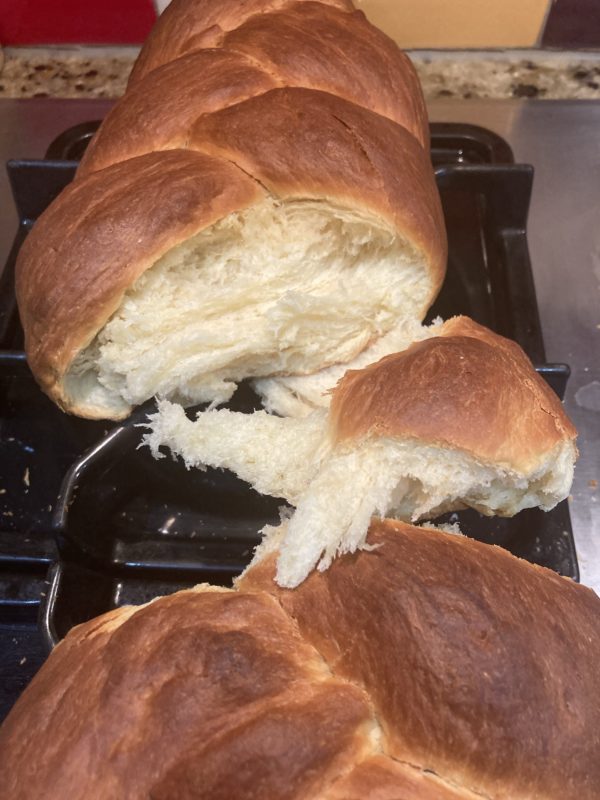 The verdict from WilliamB: a bit bland, but mostly a success.
Now, this batch of rescued dough was actually the second failed brioche dough (!!!)
But, cheered by the first rescue, WilliamB attempted a rescue of the other batch.
This one was stiff enough that it needed to be chopped.
In the midst of the remixing attempt: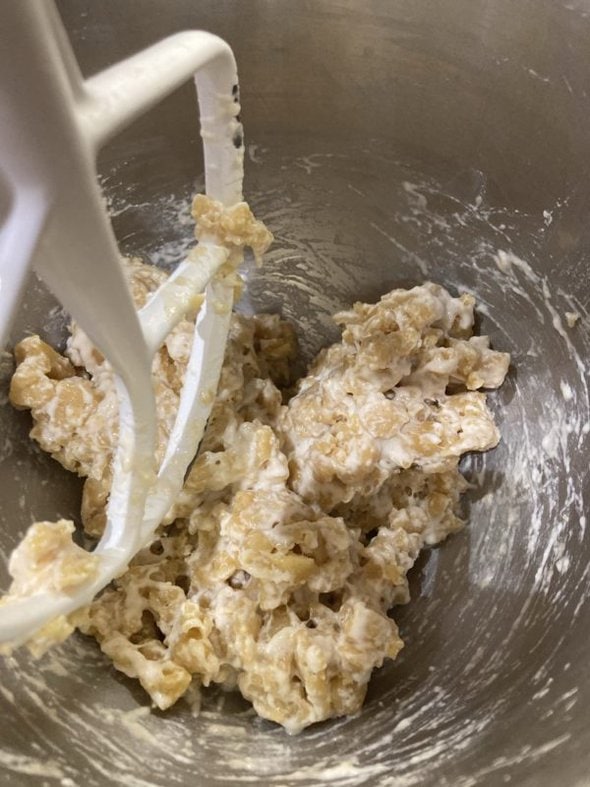 Amazingly, the dough ended up like this: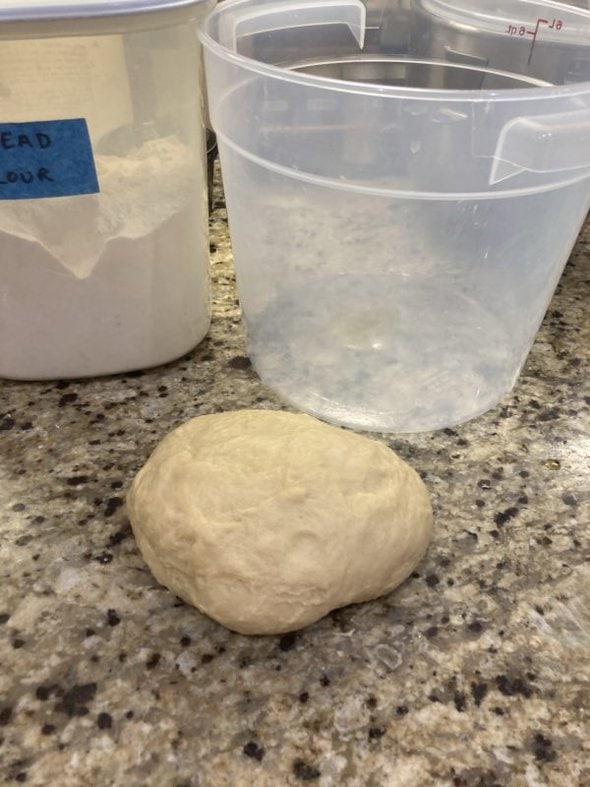 And after a successful rise, it got shaped into a loaf.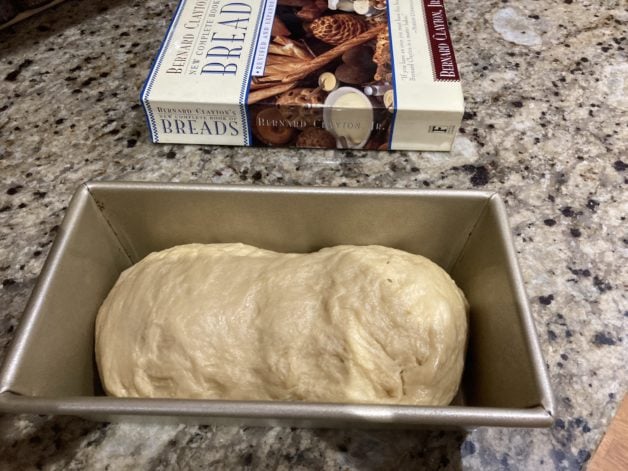 Here's how it looked once it was baked.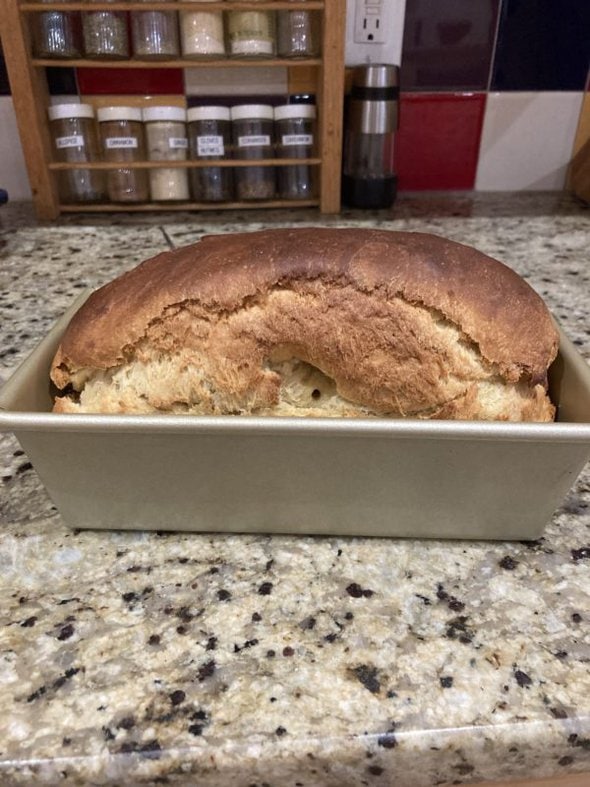 A picture of the inside: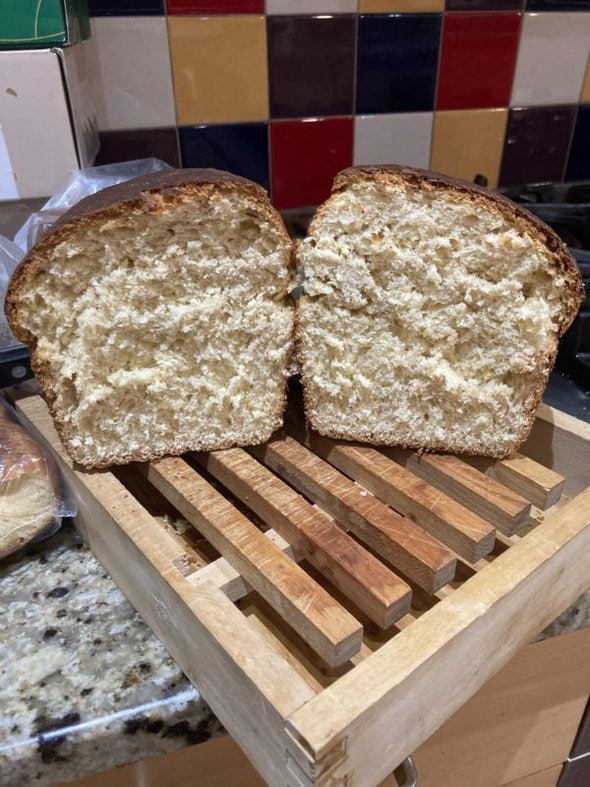 WilliamB's review: a good texture and a better flavor than the braided loaf.
So overall, I (Kristen) think this was quite a successful bread rescue! The ingredients used for the rescue were very cheap, and they resulted in a save that kept a buttery, eggy dough out of the trash.
In a case like this, I think an experimental rescue is really worth a try, as long as you have the time. The worst that could have happened is that WilliamB would have wasted a bit of flour and yeast.
And what DID happen is the best-case scenario: the dough was turned into something very edible.
This is exactly the thinking behind my post "Will it work? Try it and see!"
When you have a low-stakes situation (WilliamB couldn't have really made this dough worse than it was!), experimentation is usually a really good choice.
So. There you have it: a pictorial tour through a real-life bread rescue. 🙂
Thank you, WilliamB!
P.S. WilliamB was in a previous Meet a Reader feature; click here to read it.