This post contains affiliate links, which earn revenue for this site at no extra cost to you. See my disclosure policy here.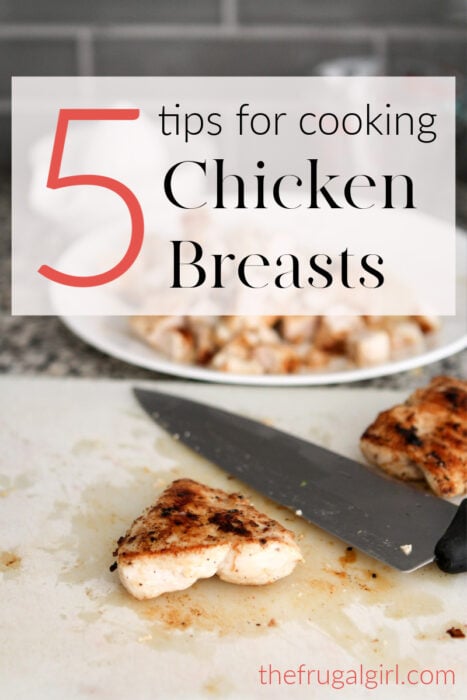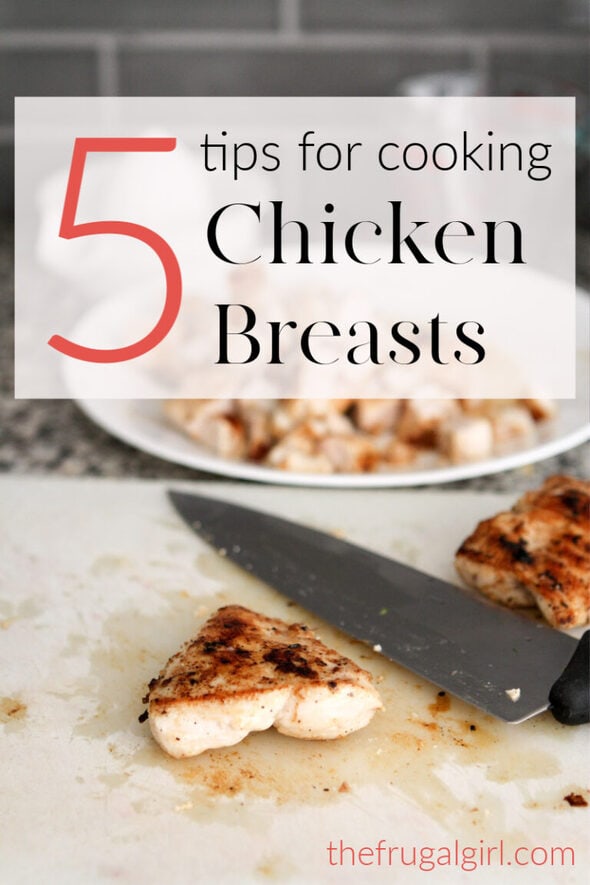 Over in the Frugal Girl Facebook group (Click here to join! I approve readers promptly.), reader Karen was asking for tips about cooking chicken breasts, since hers often turn out rubbery or chewy.
So, I thought I'd put together a list of my best tips for good chicken breasts.
1. Use a meat thermometer.
This is my single best tip. If you do nothing else, buy an instant read thermometer.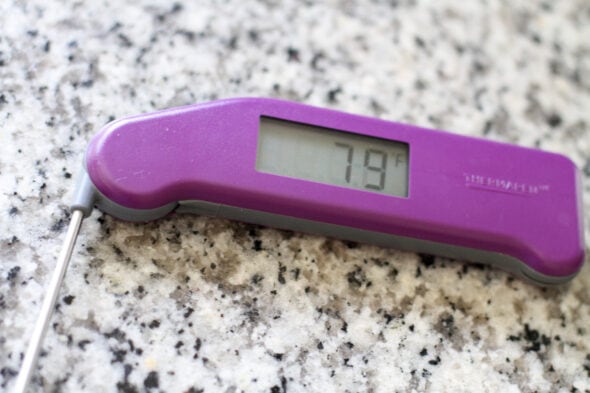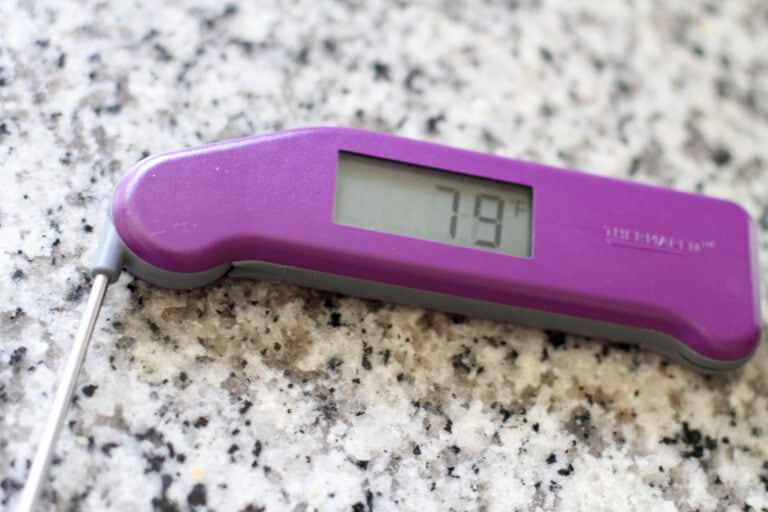 A lot of people overcook their chicken because they are scared of food poisoning (Understandable.)
A thermometer will help you cook your chicken JUST until it's safe rather than 50 degrees past safe, which brings you into the Land of Dry and Chewy Chicken.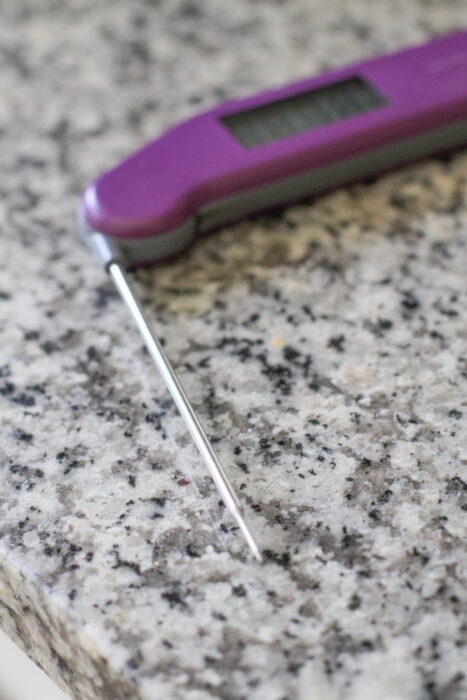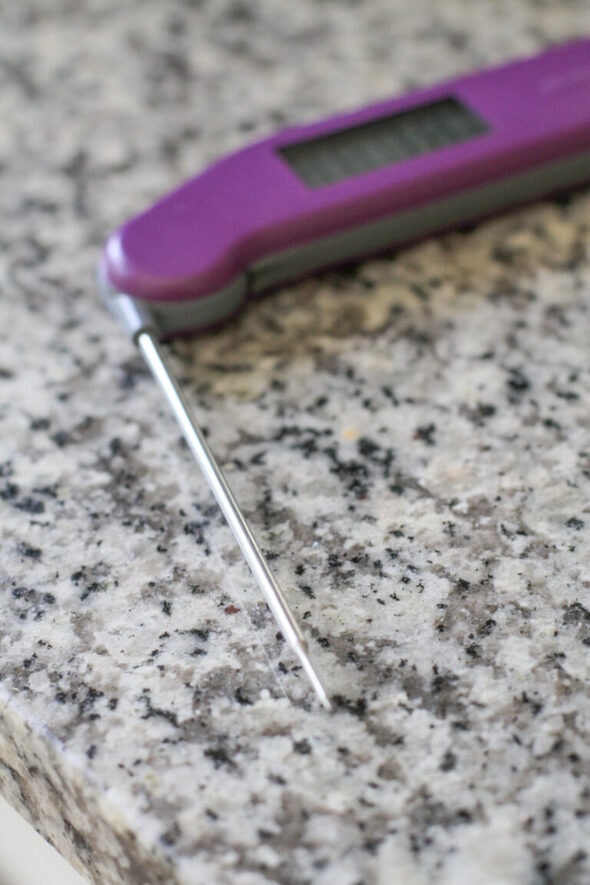 Cook your chicken breasts to 160-165°F and no further!
I got the classic Thermapen for Christmas a few years back and I use it multiple times every week.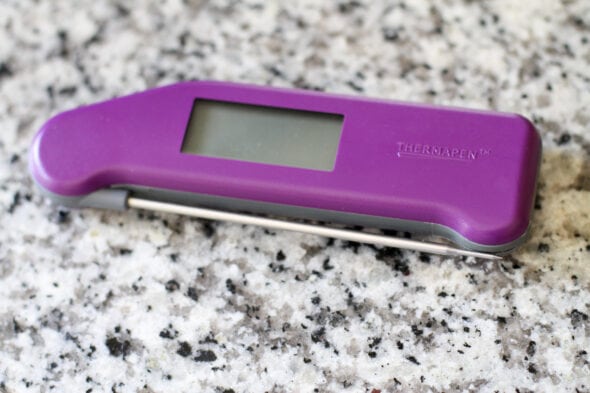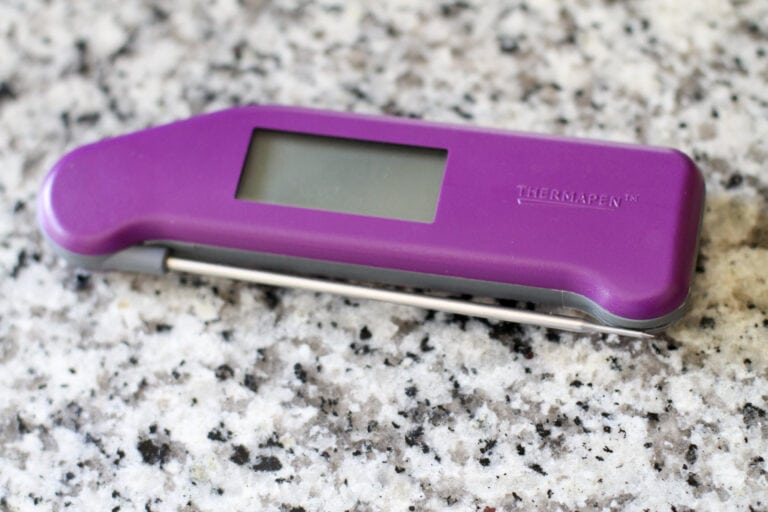 I'd spring for the Mk4 if I were shopping now, or if you want a budget model, try the $35 Thermopop.
I know even $35 might feel like a lot, but I think it's worth it. Skip a night or two of takeout and spend the money on a good thermometer that helps you make delicious food at home!
(I'm not affiliated with Thermoworks in any way, as they're not sold on Amazon. I just love my Thermapen and it's way outlasted the cheap digital thermometers I had in the past.)
2. Use a hot pan for a good sear.
I usually heat a little oil or bacon grease in a pan until it's nearly smoking and then I add my chicken.
This gives the chicken breasts a nice golden sear on the outside, which makes them taste (and look!) delicious.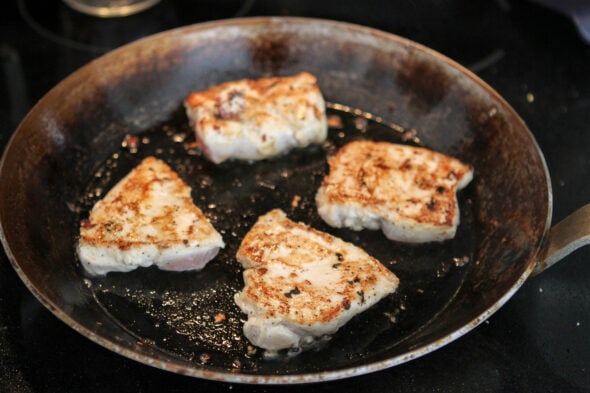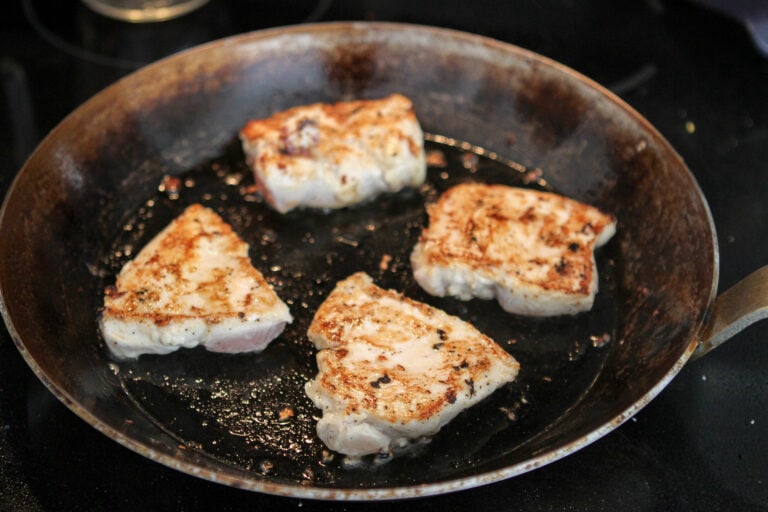 A Frywall is pretty handy to use for this, to help keep your stovetop from getting spattered.
(Here's my post all about the Frywall.)
3. Try a brinerade.
The editors at America's Test Kitchen/Cook's Country/Cook's Illustrated are big fans of a brinerade, which is sort of a mix between a marinade and a brine.
It's basically just a salty oil mix, and it makes a big difference in how juicy and flavorful your chicken will be.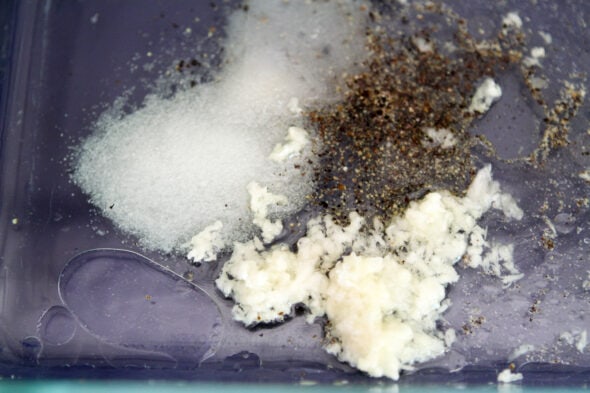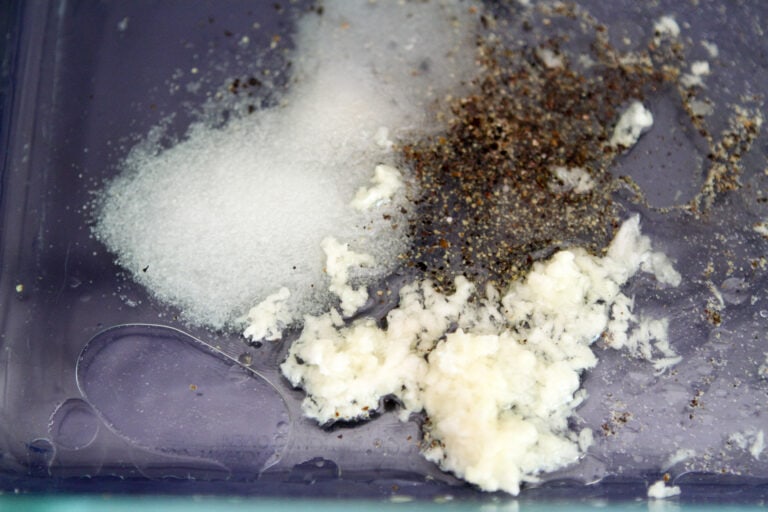 4. Cut your chicken breasts up.
Unless you buy organic chicken breasts, the ones in stores these days tend to be enormous.
And it's a little hard to cook something like that thoroughly without drying it out.
So, I pretty much always cut my chicken breasts up into three pieces.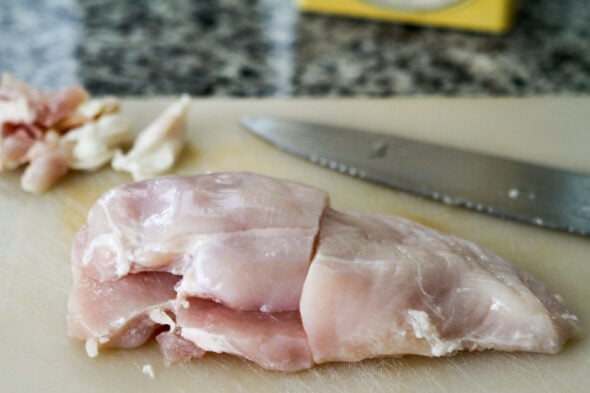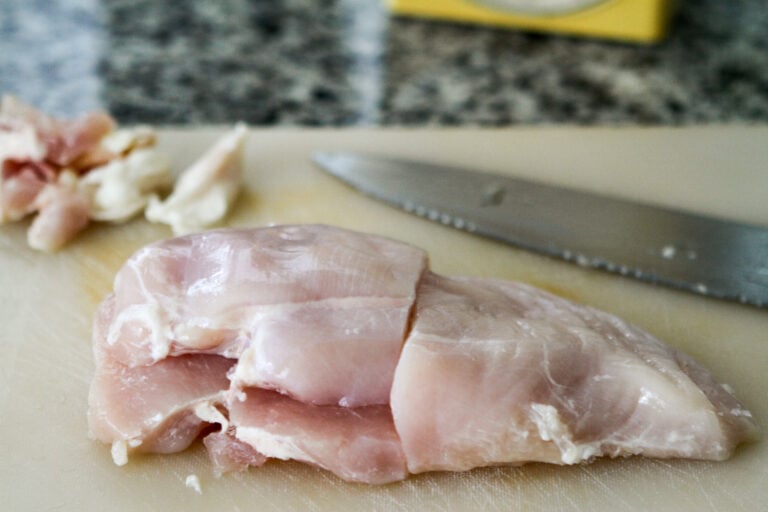 I've been doing this for years, but handily enough, the latest Cook's Illustrated magazine had a drawing of exactly the method I use.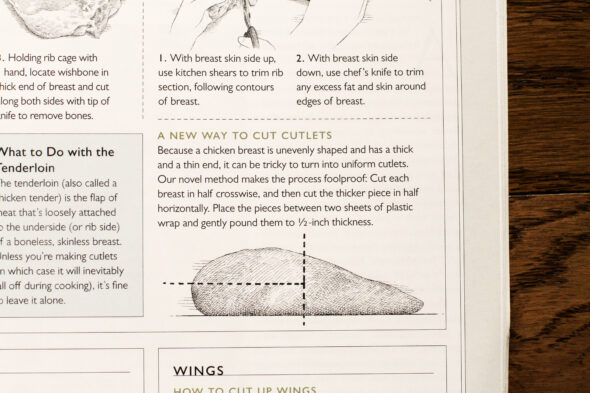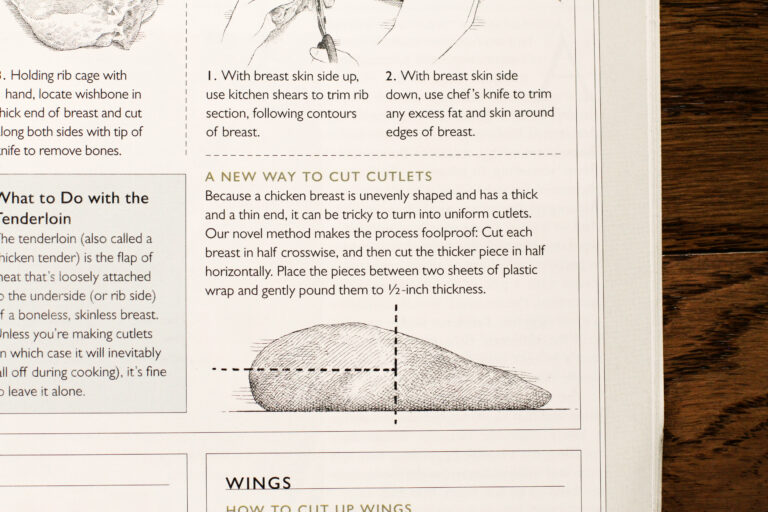 Except I usually don't bother with the pounding.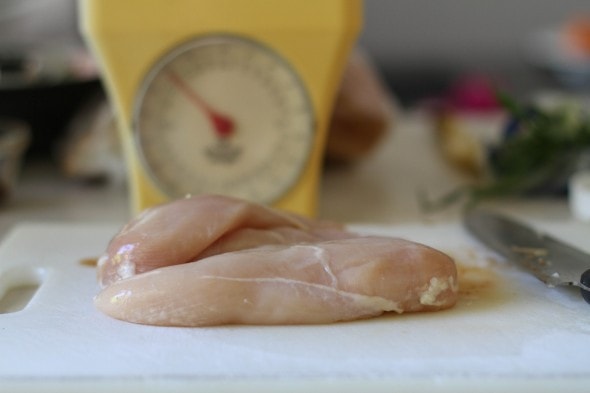 5. Let your chicken rest before you cut it up.
Even if your chicken is cooked properly, it'll be a little dry if you cut it up right away.
Letting the chicken rest will ensure that the juices stay IN the meat, rather than running out onto the plate.
For a piece as small as a chicken breast, a short 10 minute rest should do the trick. Even a five minute rest is better than no rest at all.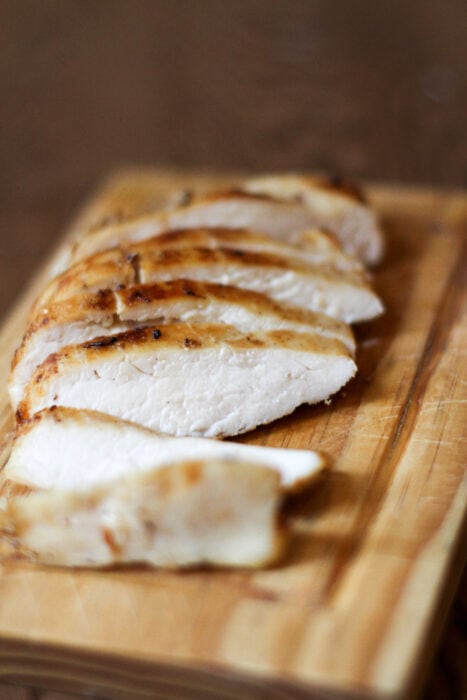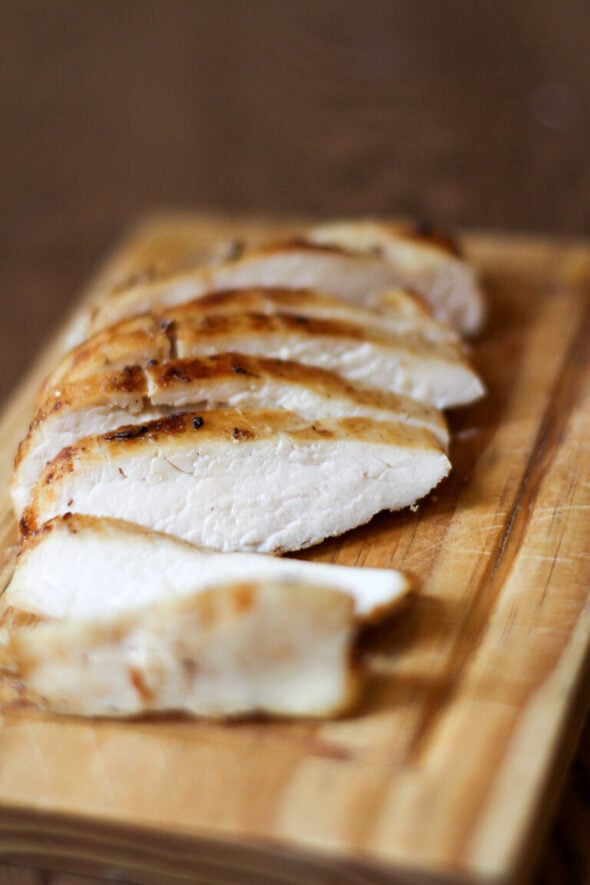 Let me know how your chicken comes out once you try these tips!
Do you have a good chicken breast tip for Karen and other readers? Share in the comments.