This post contains affiliate links, which earn revenue for this site at no extra cost to you. See my disclosure policy here.
In an issue of Cook's Country or Cook's Illustrated (I can't remember!), I saw that they recommended the Frywall.
Well, it's a big ol' silicone cone that sits atop your frying pan to prevent grease splatters.
I do a lot of, "Heat oil in the pan until shimmering, then add ingredients." kind of cooking.
Which is delicious but also kind of messy because my stove is always getting showered in grease spatters.
I get really, really tired of cleaning said spatters off of my stove and counters, so this intrigued me and I ordered one from Amazon.
My first thought was, "This thing is HUGE. It will never fit on my pan."
But it actually does! It's very, very slightly tricky to situate, but once you get it nestled in there, it's just fine.
Does it work?
Yep! I've used it several times now, and it does a really great job of keeping grease spatters contained.
Thumbs up from me.
And unlike a traditional metal grease screen, this one can be left on while you're adding ingredients (the most spattery time!), and while you're flipping the food over (the second most spattery time.)
Is it easy to clean?
I've just hand-washed mine so far and yep, it's simple to clean.
It is dishwasher safe, but it's so enormous, I have a hard time imagining where I would put it. So hand-washing it is for us.
Doesn't it get greasy from sitting on the pan bottom?
The Frywall actually sits up a little off the pan bottom, which helps to keep it from getting completely greased up.
I mean, it will get grease on it (that's the point!), but it's not like it's just sitting in a puddle of grease while you cook.
What about storage?
It IS a huge item, but luckily, it folds up into a fairly small size.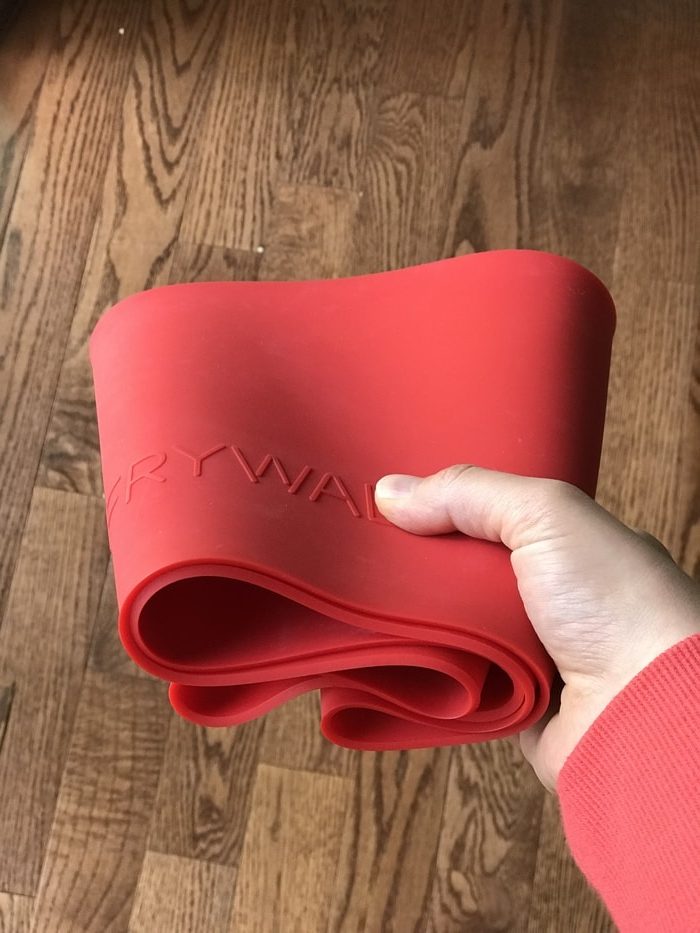 So even in my not-huge kitchen, storing it will not be a problem.
How much does it cost?
It's a little under $30, which isn't super cheap. However, unlike my metal grease screens, which wear out, this one should last for a long time.
To me, it's worth it to not have to constantly be cleaning grease off my stove!
By the way, this comes in several different colors, so if my red one is scaring you off, never fear. You can get a classy black one. 😉
You can also get these in different sizes; most of my frying pans are 12 inches, though, so that's the size I chose.
And thus concludes this brief review!