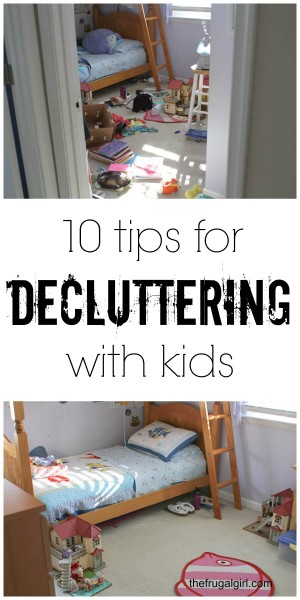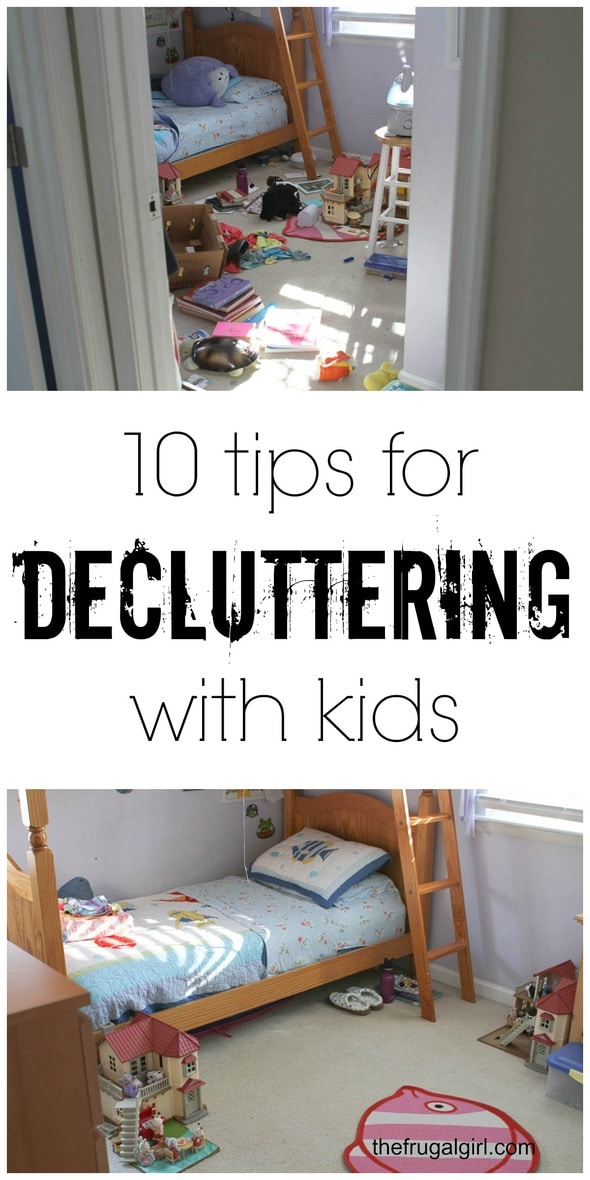 On Monday, I wrote about why I declutter alongside my children instead of decluttering for them, and I promised some practical tips today.
So, here I am.
First, I do want to mention that I'm not necessarily saying these tips will be life-changing for all kids…I'm just sharing what has worked with my kids (because that's all I know!)
You know your kids best, not me, and there are plenty of equally acceptable ways to teach stuff management.
Do what works for you, basically.
These are in fairly random order, a.k.a. the order they popped into my head.
1. Start when your kids are small.
I don't remember exactly when I started decluttering with my kids, but I want to say it was around the age of 4. Four-year-olds aren't super great declutterers, but they can certainly look through a pile of their drawings and pick out their favorites, or try out a pile of markers to figure out which ones are dried up.
Even if your kids is a lot older than four, though, the best time to start is probably now.
(Reminds me of the proverb about the tree: The best time to plant a tree was 100 years ago. The second best time is today.)
2. Accept little bits of decluttering.
When Joshua was younger, I could give him a stack of 50 papers and he might choose to recycle only 5 out of the 50. But 5 is better than nothing, and it gave that decluttering muscle a teeny workout.
You might want to get rid of 75% of the clutter, but be willing to settle for less if that's what your kid can handle. The most important thing here is the process, not the result.
(If you were just after results, you'd bag everything up yourself. The point is to teach your kid HOW to do this.)
3. Sort things into categories.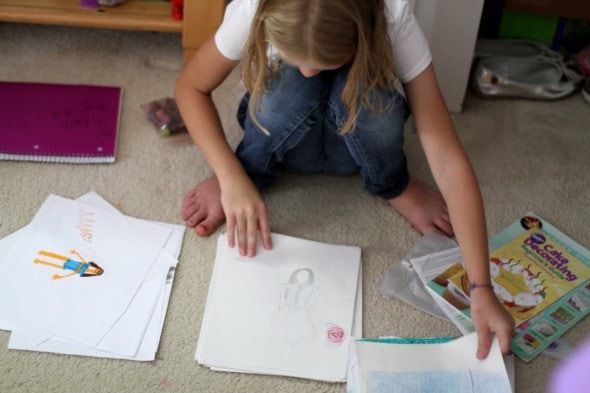 If your kids are like mine, the clutter often ends up being quite the mish-mash of stuff. Toys, papers, craft supplies, rocks, sticks, marbles, and who knows what else all end up together.
So, when we tackle a room, we often sort things into categories. Make a pile of papers, a pile of rocks, a pile of crafting stuff, a pile of stuffed animals, and so on.
That way you can deal with one category at a time.
4. Make a Save and Get Rid Of pile for each category.
Once you have your categories, have your child go through each pile and decide what he or she wants to keep and what can go.
Sometimes I've said something like, "Why don't you think about which ones you really love?" or, "Which ones of these make you really happy?"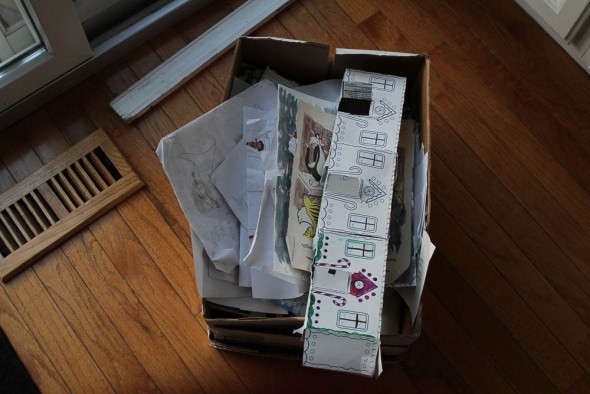 And for a kid who has a lot of trouble letting go of things, I sometimes give a gentle nudge, like, "That's great you found 4 things to give away. Do you think you could find a few more too?"
5. Get rid of things ASAP.
When your kid sorts through papers, have a recycling bag right there so you can deposit the papers promptly. Have a box for items that are going to Goodwill and a box for things that are being given to younger friends/cousins. Keep a trash can nearby for things that truly are trash.
Definitely do not let things from the Get Rid Of pile sit around on the floor.
Once the decision has been made, you want that stuff out of the way and out of sight.
(I know not everyone will agree with this, but I think if you and your kid have gone through their things thoughtfully, there's no need to keep the Get Rid Of stuff around "just in case". In my experience, kids do not generally regret getting rid of stuff they've chosen to get rid of.)
6. Take breaks if necessary.
I could probably declutter my stuff for 8 hours straight, but not everyone is like that.
When my kids were younger, some of them found the decluttering process to be quite exhausting, so they could only handle it for an hour or two at a time.
Decision-making just seems to be more tiring for some kids than others, so don't push it just for the sake of finishing all at once.
7. Motivate by donating/giving.
My kids are sometimes more open to letting go of stuff they don't love/use when they think about giving it to someone else who WILL love it.
For instance, a few years back, someone on freecycle was collecting stuffed animals for a good cause (a hospital? for children in an ambulance? Something like that.)
That helped my kids to sort through their animals and find ones they barely played with and which were in almost new condition.
8. Consider storage for sentimental items.
As a rule, I'm a big fan of getting things out of the house if they're not loved/used regularly.
But there are some things that have a lot of sentimental value, and for my kids, that happens to be stuffed animals.
So, we have a bin in our under-the-stairs closet that holds extra stuffed animals that we couldn't manage to actually get rid of.
This way the kids' rooms aren't overflowing with animals, but they didn't have to actually part with them.
9. Set up toy storage systems that are simple and accessible.
To help maintain order after you declutter, keep toy storage simple.
For us, plastic bins and drawers worked out very well. We had a Duplo drawer, a toy food drawer, a dress-up drawer, and so on.
Having bins and drawers with basic categories means that even very small children can help pick up their things, and having things sorted by categories means that your kids don't have to dump out the whole toy bin to find the one thing they want.
This method was a good way of ensuring that we didn't need to do a huge declutter every few months…instead, we usually only needed to do it once a year.
10. Be mindful of bringing new things into the house.
Children's things will always need some decluttering just because they are always outgrowing toys/games/clothes.
But you can certainly keep decluttering a lot simpler by bringing fewer new items into your home.
Kids do seem to be able to be happy with a lot less stuff than we sometimes think, and letting them have too many things puts a heavy Stuff Management burden on them.
Somewhat related: a one-in, one-out rule can be helpful here.
For instance, if one of my kids wants a new stuffed animal, I tell them that's a-ok, but we'll need to donate one stuffed animal of a similar size because we don't have room to add to our collection.
Extra tip: Point out the benefits of a less-cluttered room.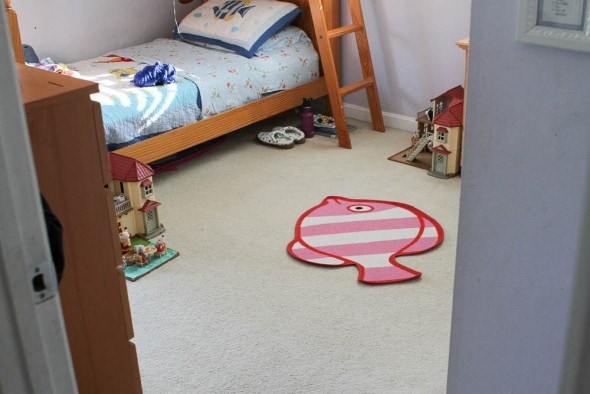 This isn't really a decluttering tip but is more of a motivational kind of thing.
When my kids' rooms get really cluttered, they can't find their things, their drawings get all crinkled up or torn, pieces go missing from playsets, their clothing drawers won't shut, and there's no room on the floor to play or do puzzles.
So when things are cleaned up, I think it's helpful to rejoice with them over the benefits of their hard work.
"Look how easy it is to close your drawer!"
"It'll be so much easier to find your markers now."
"Putting your schoolbooks away will work a lot better now that there's room on the bookshelf."
_____________________
I'm positive that this is not an exhaustive list of tips (I'll probably think of a few more once I hit publish!), so if you have a question about decluttering with kids that I didn't hit in this post, please let me know in a comment.
And if you've got a helpful tip for decluttering with kids, do share that too!