Today I have another not-zucchini-bread-or-zucchini-cake-or-zucchini-muffins recipe for you. Alas, it is not as healthy as yesterday's recipe.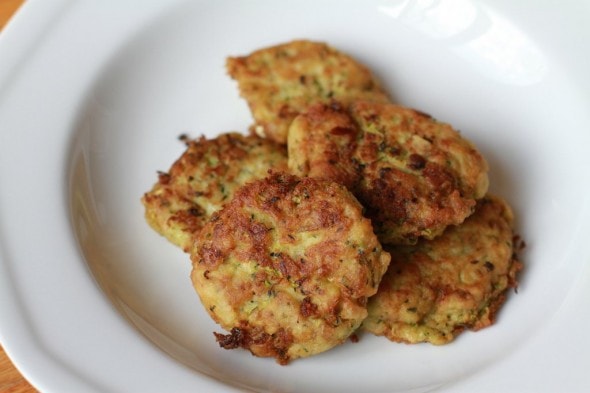 It is, however, delicious, and it's a fairly unusual way to use zucchini. This recipe is from an old Taste of Home magazine, and the torn-out-page this recipe is one that had been sitting in my to-try pile for quite a while. As I mentioned yesterday, I'm not usually a fan of zucchini recipes unless they involve flour and sugar, so when I finally managed to get around to making these this summer I was surprised at how good the results were.
The original recipe is on the Taste of Home Website (printable in all sorts of sizes), but if you'd like to go through the recipe with me in pictures, then stay right here.
First, you mix some bread crumbs, seafood seasoning (Old Bay, to be specific!), and garlic powder. Since I never seem to have bread crumbs around, I just toast random heels and slices that I find in my freezer, cool them, and give them a whirl in my food processor. I add a little salt too, since the recipe calls for seasoned bread crumbs.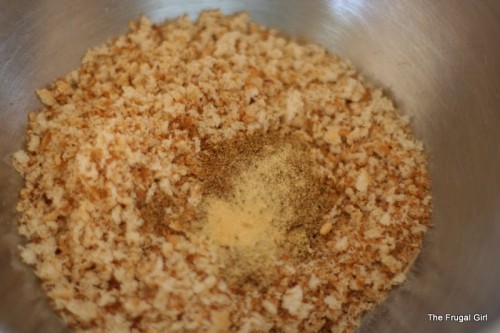 Then, you mix in some melted butter and an egg.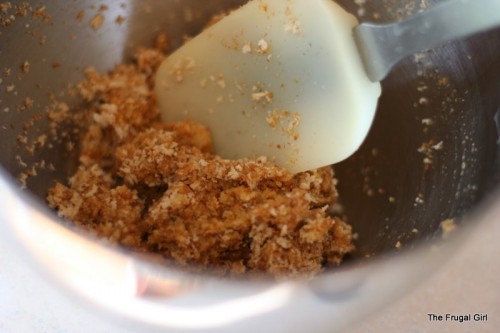 Now for the zucchini. First, you'll need to shred 2 1/2 cups of zucchini.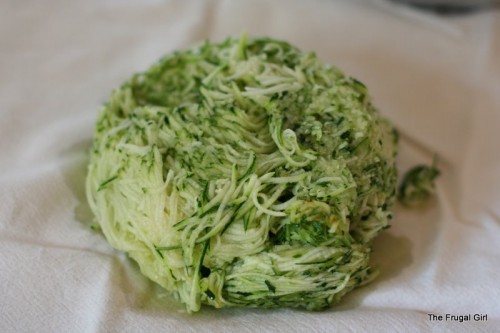 Since zucchini is so full of water, you'll need to remove a good bit of it in order to make your patty mixture cohesive. The original recipe says to leave the zucchini to drain in a colander, but I find it to be much faster and more effective to use the dish towel method. Just put the zucchini in the middle of a non-fuzzy kitchen towel (it might leave a green stain on your towel, so use one you're not in love with), ball it up, and squeeze as much liquid out as you can. Your zucchini should look like this when you're done.
I figure that the liquid that gets squeezed out must be worth something, so I save it and use it to water my plants.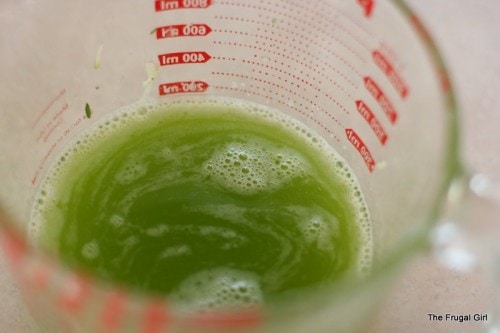 After you finish watering your plants, mix the zucchini and chopped onion into the cracker crumb mixture. This is a little difficult to do at first, but if you keep stirring, it will all eventually come together.
Once you've finished mixing, pour 1/4 cup of flour into a small bowl. Then, working with about 1 tablespoon at a time, shape the zucchini mixture into small patties. Coat each patty in flour, and place on a baking sheet.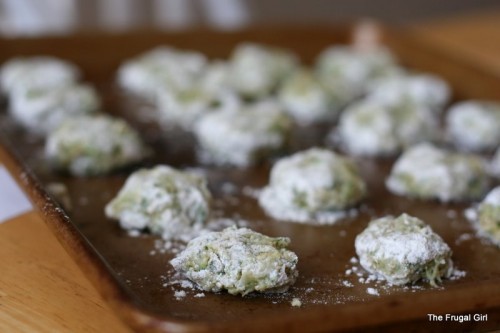 Heat 1/2 cup vegetable oil in a small skillet, and fry patties, a few at a time, for 3-4 minutes on each side. Drain on paper towels.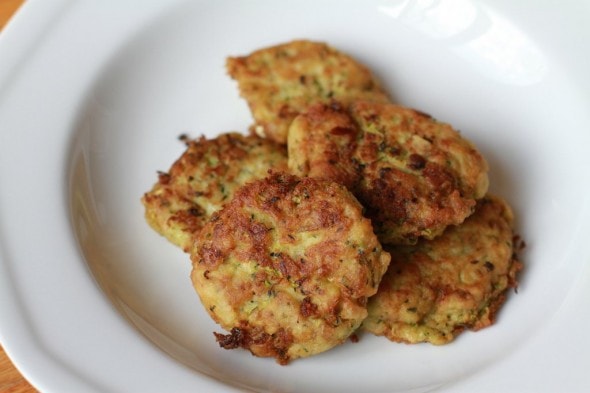 Before I continue, I should tell you that details are not my strong suit. I'm the sort of person who does a complicated algebra problem but gets it wrong because of a copying mistake. I've obviously not outgrown this tendency because it was only when I was typing this recipe that it occured to me that I've been frying these all wrong. I've been doing more of a deep fry, and they're actually supposed to be pan-fried (i.e. not floating in oil). So, I will try making them that way next time.
I can tell you, though, that deep-fried zucchini patties are really good. This is not surprising, because I don't know that I've ever met a deep-fried food item that wasn't really good.
I'm pretty sure the pan-fried variety will be good too, though, and they should be a bit less messy to make. I'll let you know when I try!
The original recipe has an accompanying dill dip, which I have not bothered to make. I think the patties are just fine on their own.
As I mentioned, the Taste of Home site offers this recipe in a variety of printable formats, but just in case that doesn't work for you, here's the recipe with my modifications.
Zucchini Patties
Dip
3/4 cup sour cream
2 tablespoons minced fresh dill
1 teaspoon lemon juice
1/8 teaspoon salt
1/8 teaspoon pepper
Patties

1 cup seasoned bread crumbs(I make my own from plain bread and just add a bit of salt)
1 teaspoon seafood seasoning
1/4 teaspoon garlic powder
1 egg, beaten
2 tablespoons butter, melted
2-1/2 cups shredded zucchini
1 large carrot, chopped (I don't add this because no one in my family likes cooked carrots)
1/4 cup finely chopped onion
1/4 cup all-purpose flour
1/2 cup vegetable oil
For dip, in a small bowl, combine the first five ingredients. Cover and refrigerate until serving.
In a large bowl, combine the bread crumbs, seafood seasoning and garlic powder. Stir in egg and butter until blended.
Using a tea towel, squeeze excess liquid from zucchini. Add onion and zucchini to the bread crumb mixture. Mix well. Place flour in a shallow bowl. Shape zucchini mixture into 24 small patties; coat with flour.
Heat oil in a large skillet; fry patties, a few at a time, for 3-4 minutes on each side or until lightly browned. Drain on paper towels. Serve with dip.