An awful lot of zucchini recipes are of the baking sort, and while I do have two of those to share with you, first I wanted to share something slightly less predictable (and more healthy!).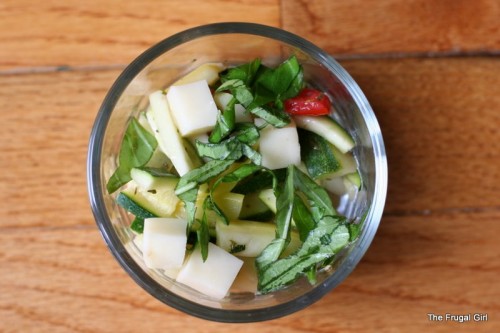 This recipe is derived from a pasta salad recipe I found in a Taste of Home magazine. The original recipe is very tasty (you should try it!), but I especially liked the dressing on the zucchini pieces. It was one of the first zucchini recipes I'd tried where I actually enjoyed the zucchini (I don't think enjoying zucchini bread really counts!).
Anyways, here's the not-very-specific recipe.
Zucchini Salad
1) In a medium-sized bowl, combine:
3 cups julienned zucchini, summer squash, or combination of the two
1/2 cup grape or cherry tomatoes, or seeded and chopped plum tomatoes
1 small onion, sliced or chopped

2) For the dressing, combine:
6 tablespoons canola oil (or olive oil)
3 tablespoons sugar
2 tablespoons white wine vinegar
1 garlic clove, minced
1 teaspoon salt
1 teaspoon dried parsley flakes
1 teaspoon dried basil
1/2 teaspoon dried oregano
1/4 teaspoon onion powder
Pour dressing over the vegetables, and refrigerate for several hours.
3) Just before serving, mix in:
4 ounces cubed cheese of your choice
chopped basil leaves to taste (I actually do a chiffonade sort of cut on mine)
___________________________________________________________________________________________
I should add that this keeps fairly well in the fridge. I know I had mine around for at least 5-6 days, and it was still tasty by then. I should also add that you can feel free to substitute whatever raw vegetables that might be residing in your crisper drawer, so don't feel like you must have zucchini in order to make this.