I told you I had some baking recipes for zucchini. 😉 This one is not quite as common as zucchini bread or zucchini muffins, though, so hopefully it will be a new addition to your recipe repertoire.
This is from an old Pillsbury baking book that I got when I was a teenager, back when low-fat was the craze. This recipe isn't particularly low in fat, though, so I'm not quite sure how it got included.
The frosting is really what makes these bars, so don't skip it. And you really should use real butter. Unless, of course, you don't do dairy, in which case you should substitute something.
Here's how to make these (the actual recipe will be at the end of the post).
Heat your oven to 350, and grease a jelly roll pan. If you don't have a jelly roll pan, use a 9×13 pan, and bake the bars a bit longer. I used a 9×13 pan today to test out the baking time but I have to say, I really prefer these in a jelly roll pan. The bar/frosting ratio wasn't quite right this way, and if I made these in a 9×13 pan again, I'd probably make more frosting to compensate.
Beat the sugar and butter together.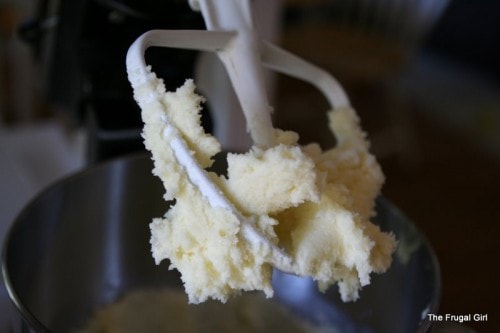 Add the vanilla and eggs.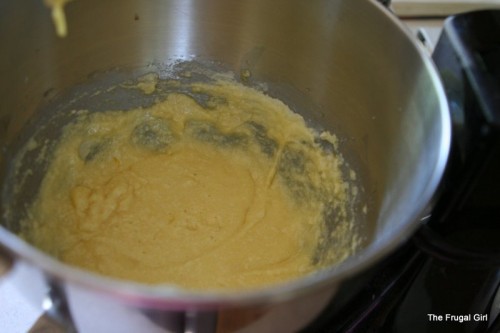 Add the dry ingredients.
Mix in the coconut and zucchini. And raisins, if you want. I never want raisins in my zucchini bars, though.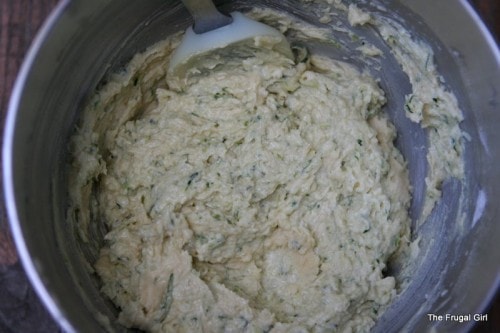 Spread into your greased pan.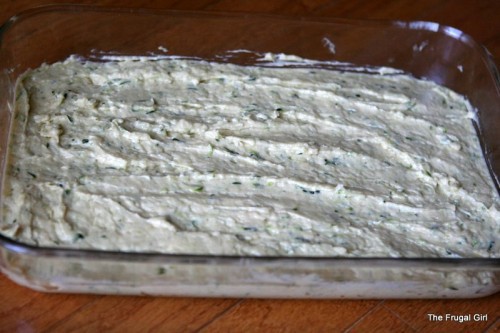 Bake for 20-30 minutes, or until lightly browned. Cool in the pan on a wire rack.
While the bars are cooling, make the frosting.
Heat the butter and brown sugar to boiling. Cook and stir one minute, or the mixture thickens slightly. This will give it that delightful browned butter flavor.
(During this step, you wouldn't want to check your email, get distracted, and let the sugar and butter cook for a while. If you do, you'll end up with some really hard caramelized sugar which will resist becoming one with the powdered sugar and milk in the next step. Even the food processor will have no effect on it. However, the frosting with caramelized chunks in it will still be good spread on crackers or pretzels. I tested that out for you.)
Cool for 10 minutes, then beat in 1/4 cup milk. Mix in enough powdered sugar to make the frosting spreadable. I have no pictures of this, and I have no idea why. Just visualize some tan frosting in a bowl.
Spread the imaginary frosting over the cooled bars and cut into squares or bars as desired.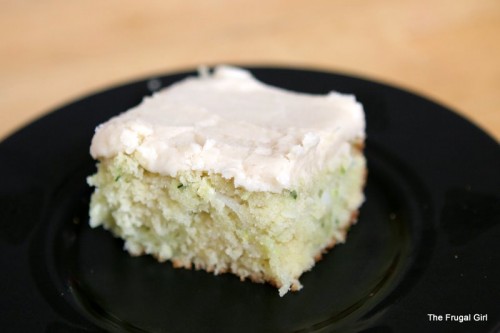 Zucchini Bars with Penuche Frosting
Bars
1 cup sugar
3/4 cup butter
1 teaspoon vanilla
2 eggs
2 cups all-purpose flour
1 1/2 teaspoons baking powder
1/2 teaspoon salt
2 cups shredded zucchini
3/4 cup shredded coconut
1 cup raisins (I never add these)
Frosting
3 tablespoons butter
1/2 cup firmly packed brown sugar
1/4 cup milk
2 to 2 1/2 cups powdered sugar
Heat oven to 350. Grease jelly roll pan. In large bowl, beat sugar and 3/4 cup butter until light and fluffy. Add vanilla and eggs; blend well. Add flour, baking powder, and salt, mix will. Stir in zucchini, coconut, and raisins, if using. Spread in greased pan.
Bake at 350 for 20-30 minutes or until light golden brown. Cool completely.
To make frosting, heat 3 tablespoons butter and brown sugar in a saucepan. Bring to a boil. Cook over medium heat 1 minute or until slightly thickened, stirring constantly. Cool 10 minutes. Add milk; beat until smooth. Beat in enough powdered sugar for desired spreading consistency. Frost cooled bars.