Since I posted recently about how we do low-key birthdays around here, I thought it might be fun to take a photo trip through Zoe's birthday. Dial-up internet readers, I apologize for the copious amount of pictures contained in this post.
She started her birthday with bedhead and her customary cup of OJ. You don't want to mess with this girl before she's had her juice.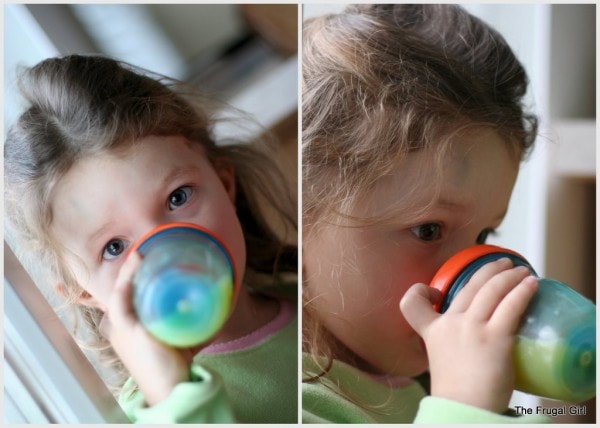 After she got dressed and got her hair done, she played all morning and then had lunch, using our special "It's Your Birthday" plate.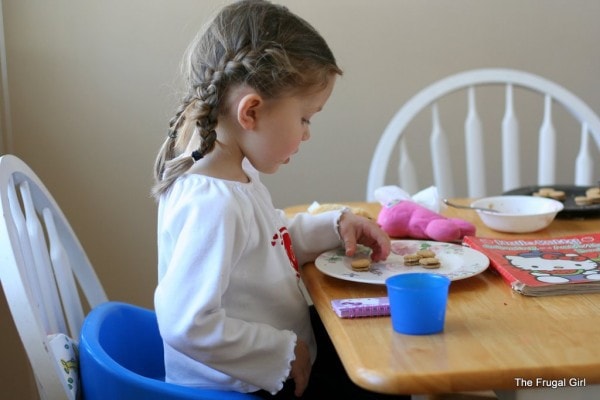 That afternoon, we baked her birthday cake and I frosted it. Zoe licked the frosting beater…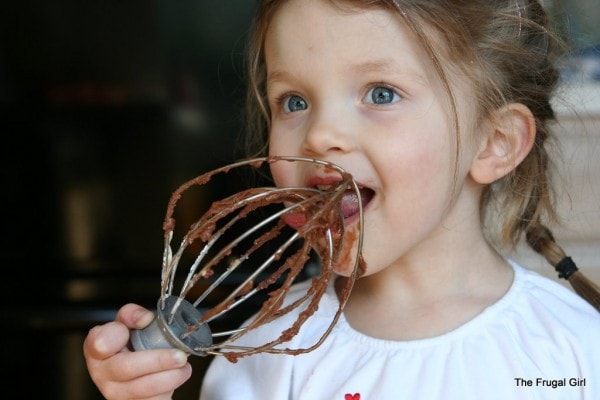 …and wiped her hands on her white shirt. Because that is what you do with chocolate frosting when you're four.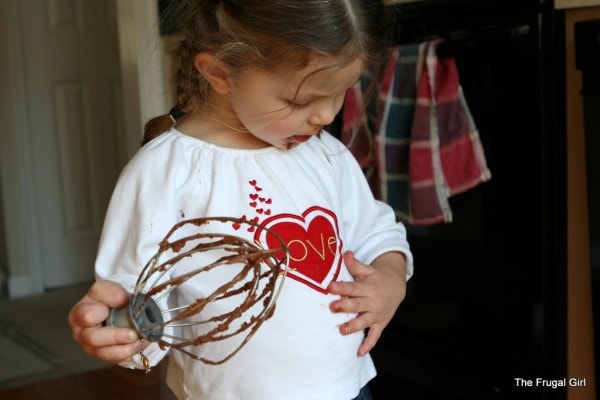 This is the third year in a row that Zoe's had a fish cake. This year, we decided to make a mola-mola fish. Mola-molas are blue in real life. Ours is chocolate, though, because we're just not all that authentic.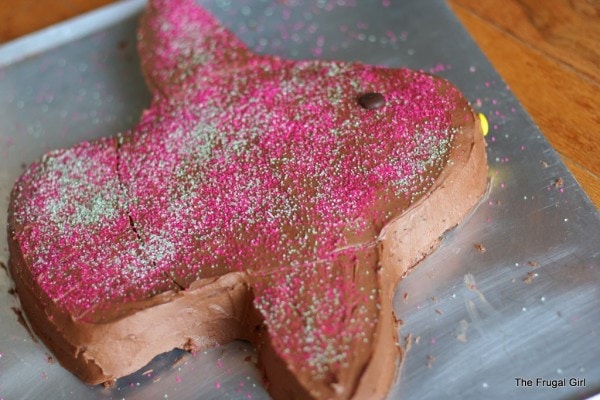 I'm not a particularly fabulous cake decorater, but baking and frosting a cake at home is definitely cheaper (and usually tastier!) than buying a cake. Then too there is the advantage of being able to design the cake however we choose. I think we'd be hard pressed to find a mola-mola cake at the grocery store.
When Mr. The Frugal Girl got home from work, it was time to open presents (you may recognize some of these reusable gift bags).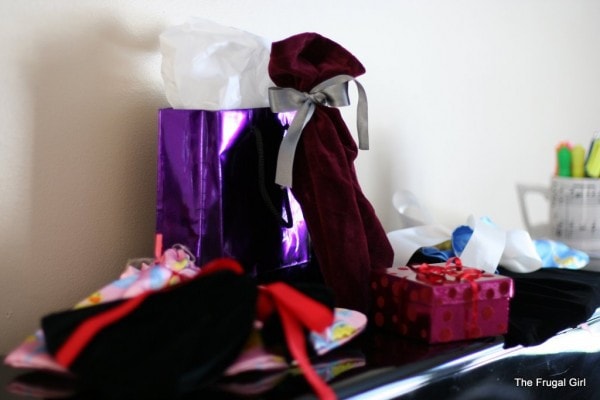 Zoe's first present was a fish ring from Joshua. She'd been eying this at Goodwill for weeks ("I reawwy want da fish ring for my birfday!") so she was highly gratified to receive this gift.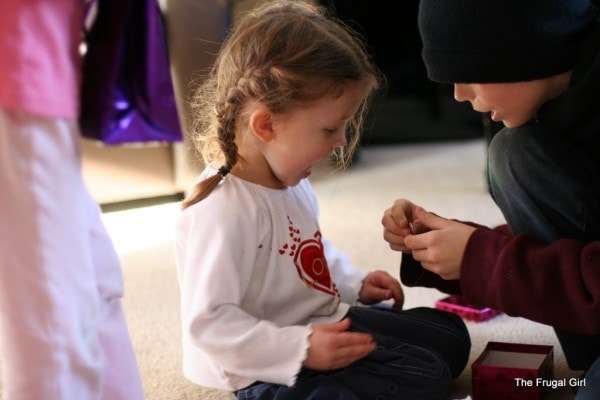 She also got a sparkly, beaded dolphin purse from Sonia (also from Goodwill!). This ended up being her favorite present.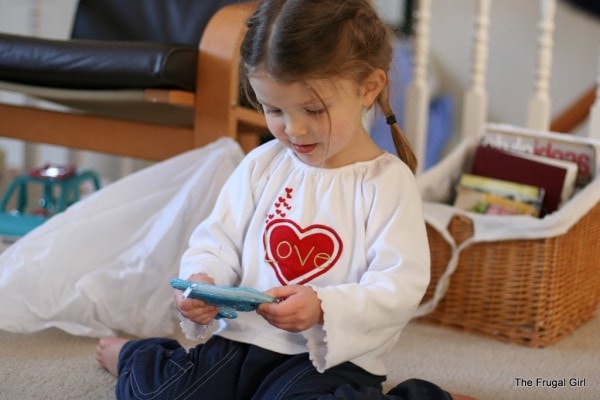 I'm putting this black and white photo in here for no particular reason other than that I like it. It doesn't really serve to illustrate anything, but that's ok, because this is my blog, and I can add pointless photos if I want to! 😉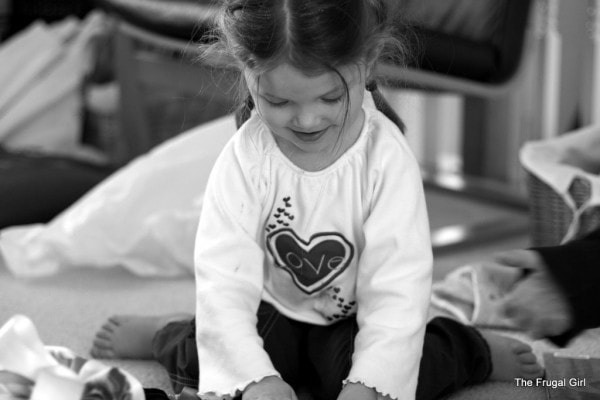 Zoe did get several other presents than the ones pictured here…we gave her a Leapster game and several Anatole books that were out of print (I bought them on half.com) and she got a dolphin wall decoration from Lisey (via Goodwill, of course). Plus she got something else from us that I cannot for the life of me remember right now, and as you will see a few pictures later, we got her a real live present after dinner.
Also, it was Mr. The Frugal Girl's birthday (he and Zoe share a birthday), so he is obligated to make an appearance.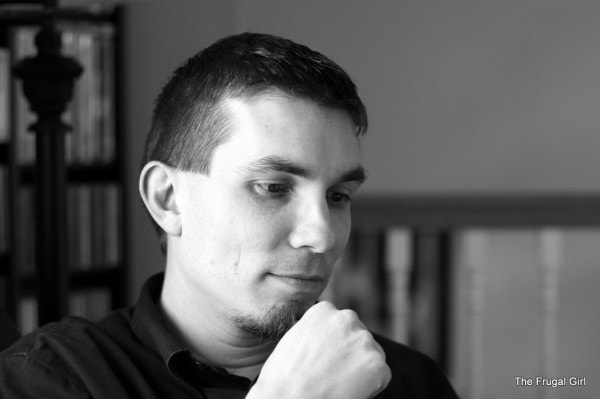 For dinner, we had french bread, fried shrimp, and an enormous bowl of jello (we don't worry much at all about nutrition on birthdays).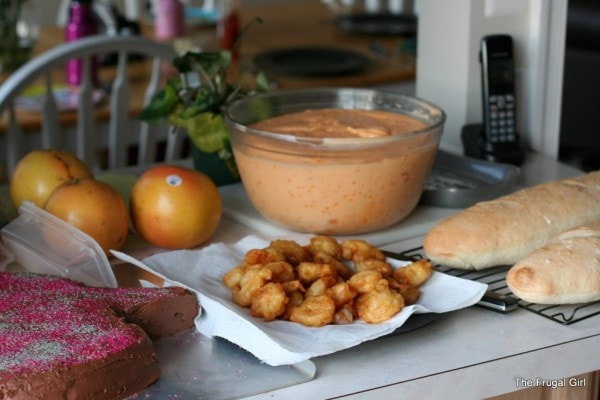 After dinner, we headed off to Zoe's favorite store in the world, where after some consideration…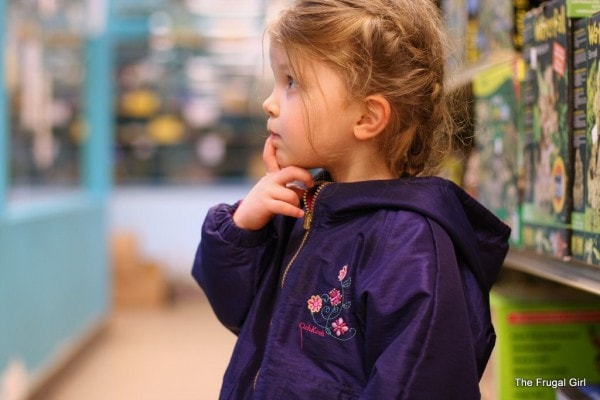 …she chose to bring a few of these guys home to put in her new fish bowl.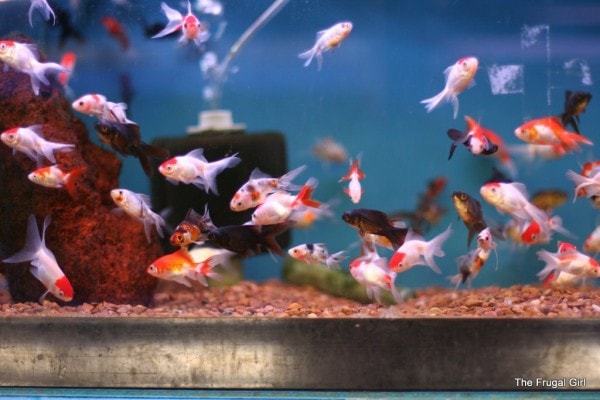 When we got home from the fish store, it was time for birthday cake.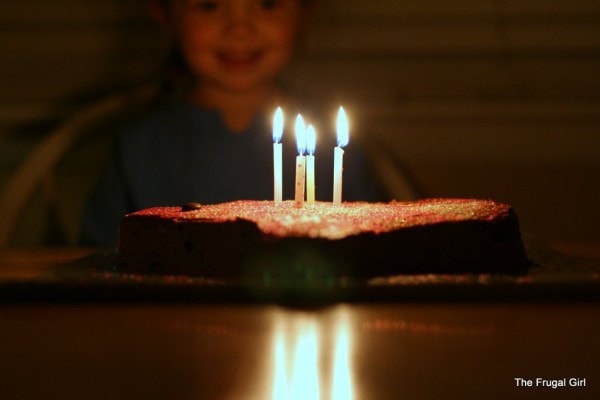 The candle-blowing process was made 60% more hilarious by the addition of a few trick candles. The quality of this photo is terrible, but it cracks me up no end. She was quite surprised/concerned when several of her candles sparked and re-lit.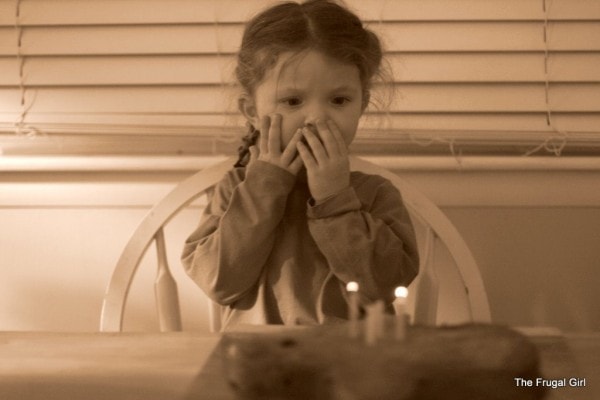 No worries, though…she blew them all out again, happily ate some cake, and was whisked off to bed.
And she's very pleased to now be four.