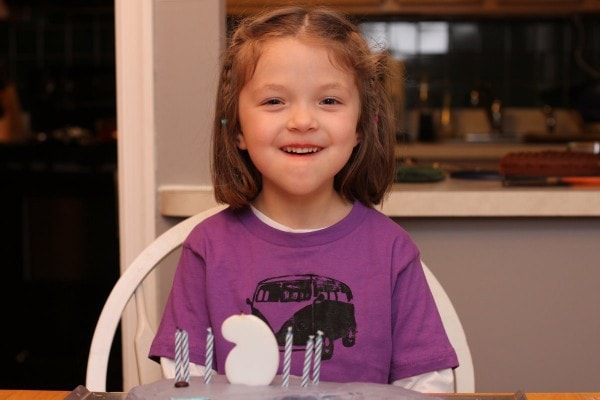 My goodness. My youngest kiddo is six.
I know some of you wanted to see pictures of her celebration, and I aim to please. 😉
But first, here's a quick look at Zoe through the years.
2006, age, um, 24 hours.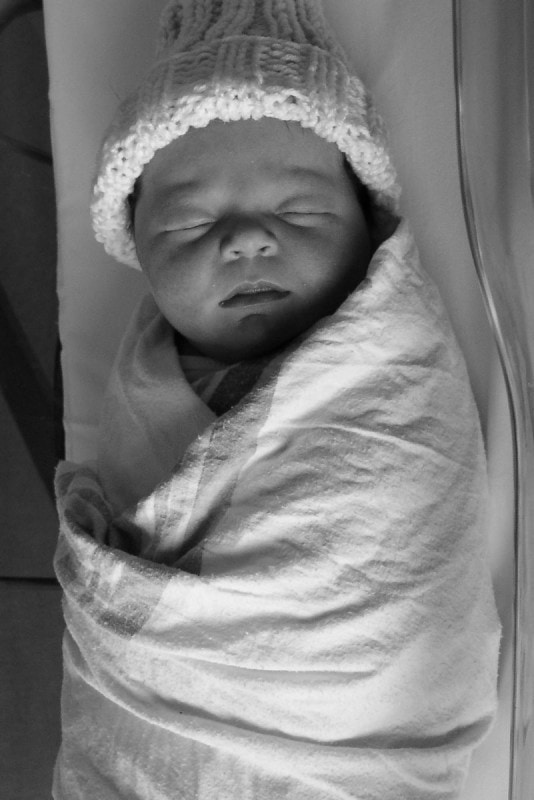 Hows about a picture of a tired me? This is at the hospital when Zoe was a day and half old.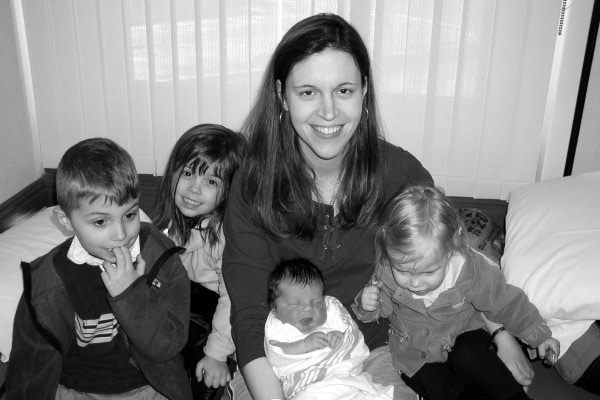 2007, age 1.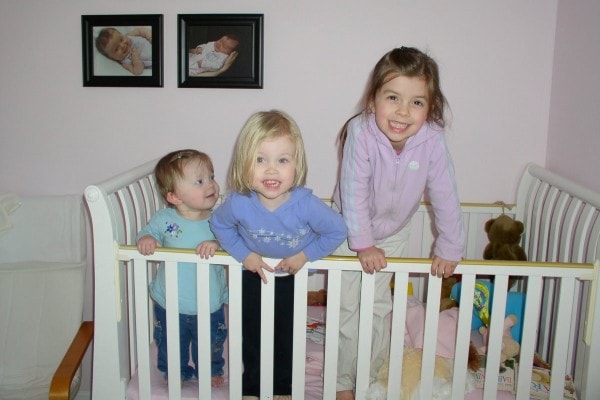 2008, age 2.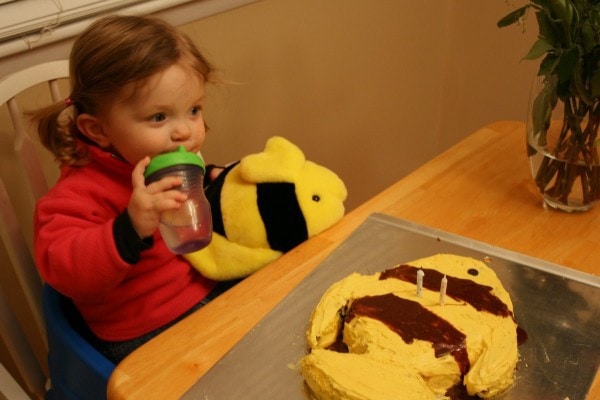 If you could, notice the cute curly pigtails. Thank you.
2009, age 3.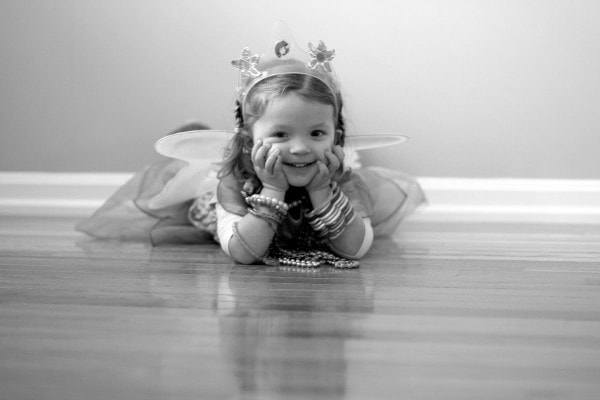 Left picture below: totally making me laugh.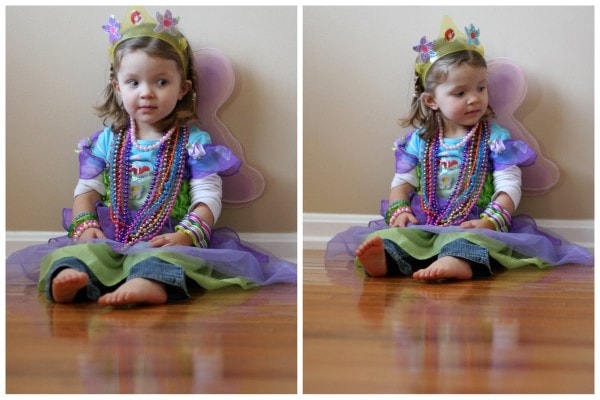 2010, age 4.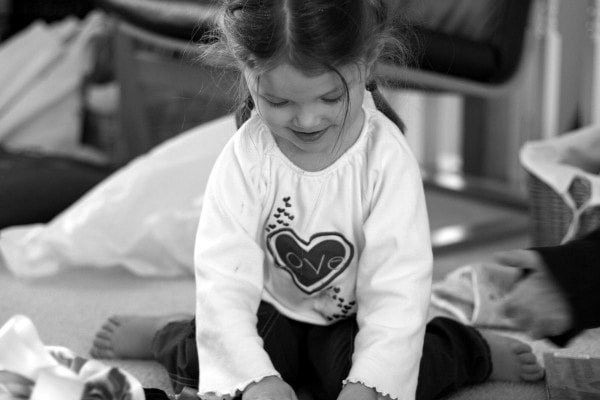 2011, age 5.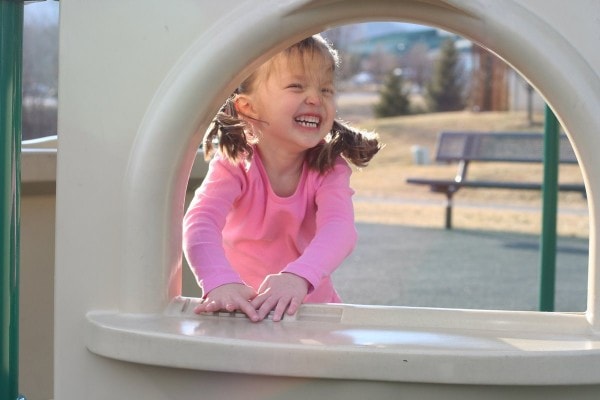 2012, age 6.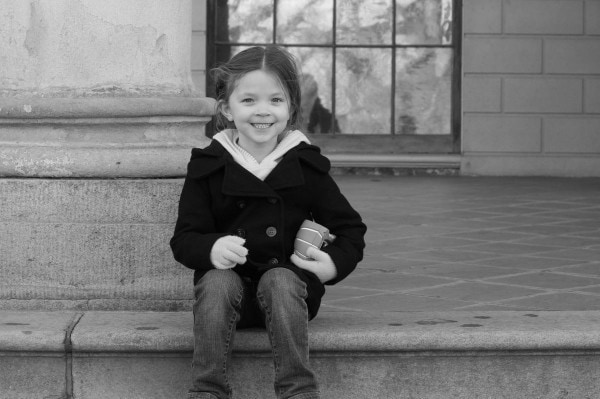 Well, that's always fun. A bit of a walk down memory lane.
I sure do love my Zoe-girl, and I'm glad God decided to add her to our family…she's a really good kind of surprise.
Zoe wanted stuffed shells for her birthday meal.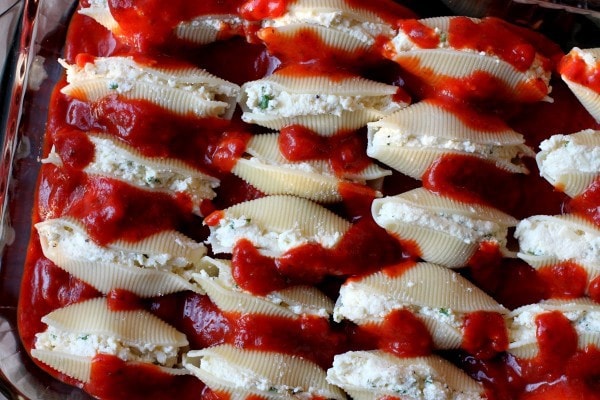 Also, she really, really wanted these little juice boxes. She pronounces the extra S in the name of these, so they're called S-sips.
I love the pronunciation and the fact that something so simple made her happy.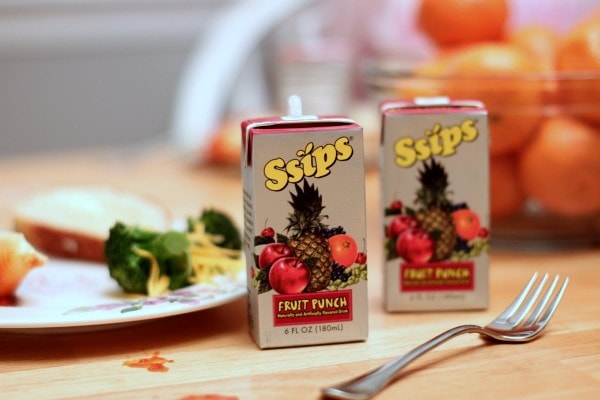 Dinner was served on the special birthday plate, of course.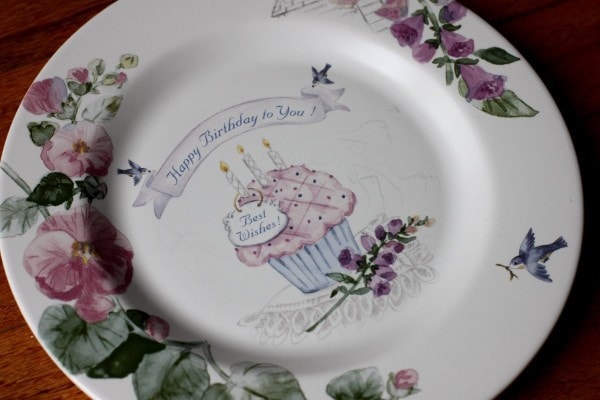 I made her a whale cake by hacking up two round layer cakes to piece together the appropriate shape.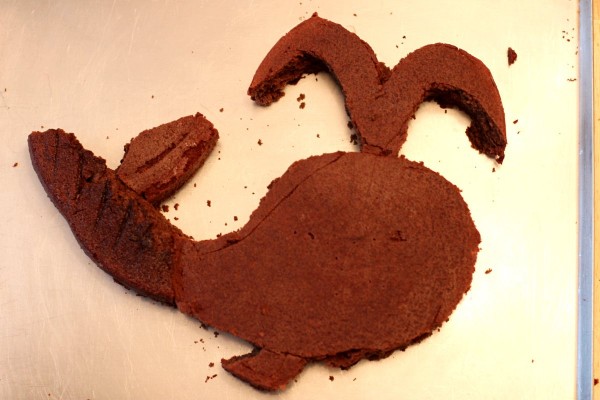 The color for the whale body came out pretty well, but the spout ended up being a really, uh, vibrant shade of blue. He's spouting Carribean ocean water, I think.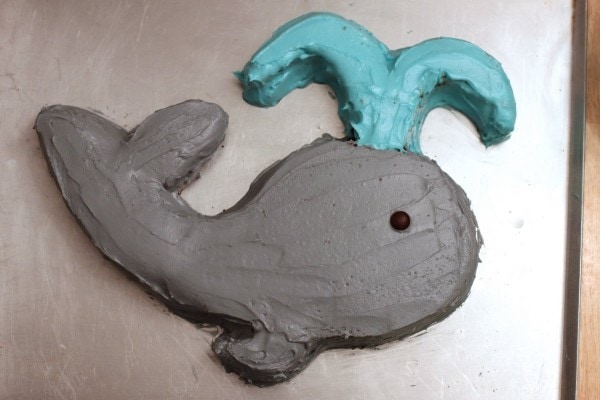 We actually opened presents before we ate cake. Must let the dinner settle, you know.
Joshua was at his friend Thomas' house on this night (Thomas has a birthday very close to Zoe's), so Joshua watched Zoe open her presents via Skype.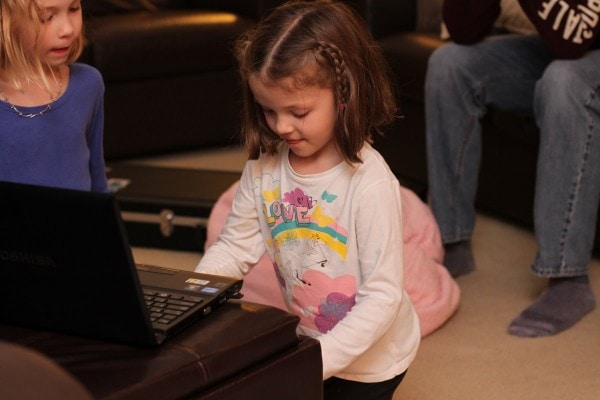 Backing up a bit, if you like me on Facebook, you know that I hid one present under Zoe's bed for her to find when she woke up.
It was a little bag with these charms in it.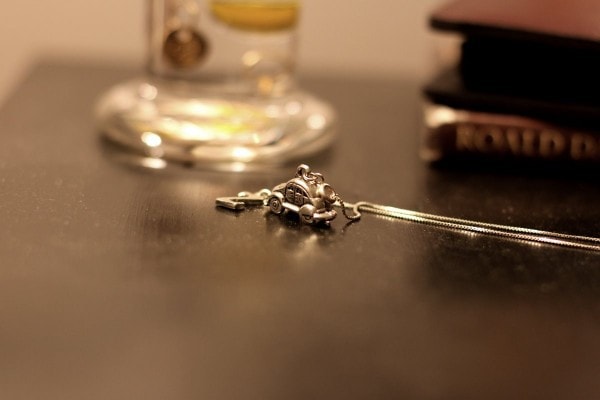 Zoe had a little VW Beetle-ish car charm originally but she traded with Lisey, and as so often happens when she makes trades, she ended up regretting it.
(We currently have a no-trading-with-Zoe rule in place because Zoe doesn't seem to know herself well enough to say no to trades she doesn't really want!)
So, she was delighted to find one of these in the bag along with a little Z charm (and a monkey charm that I didn't snap a picture of).
These are actually supposed to go on charm bracelets, but my girls like to string them on necklaces instead. They're quire affordable at just a dollar…much less expensive than any other Beetle jewelry I could find on the 'net.
In keeping with the VW theme, Zoe has also been wanting a VW bus shirt like the one we bought Lisey for Christmas.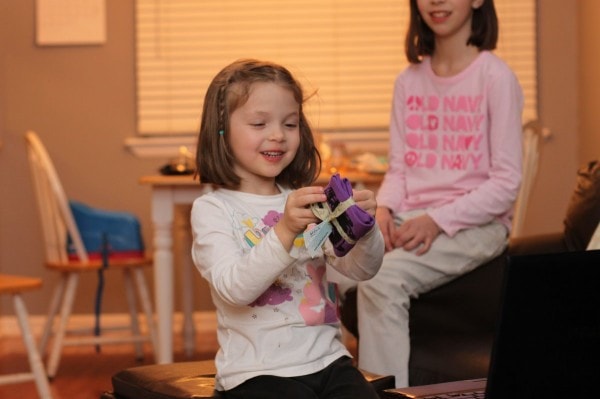 It's from Dandelion Dream, my friend Erin's shop, where she sells shirts to raise money for their adoption fund.
Zoe was very excited to have a shirt like Lisey's, and since it's short-sleeved, she can layer it during cold weather and wear it on its own once summer is here.
The next bag contained one of her favorite presents.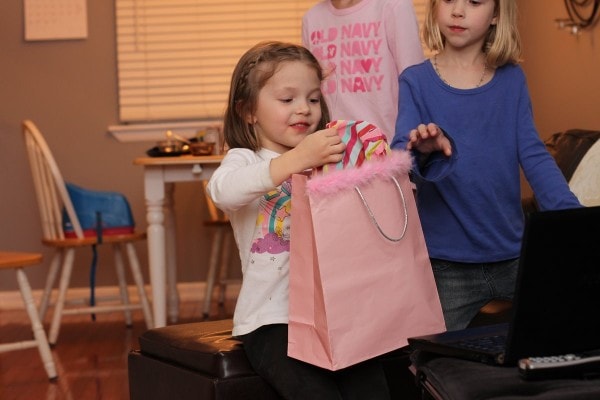 You may remember that she got a mini velour whale from Fluffyland at Christmas, and since then, that whale has been her constant companion. She sleeps with him every night and just generally adores him.
Well, we bought her the ginormous version for her birthday.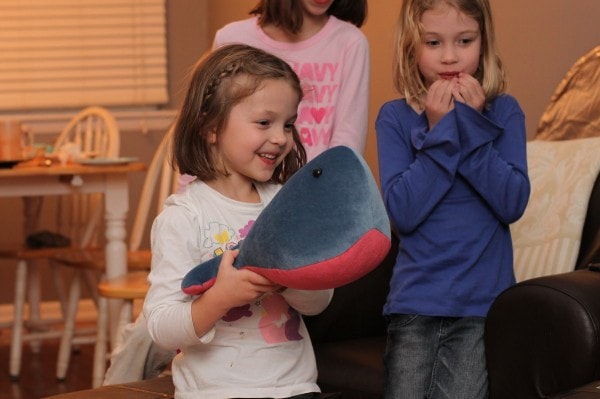 Sam, a college student, runs Fluffyland sews these herself. She had none in stock and was away at college with no velour fabric.
But her mom came to the rescue and mailed some velour to her, and then Sam sewed a whale up in a jiffy and sent it to us. That's service, baby!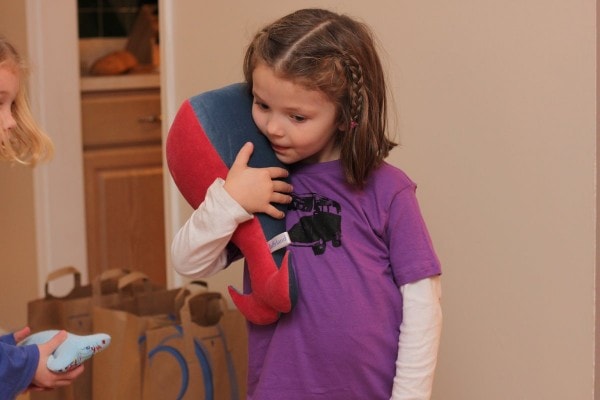 Joshua and Lisey bought her a little blue Fluffyland whale too, so she's quite set for whales now.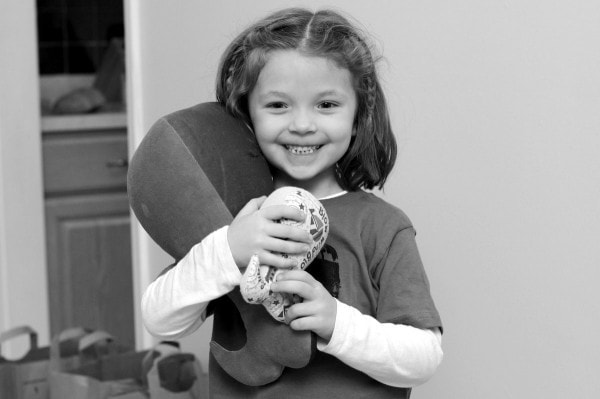 What else? Well, Joshua, Lisey, and Sonia all happen to own large fuzzy blankets, and Zoe's been a little sad that she doesn't have one. So, I searched the internet to see if an aquatic fuzzy blanket could be had, and came up dry.* I decided to pay our fabric store a visit, though, and almost struck out again.
*I typed that up and didn't realize my pun. Now it's making me laugh, so I'm leaving it in there.
But at the very end of the aisle, tucked in a corner, a bolt of pink and white fuzzy fabric was hiding.
Phew!
I bought some yardage with a 50% off coupon, used some thread I already had, and sewed her a blanket myself. $10!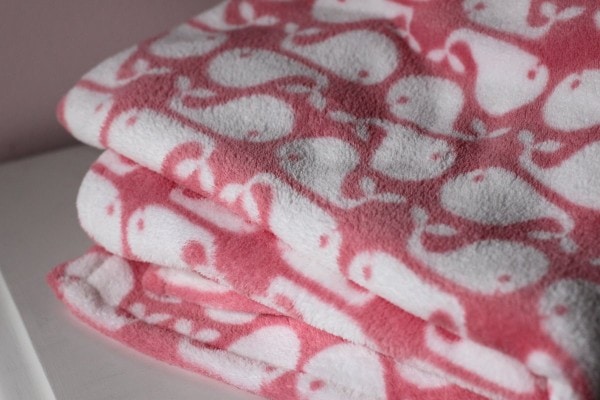 And Zoe was very happy. As soon as she opened it, she hugged it and rubbed the fuzziness against her cheek.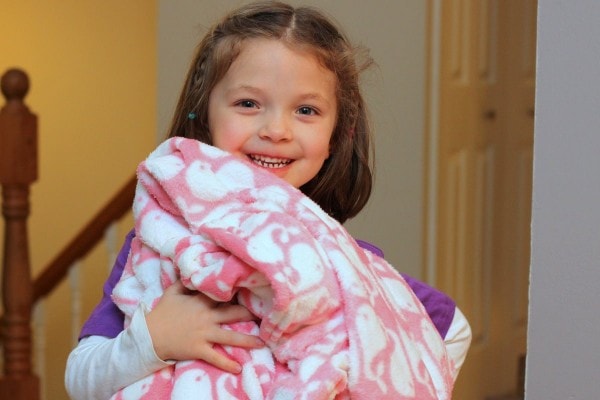 I think it will be a well-loved blanket.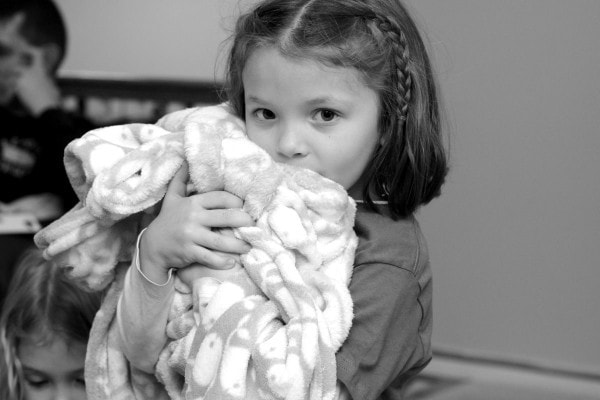 She also got big pack of sidewalk chalk and an Angry Birds nightgown and t-shirt (she uses her daily game time for Angry Birds pretty much every day, so we knew those would be a hit.)
On to the cake. We'd saved the 6 candle from when Sonia turned 6, and I'm so glad we remembered to get it out and use it!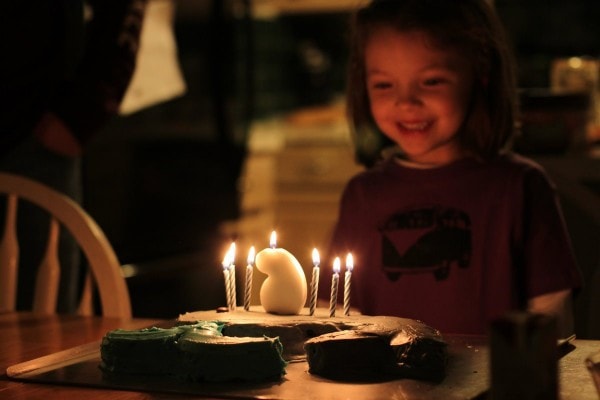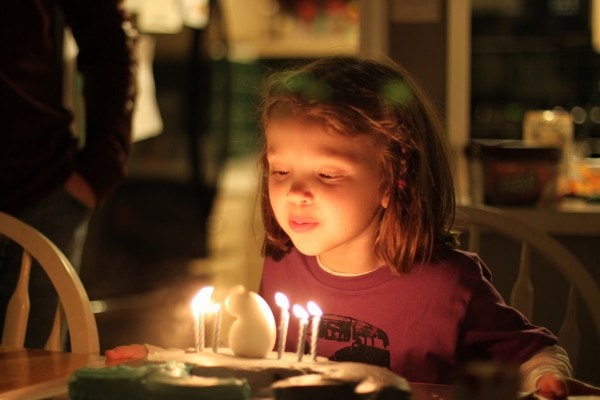 Zoe was very pleased with her special day. In fact, as she got ready for bed, she was dancing back and forth, listing all the happy things about the day. "I got Ssips, and a whale cake, and a big velour whale…."