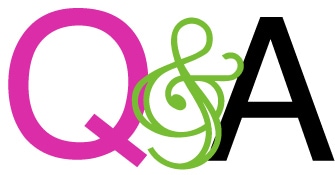 Every Monday, I answer a few of the questions that my readers send me. If you have a question you'd like me to answer in a future Q&A post, just leave me a comment here or email me (thefrugalgirl [at] gmail [dot] com) and put Q&A in the subject line. I look forward to hearing from you!
I've been trying to be more conscious about my consumption habits: spending less, bringing less into the house, borrowing or buying used whenever possible. It's going well, but I'm having a little bit of trouble getting my husband on board. He's not a big spender for himself, at all, but he's the primary wage-earner, and I think he feels like he's not providing for us if we're borrowing things we need or going to Goodwill.
I do not think that at all, obviously. But I'm just wondering if you had any issues with Mr. FG ever feeling like your frugal habits were somehow a reflection of his not being a good provider and, if that was the case, how you guys dealt with that.

-Lori
This is a great question, and it's definitely something that's cropped up in our house. Occasionally, my frugal habits have made Mr. FG feel the same way your husband feels (he's always been the primary wage-earner too), so I asked him for his feedback, and here's the Clif's Notes version of what he said.
He says that keeping in mind my reasons for doing the frugal thing helps and it's especially helpful to remember that I'm just trying to squeeze the most out of the money he brings home. For instance, if we save money by eating at home instead of eating out, we can afford to go on a vacation. And if I get our clothes on clearance, we can have a better wardrobe than we would otherwise.
It also helps him to think about other non-frugal motivations I have for some of my frugal activities. For instance, he might not feel like we need to shop at Goodwill to stay within our budget, but he does get the whole idea of buying used so as to avoid supporting companies that treat people poorly.
So, I'd maybe emphasize those sorts of things to your husband. Also, though your commitment to conscious consumption is great, I think it's good to compromise sometimes. If your husband feels very strongly that you should buy a certain item instead of borrowing it or that it would be better to buy a particular something brand new instead of used, consider agreeing to that.
As long as you're reducing your consumption, you're making progress, you know? And important not to sabotage your relationship while you're trying to save money.
I'm the mother of twin almost-five-year-old boys. They will be heading to kindergarten next year at our local elementary, which is the best choice for our family at this time, but I have a lot of reservations about our local middle school (and middle school in general!), think very favorably of homeschooling, and am starting now to explore the possibility of homeschooling them for middle school. My only real concern is my sanity! I know that my kids are still young and rambunctious now, and will probably grow calmer as they grow older, but the idea of spending such a concentrated amount of time educating them each day without any down time on my own seems a bit daunting.
Do you ever feel overwhelmed by homeschooling four kids? If so, how do you handle it? What do you think about parents introducing a certain element of cooperative homeschooling with other like-minded parents so as to give each other breaks and give the kids a different perspective? Am I putting the cart before the horse, and should I wait a good three or four years before I start to worry about this?
-Claudia
Yup, there are days when I feel really overwhelmed by what's on my plate, and sometimes I watch the neighborhood moms send their kids off on the bus while they walk home to a quiet house and I think, "Wow. That would be pretty nice!"
But when that happens, I remind myself of all the many reasons I homeschool (that post is coming up later this week!), and I also remind myself that being the mom of traditionally-schooled children isn't all ease and comfort either. There's the dreaded homework monster, the school activities that take time, the fund-raising, and probably a lot of other things I haven't thought of! Also, I would hate having to operate on a school schedule determined by someone else, and my hatred for that would probably outweigh my love of a quiet house and alone time.
If I'm feeling really overwhelmed and stressed, sometimes we do take a day off of school, or we have a light day of school (just Math, Latin, and Composition). We still finish our work by the end of the schoolyear, of course, and having a day off here and there is sometimes just what the doctor ordered.
I definitely think that homeschooling can look all sorts of different ways, and if you would prefer to do more of a part-time kind of homeschooling thing, I'd recommend looking into what tutorials are offered in your area. A lot of tutorials hold classes one or two days a week and the rest of the week is spent doing schoolwork at home. It could be the perfect in-between system for you.
__________________________________
Readers, do you have any advice on these two topics? Chime in!
__________________________________
Today's 365 post: I don't get the drill out very often…
Joshua's 365 post: Go-Kart Ride!