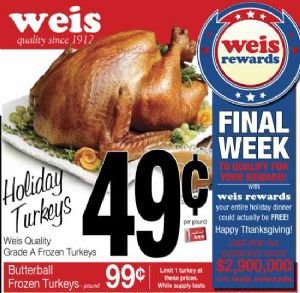 Sorry to be so late posting today. My husband has a day off from work, which means that we were most certainly not up and out of bed at 4:40 am. 😉 I might be an early bird, but I am not insane!
Today, the six of us made our grocery shopping rounds (report on my second cash-only week to come on Saturday), and a current Weis promotion reminded me of this topic.
Several times a year, there is a Weis Rewards program. Over a 5-week period, you earn one point for each dollar that you spend, and depending on how many points you earn, you get a percentage off of your next purchase.
Here's how it works:
Spend $200, get a 5% discount
Spend $400, get a 10% discount
Spend $600, get a 15% discount
Spend $800, get a 20% discount
Because I usually spend less than $400 a month, and because I spend the grand portion of that money at Aldi, I barely crest the lowest level, and so I only come away with a 5% discount. This bothers me not a particle, though. I'd much rather keep more of my money and get the lower discount.
Suppose I spent my whole $400 budget at Weis. I'd get a 10% discount off my next shopping trip, which would save me about $10 (I spend $100 a week on average).
If I spent $800, I'd get a 20% discount, which would save me $40 (20% off $200) but I'd be in a much worse place overall. I'd save an extra $30, but I'd have had to spend $400 more to save that $30. That's not a good deal, no matter how you slice it.
So, even when the rewards program is running, I buy groceries just as I normally would. If I end up getting a 5% off coupon, great. If not, I'm just pleased because I managed to spend less than $200.
If I was already going to need to spend $800, then I'd look at the 20% off as a nice bonus, but there is certainly no point in me purposely spending extra in order to get that discount.
This seems fairly elementary to me, but based on how often Weis runs this program, it seems obvious that a large number of people out there DO change their shopping habits when the rewards program is running. If it wasn't profitable for them, they certainly wouldn't offer it multiple times a year.
Weis isn't the only retailer who uses this form of marketing, of course. Department stores and credit card companies do it all the time. I think it's fine to participate in the rewards offered by these sort of programs, certainly, but if you are serious about saving money, don't spend more to save more! The party that benefits from that sort of behavior is never going to be you, I promise (no matter how delightful the rewards program seems).