Since we're nearing the holiday season, when people do an awful lot of online shopping, I thought a rundown of my favorite cashback sites might be helpful to you all.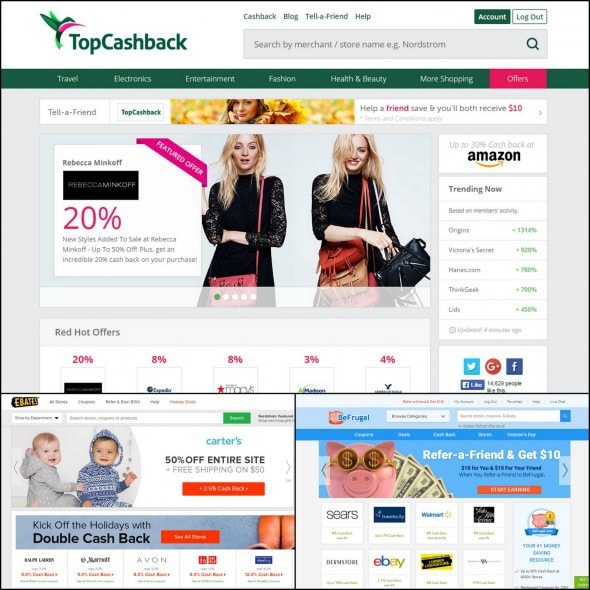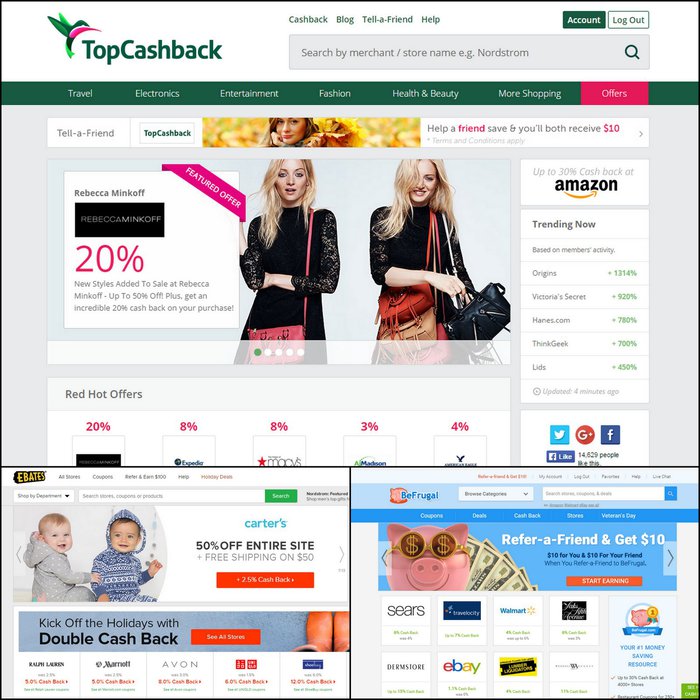 Cashback sites are basically companies that operate on an affiliate basis with hundreds of online stores. The stores give the cashback sites an affiliate commission, and the cashback sites give you, the consumer, a portion of that commission when you make a purchase.
The cashback rates rarely exceed 10%, but since you can stack the cashback rewards with discounts, sales, and coupons, I'm always game. I figure I might as well add another small discount to my purchase!
There are a LOT of these types of sites out there, but there are three main ones that I check when I'm making an online purchase.
This is almost always my cashback site of choice.
Why?
Their site is easy to navigate
They typically have all of the stores I need
Their cashback rates tend to beat other sites' rates
The cashback is payable in a fairly speedy manner
Aaand, if you redeem your cashback for an Amazon credit code, you get a 2.5% bonus.
(Which, ok, isn't going to singlehandedly enable you to retire early, but it's something!)
Plus, TopCashBack has the best new-signup bonus, so if you pick just one to join, this is my top recommendation.
Top Cashback Sign-up Bonus
When you sign up with TopCashBack, you get a $10 bonus, payable when you earn $10 in cashback.
Rakuten (formerly Ebates) is the oldest cashback site I belong to. I joined in 2001, which isn't long after they opened their doors in 1999!
Rakuten's cashback rates tend to be slightly lower than TopCashBack's, but sometimes Rakuten has a merchant that TopCashBack doesn't.
And since cashback rates fluctuate, it's a good idea to just check before you purchase.
Rakuten Sign-Up Bonus
You get a $10 bonus for signing up with Ebates, payable when you earn $25 in cashback within 90 days.
(Quite do-able if you do a lot of Christmas shopping online.)
I've been a member of BeFrugal for a while now, but due to their somewhat dated and hard-to-navigate web design, I hadn't used it much. However, they did a complete overhaul of the site this year, and it is way, way easier to use now!
BeFrugal doesn't seem to have as many cashback store options as my first two choices, but they do have some decent offerings, like 30% cashback on Amazon magazines, and 8.5% cashback on men's and women's shoes from Amazon.
Be Frugal Sign-Up Bonus
When you sign up for BeFrugal, you get a free $10 bonus, payable when you earn $25 in cashback within 90 days (again, quite do-able if you do a lot of Christmas shopping online.)
____________________
What cashback programs do you use? Any we should know about that beat even TopCashBack?