I mentioned last week that my kitchen freezer is getting a little bit out of control.
Which is especially sad because when I finished my freezer challenge this past fall, it was lookin' super marvelous.
And now it's not.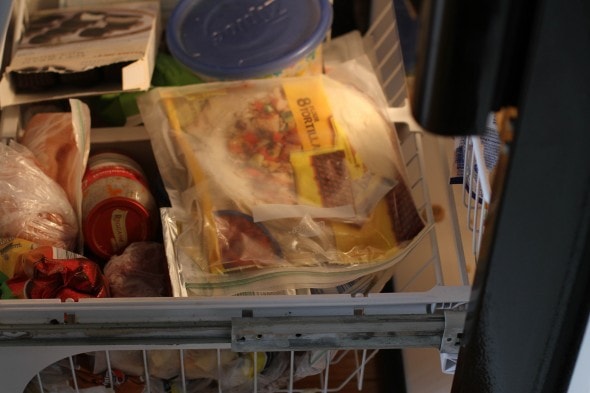 So!
This coming week is gonna be freezer challenge week at my house.
How much of this stuff can I get through in a week?
To start off, I emptied my freezer and took inventory. Here's what I've got to work with: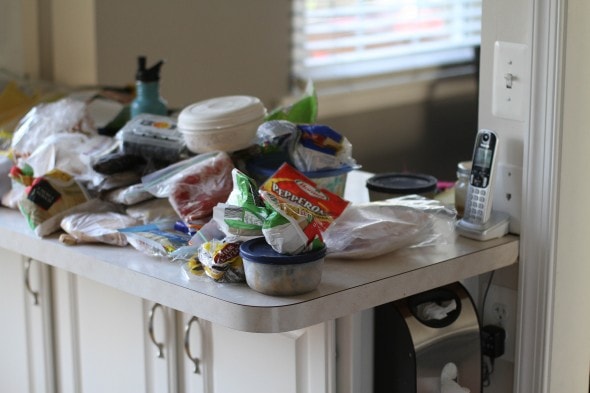 Seeing it all piled on the counter wasn't super helpful, so I divided things up into a few categories.
I had a LOT of random bread odds and ends, some storebought, some homemade.
I put most of them into a single bag until I decide what to do with them. Thinking croutons and bread pudding, maybe.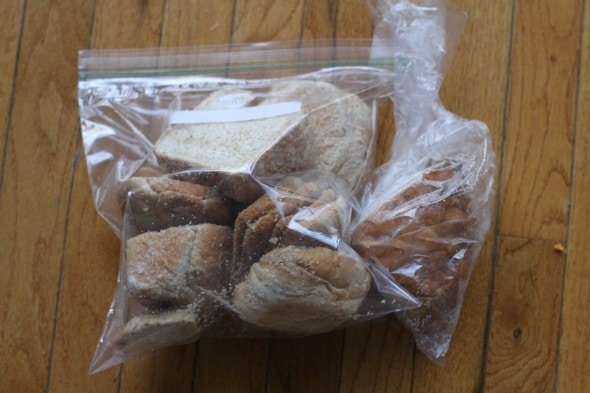 As I did this, it occurred to me that keeping a ziploc bag in the freezer for bread odds and ends is a great idea. If I freeze bread miscellany in those yellow reused commercial bread bags, I can't see what I have.
And I know that seeing what I have is half the battle in avoiding food waste.
Next up are all the meaty things from the freezer.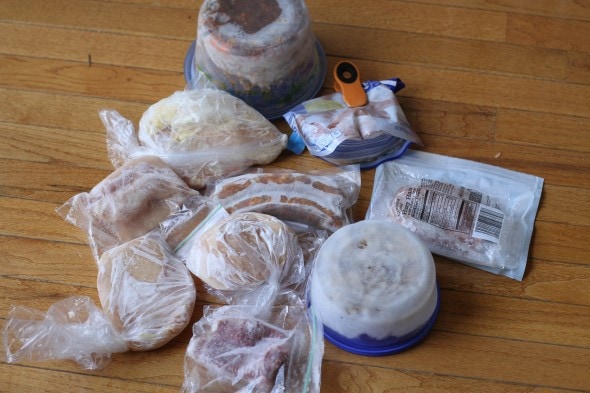 I have leftover taco meat, a few shrimp, some lunch meat, a bit of bacon, two chorizo links, a few chicken breasts, and a little bit of cooked chicken.
And then the rest is very random…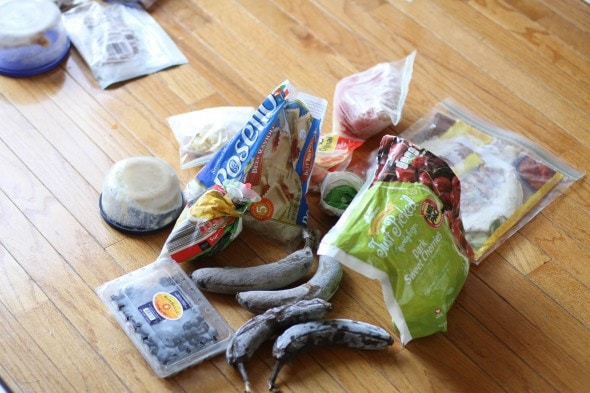 -beef ravioli
-frozen blueberries
-some old bananas
-frozen cherries
-pepperoni
-tomatoes
-tortillas
-mashed potatoes
And lastly, something mysterious in that glass bowl.
I think I'm gonna have to thaw it in order to figure out what it is!
____________________
Just like last time, I am totally not opposed to buying ingredients that will help me use up what's in my freezer.
Because the point is not to be spartan as much as it is to empty the freezer.
I feel decently hopeful about this project because nothing in that inventory is crazy difficult to use up, and I think I'll be able to produce some pretty tasty eats this week with my freezer things.
Alrighty! Hopefully by next Friday I'll have a much emptier freezer. Stay tuned…
__________________
P.S. Food Waste Friday is officially over at Simply Being Mum today.