On Tuesdays and Thursdays, I post a picture and just a few words.
On Tuesday, I mentioned that our household is 6/6 for not liking math.
(Which I think is just fine. We don't love math, but we faithfully teach it/learn it!)
There was a lively discussion in the comments on the math post, and one reader mentioned that people tend to either love math/science or grammar/vocabulary/literature/history.
In our house, we definitely fall into the second camp.
Pretty much no one here has ever cried about grammar or vocabulary or spelling, almost no one needs help to finish those assignments, and they get very few answers wrong in these subjects.
(Math, on the other hand, has brought about the shedding of quite a few tears. 😉 )
All of my kids are good readers too, and half of them began reading before they even started kindergarten.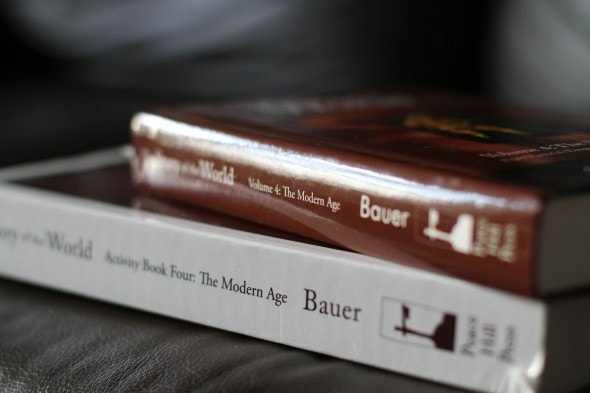 History? That's never been a problem for the kids or me either. I'm especially fond of Susan Wise Bauer's Story of the World
series, which I've been using with Sonia and Zoe.
It's such a fascinating curriculum, and I only wish it had been around when I was a kid.
(My world history book was all, "date, date, fact, fact, date, fact, date." Basically completely unmemorable.)
This history curriculum is so engaging, though, and I'm learning about things I never even remember reading about in my childhood. Plus, I love all the recommend reading suggestions, and so do my kids.
(As I type this, Zoe is on the couch reading a historical novel that goes with what we were reading about the end of the Romanov dynasty. And she's choosing to do this in her own spare time.)
You know how I can tell I just naturally love history more than math?
After we finish a history lesson, I find myself wanting to know more about what happened.
What made Eva Braun tick? Why did Joseph and Magda Goebbels decide to kill their children? What did the Fuhrerbunker look like?
(Why yes, we ARE reading about the end of World War II right now. How could you tell? 😉 )
So, I read more just for fun and I check out books from the library, and I find myself anxious to tell Mr. FG what we've learned about.
But when we finish a math lesson, I never am tempted to read more about a concept, and I'm not prone to thinking a new math concept would make stimulating dinner conversation.
I know there are families that are just the opposite, who love to discuss math concepts at the dinner table, and I think that's great (though it's hard for me to imagine. 😉 )
Hmm.
I guess I'm breaking with the Tuesday/Thursday theme because 470 is more than just a few words. I'd better stop rambling now, or I'm gonna hit 500. 😉
__________________
Do you find the the math/science vs. words/history applies to you? I'd love to hear about it!