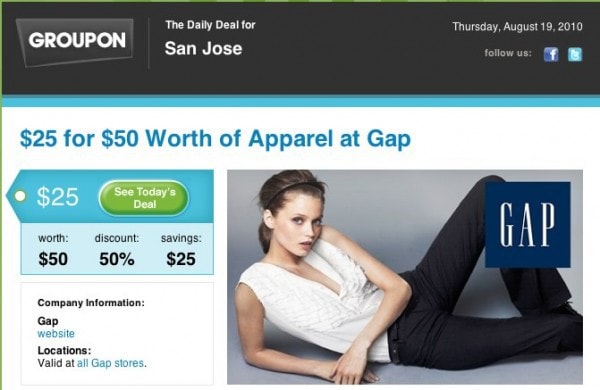 I signed up a while back, so I thought I'd share my thoughts about this service (and I'm curious what you guys think of it too!).
In case you haven't heard of it, I should explain that Groupon is a daily local deal site. You sign up for free, and each day Groupon emails you a coupon type of offer for a local business. Typically the coupons offer you a 50% off kind of deal. For instance, you might be able to buy a $30 restaurant certificate for $15, or a $60 salon service for $30.
I like that Groupon mostly works with small, local businesses…Groupon is a big company, but they're partnering with small companies, which is awesome.
Every now and then, Groupon offers non-local deals as well. For example, last August they offered a $50 Gap certificate for $25. I think that's actually the deal that made me sign up for Groupon in the first place!
So, what do I think after 6 months?
Well, I think Groupon will work the best for you if you happen to live IN a city. I live in the suburbs (so not a city girl!), and so a good number of the deals are for businesses that are a bit of a hike for me. Occasionally there's a chain deal (like for Gap), and occasionally a deal comes through that is truly local for me (I recently got a gift certificate for a salon that's 5 minutes from my house and for a mini golf course that's close by), but most of them are a little too far away.
Also, you should know that Groupon will save you money mainly if you're looking for deals on budgetary "extras", like salon services, entertainment, and restaurants. It's not the place to get discounts on necessities (the Gap offer was the closest to a necessity that I've seen thus far.).
In addition, though joining is free, Groupon offers are not free*. They're usually pretty good deals, but they require some cash outlay, so you need to shop with caution.
Because of this, I wouldn't necessarily recommend this service if you're prone to impulsive spending, as you might be tempted to buy way too much stuff that you can't really afford and that you don't really need.
(*if you're looking for something free, I'd recommend Swagbucks instead…there you can get points and redeem them for gift certificates without having to actually spend any money. If you want to find out more, read my post about what I think of Swagbucks.).
If, however, you're looking to get the most out of your entertainment budget, I think Groupon could be a very helpful tool for you. If you stretch your entertainment dollars by using Groupons, you might be able to get in two date nights each month instead of one, and maybe you could afford to take your whole family bowling or out for ice cream.
Also, Groupon does have a referral program. If you refer your friends and they sign up and buy a deal, you get $10 Groupon bucks in your account, which you can use to buy Groupon deals. Right now, though, Groupon is offering you $20 for each friend you refer, so if you want to get with some friends and sign up, now is the time!
(If you click on any of the Groupon links in this post, I'll get Groupon credit when you sign up and buy a deal. But of course, if you don't feel comfortable doing that, you can always go directly to Groupon's site to sign up. And as always, I only encourage you to sign up and buy something if you feel like it's a good deal and works with your budget. )
What do you think? If you've joined up, has Groupon worked well for you?
Today's 365 post: I can't share just one of these.
Joshua's 365 post: Do you know what we call this?