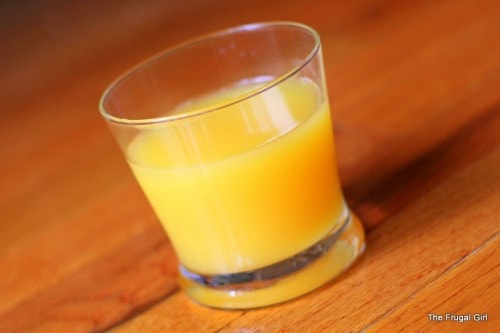 Over the last year, I have really grown to enjoy shopping at Goodwill. It's so much fun to see what wonderfully cheap things might be available each week. Sometimes, though, the things I buy are not REALLY needs. They're nice to have and useful, but not entirely necessary (worry not, though…I'm a very anti-clutter person, so I don't go overboard with the buying. Many weeks I walk out of Goodwill with nothing). My dress was a good example of the need vs. want idea…I didn't really need a dress, as I do have several now (mostly from Goodwill!), but I loved it, it was a good price, and I will get a lot of use out of it.
Anyways, last week I found two things that I really did need, and I'm tickled about it.
When my husband and I got married 12 years ago, we received a set of juice glasses. Over the years, they've broken, one by one (oddly enough, most of them seem to have broken since we had kids. hmmmm.) and we're now down to one. We were supplementing with a candleholder (it was a Yankee candle and when I finished burning the candle, it occured to me that it looked just like a juice glass, so I washed it out and put it in the cupboard). This candleholder glass actually became my hsuband's favorite juice glass, but alas, it broke when one of our offspring was unloading the dishwasher.
Last week when we were away by ourselves, we were browsing through Williams-Sonoma and saw glasses just like the one that broke. Unfortunately, they were $10 apiece (apiece!!!). I remembered, though, that every Goodwill I've been in has had a large glassware section, so last week I poked around and found a perfect replacement for our broken glass for the whopping price of $.50.
If you aren't a stickler for matching glasses, I highly recommend buying your glassware from Goodwill. People are forever giving a stray glass or two to Goodwill, and the prices can't be beat. In addition, if a glass has managed to last long enough to end up at Goodwill, it's probably fairly sturdy.
I'm sure my $.50 glass will break at some point, though, and when it does, I'll go out and find another $.50 replacement.
Cheese Grater
I think I've been through two cheese graters in the last twelve years, and both of them have broken because they had plastic pieces on them. My current grater has been cracking more and more lately,
and I was just about ready to go out and buy a new one (after checking Cook's Illustrated's recommendations first, of course).
Happily, though, Lisey found a stainless steel box grater in new condition when we visited Goodwill last week! It's entirely free of plastic, and so I expect that this grater will last me for a very long time.
And the price? $1. I love Goodwill.