This recipe has been in my to-try pile for a while, but I just haven't gotten around to making it. Lisey spied it, though, and decided she'd like to have this for her birthday breakfast.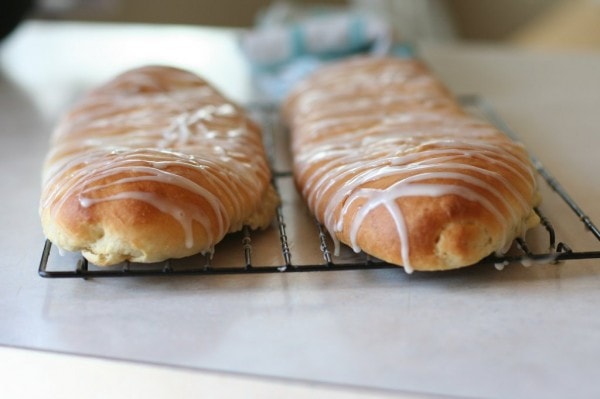 This is not an overnight kind of recipe, which is a bit of a bummer, considering it's best to eat it at breakfast. On the other hand, I do think that cream cheese filling is probably more tasty when it's cool, so it might be best to make the day before after all.
I may do some experimenting, though.
Ok! To make the dough, dissolve the yeast in the warm water.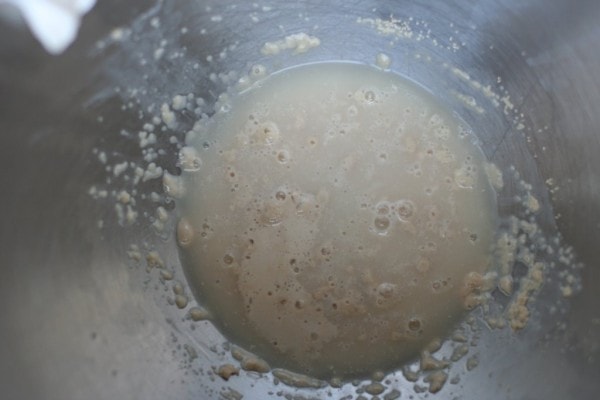 Stir in sour cream, egg, butter, sugar, and salt. Add enough flour to make a soft dough.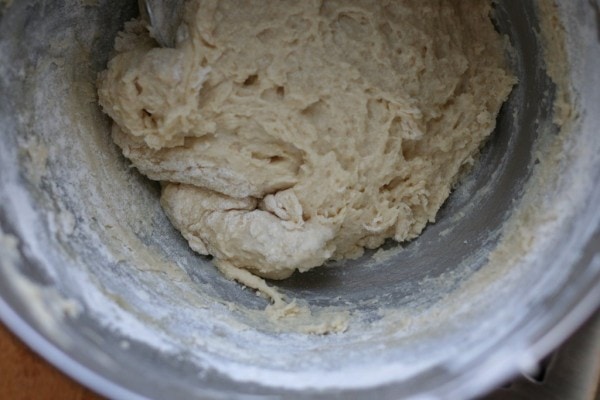 Turn out onto a floured surface and knead about 20 times, just enough to make the dough smooth.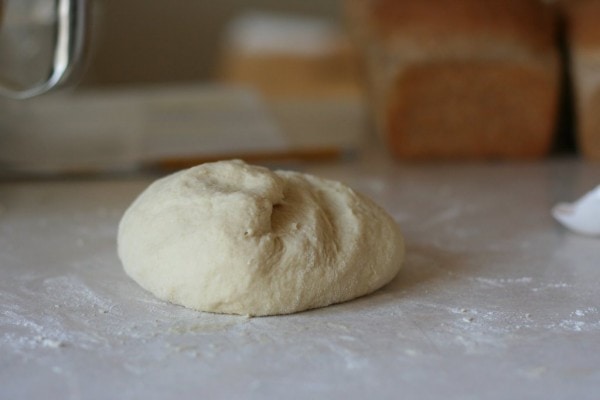 Place the dough into a bowl, cover with a wet tea towel, and let rise for 1 hour and 15 minutes.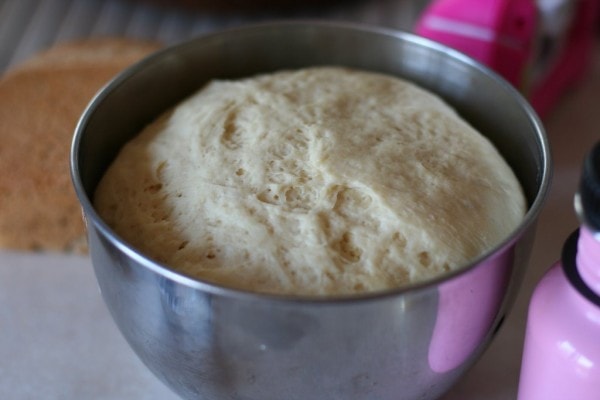 Punch the dough down, divide in half, and roll each half into a 12×8 inch rectangle.
Beat cream cheese, egg, sugar, vanilla, and salt until smooth.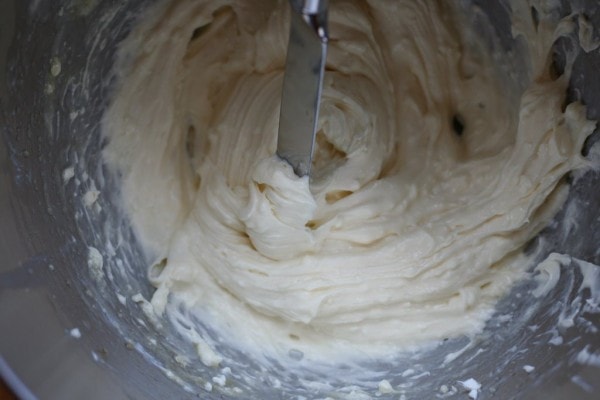 Also, you'll need 1/2 cup of raspberry jam for the filling. I used jam from Aldi, since my homemade raspberry freezer is sadly all gone.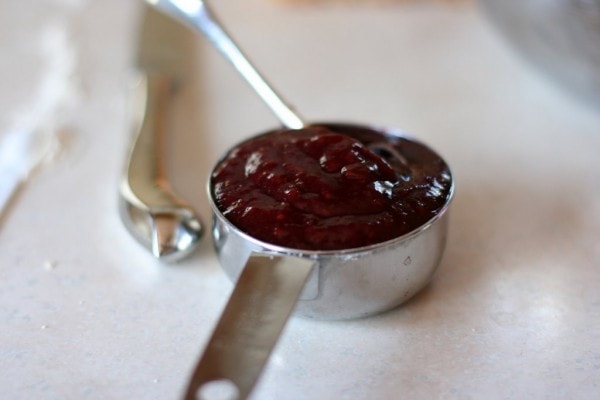 Spread cream cheese mixture over each dough half to within 1/2 inch of the edge. Spread raspberry jam over half of the filling.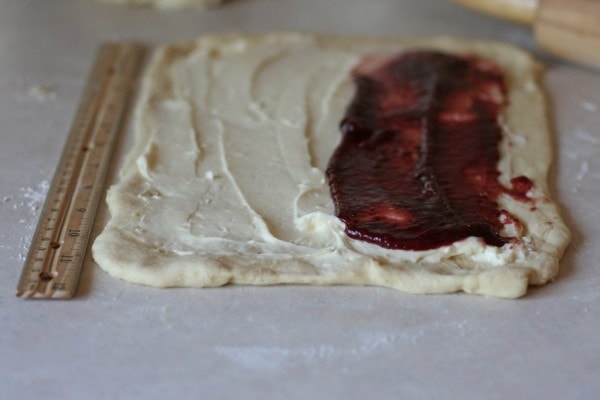 Yup, I do actually measure the dough with a ruler when I'm making a recipe for the first time. I majorly stink at estimating!
Carefully roll the dough up lengthwise. To seal the seam at the bottom, I like to brush the dough with a bit of water. It works a lot better than pinching the seam.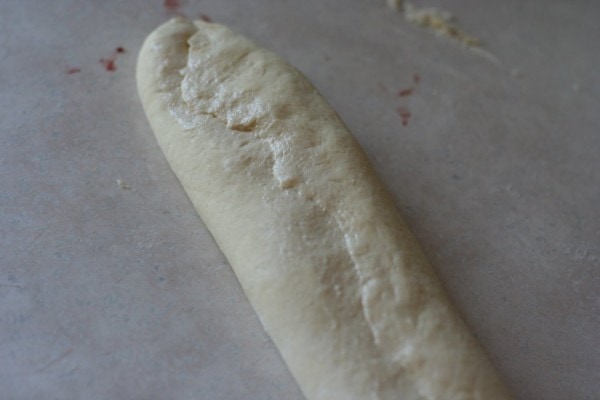 Place the dough rolls, seam side down, on a greased baking sheet. ('scuse the blurry picture. I had a focusing fail.)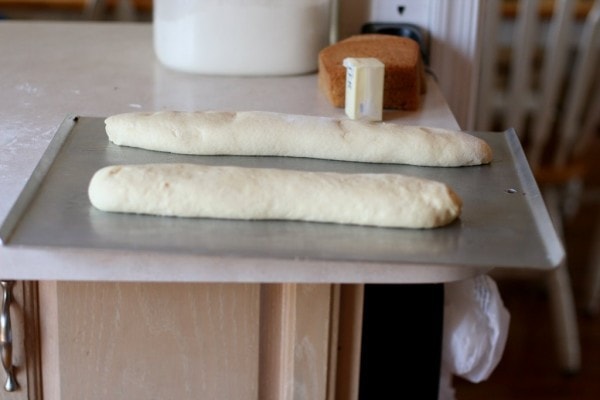 Cover and let rise 30 minutes. Using a sharp knife, cut several small slashes across the top of the dough.
Bake in a preheated 350 ° F oven for 15-20 minutes, or until golden brown.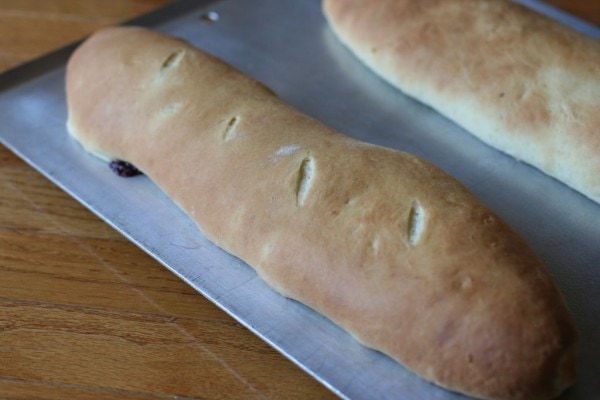 Remove from the pan (I use two spatulas to do this) and place on a wire rack to cool. Incidentally, some of the filling leaked from my rolls, but it wasn't a huge problem, and the coffeecakes were still delicious.
To make these more beautiful, you really should add the glaze, which is made from powdered sugar, vanilla, and milk.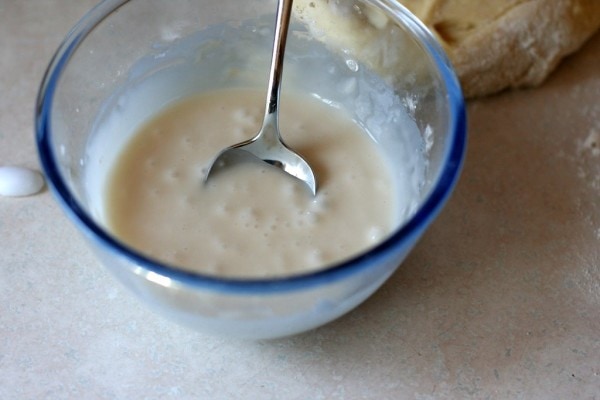 Drizzle the glaze over the tops of the coffeecakes.
It's wise to place the rack on top of the baking sheet to catch glaze spillage, because glazing is a messy business.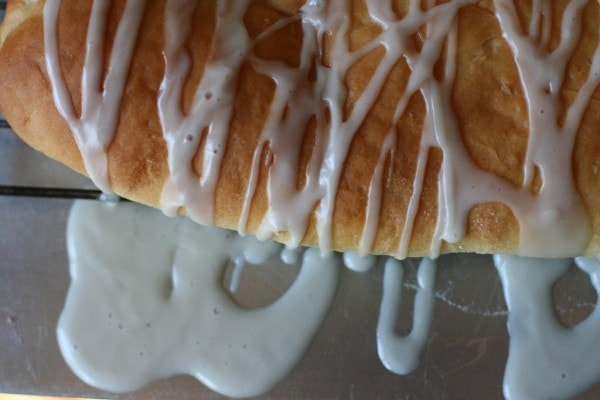 If you're planning to eat the coffeecakes the next day, I'd recommend waiting to apply the glaze, as it tends to get sticky if it sits overnight.
At least, mine did. And that may have been caused by me storing the loaves in the fridge overnight. I'm not positive that was necessary, but given that they have cream cheese filling, I didn't think leaving them out overnight was a good idea. What do you guys think?
Oh, did you want to see the inside?
Here you go.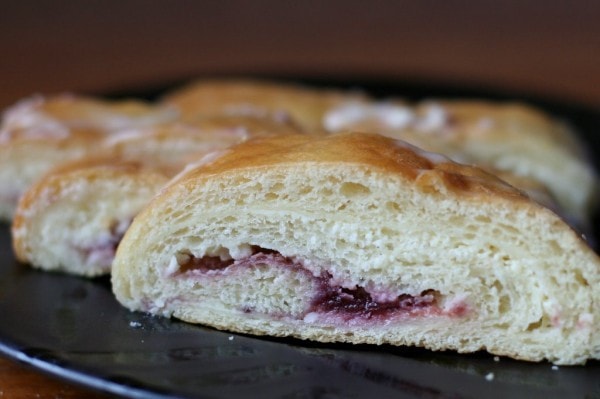 The kids and I thought that this recipe was super delicious, and if you love a cream cheese/raspberry combination, I'm quite sure you'll be in love after the first bite.
Normally I type up the recipe here in the post, but I'm running kinda late this morning, so I'm going to be lazy and simply refer you to the recipe on Taste of Home's site. Oddly enough, though, the dough mixing directions online are different than the mixing directions in the printed recipe I used from the magazine.
So, I can't vouch for how well the recipe works that way, as I mixed it up in the way described above (I added the sour cream, egg, butter, sugar, and salt together, and then the flour).