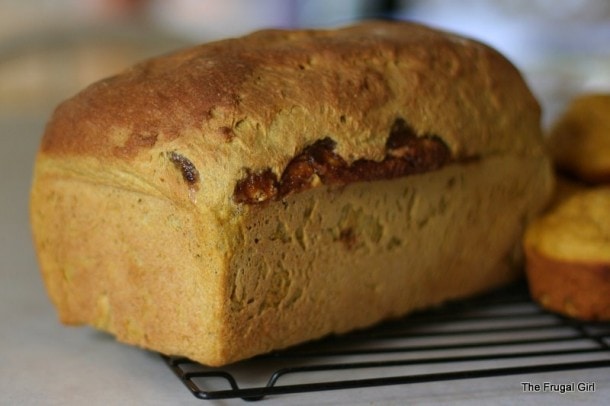 Probably 99% of pumpkin bread recipes are the quick bread sort, that rely on baking powder or baking soda for their rising. I do love a good pumpkin quick bread, but sometimes it's kind of fun to make a pumpkin yeast bread.
Pumpkin is wet and heavy and inhibits rising, so this recipe doesn't use as much pumpkin per loaf as quick bread recipes do. The same goes for butter/oil…since fat gets in the way of yeast growth, pumpkin yeast bread requires far less butter or oil. This bread is also not as sweet as pumpkin quick bread. Because of this, I like to put a cinnamon swirl in my loaves, though of course you can bake it without the swirl if you prefer.
Here's how to make the cinnamon swirl version. Incidentally, I was out of raisins when I made this loaf, which is why they are not in the pictures.
Combine the flour and the spices in a mixer bowl.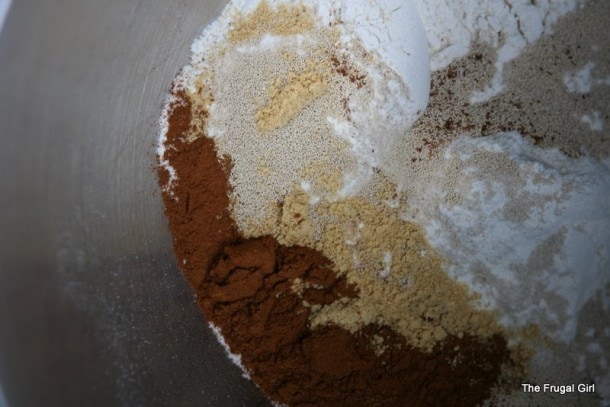 Heat the milk, brown sugar, and butter together.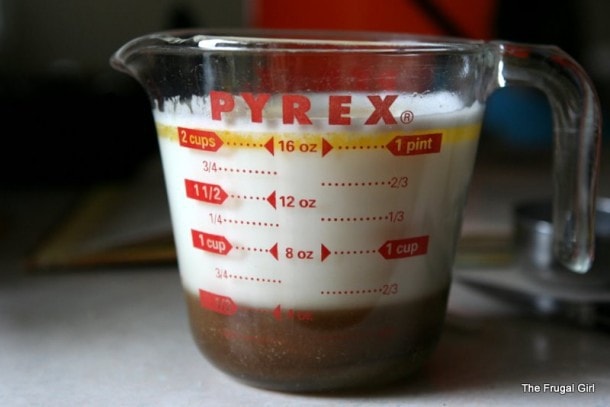 Add the liquids to the dry ingredients, and mix until combined. Add the pumpkin.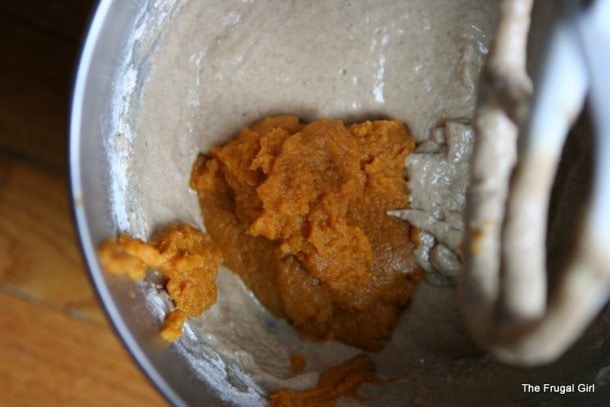 Which will give you a funny looking orange-ish bread dough.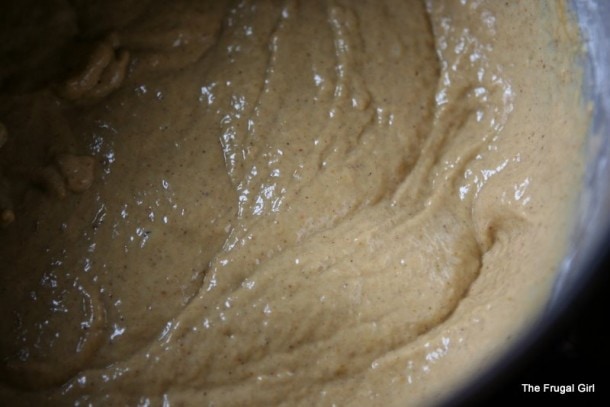 Beat for 3 minutes, then add raisins (if you have them!) and enough flour to make soft dough.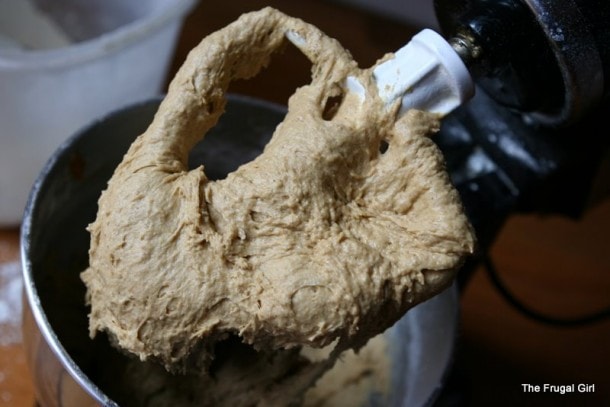 Turn out onto a floured surface and knead for 3-5 minutes, or until smooth and elastic. Cover and let rise for one hour.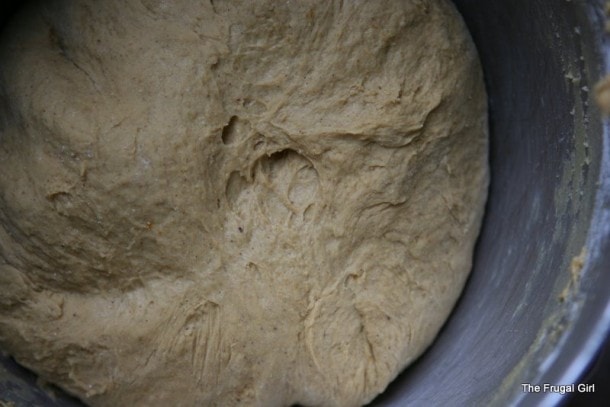 Punch dough down, divide in half, and roll each half out into a rectangle. Brush each rectangle with water, and sprinkle with cinnamon and sugar.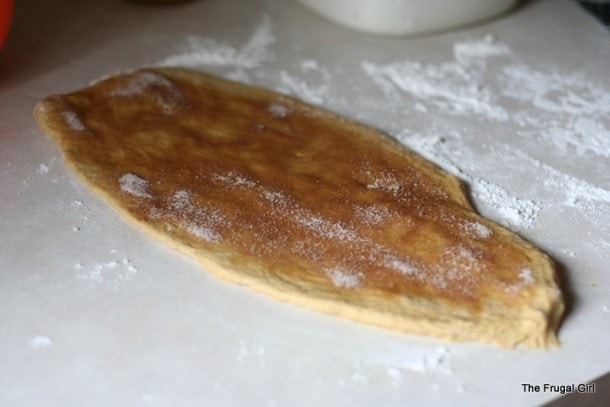 Roll up jelly roll style, starting from the short end. Place in a loaf pan, cover, and let rise one hour. Bake at 350 for 30-35 minutes. Since this bread is fairly dense and heavy, err on the long side of baking.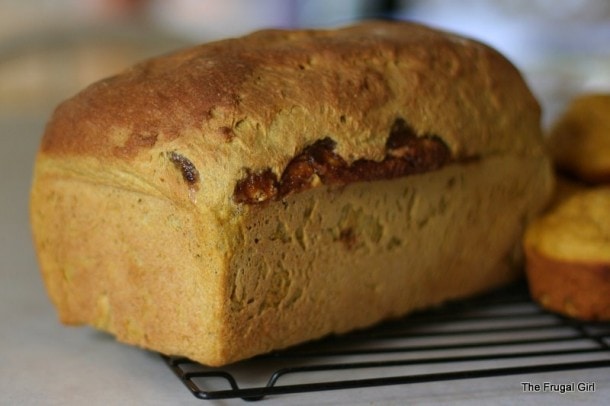 My children think this is delicious toasted and buttered for breakfast.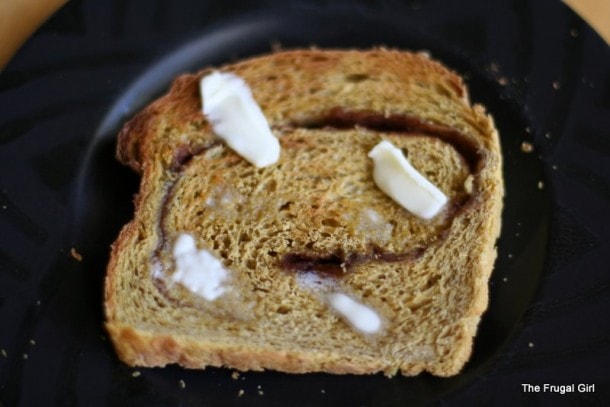 Of course, most things that are toasted and buttered are pretty delicious. 😉
Pumpkin Yeast Bread-makes 1 loaf
Ingredients

3 1/2 cups flour
2 pkg (4 1/2 teaspoons) yeast
1 teaspoon cinnamon
1/2 teaspoon ground ginger
1/4 teaspoon nutmeg
1/4 teaspoon ground cloves
3/4 cup milk
1/4 cup packed brown sugar
2 tablespoons butter
1 1/2 teaspoons salt
1/2 cup canned pumpkin
3/4 cup raisins (optional)
In large mixer bowl, combine 1 1/2 cups flour, the yeast, and the spices.
Heat milk, brown sugar, butter, and salt to 115-120 degrees.
Add to dry mixture in mixer bowl; mix until combined. Mix in pumpkin, and beat for 3 minutes on medium speed.
Add raisins, if using, and enough flour to make a soft dough. Turn out onto a floured surface and knead for 3-5 minutes, adding more flour as necessary. Place in bowl, cover, and let rise for 1 hour.
Punch dough down, and roll out into a rectangle. Brush lightly with water and sprinkle with cinnamon sugar
(3 tablespoons sugar and 1 teaspoon cinnamon).
Starting from short end, roll up jelly-roll style and place in a greased 8×4 inch loaf pan. Cover; let rise until double (about 35-45 minutes).
Bake at 350 for 35-40 minutes. Remove from pan; cool.