Every Wednesday (ok, most Wednesdays!) I share a baking recipe. And lots of pictures of said baking recipe. I don't call this Wednesday Baking because I bake solely on Wednesdays…no, my oven gets a workout much more frequently than once a week! Wednesday just happens to be the day I share baking recipes with you. All the past baking posts are archived in the Wednesday Baking category, which can also be found in a tab underneath my blog header.
If you follow me on Facebook, you know that as I was cleaning my cabinets this summer I came across an old package of potato flakes (I have no idea what I bought them for!). They were past their "best by" date, but I tasted them and they were still fine.
I hardly ever use potato flakes, but as I was pondering ways I could use these up, I remembered that one of my potato roll recipes called for them. I usually substitute fresh potato, but that's because I'm not usually trying to use up potato flakes! I'll include directions for both methods, though, so you can make these in whatever potato situation you happen to be.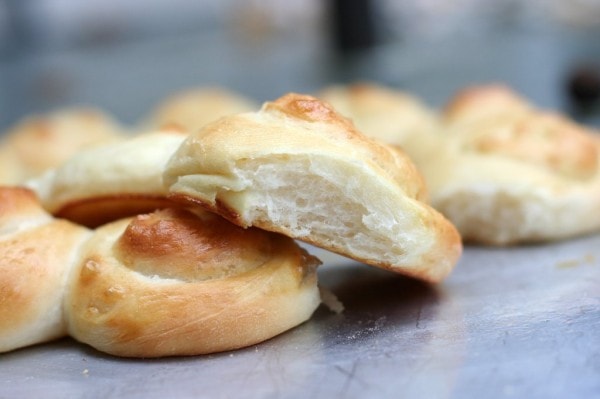 This recipe comes from one of my Fleischmann's yeast cookbooks (love those!). The rolls are baked in a large ring, which makes them sort of fancy looking, but you can also just place them on a baking sheet individually.
The original directions call for making one ring, comprised of 12 really large rolls, but since we prefer our rolls to be smaller, I make two rings, each composed of 12 smaller rolls. Either way works just fine, so go with your preference.
Of course, we start by combining yeast and flour (and also some salt and sugar).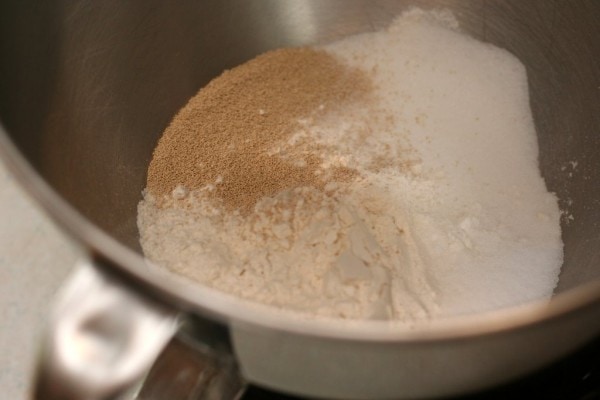 Next, heat the milk, water, and butter together to 120 ° F. Stir in the potato flakes and let them sit for a minute to soften.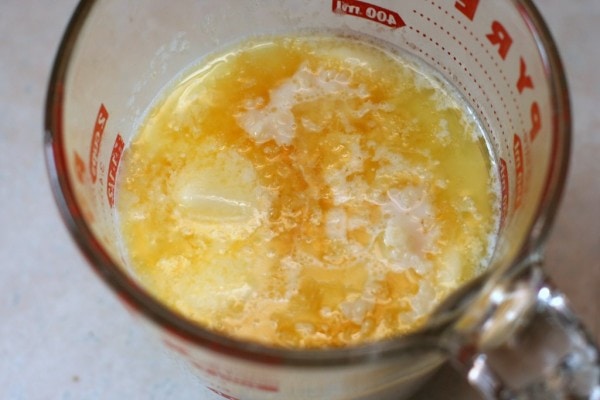 Add the warm milk mixture to the dry ingredients along with an egg, and beat for several minutes.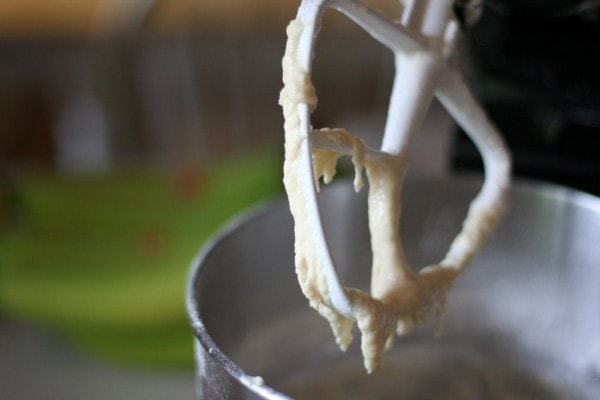 Add enough flour to make a soft dough. By the way, I pretty much NEVER measure the flour I add when I'm getting the dough ready to knead. I do it all by feel, and so should you. Depending on the flour you use, the way you measure your flour, or even the humidity in your climate, you may need more or less than the recipe calls for. So, don't worry if your dough reaches the proper consistency before you've added all the flour mentioned in the recipe.
Turn the dough out onto a floured surface.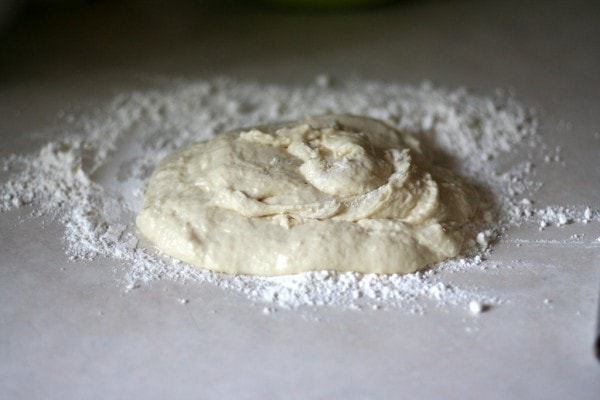 Knead for 3-5 minutes, or until it's smooth and elastic.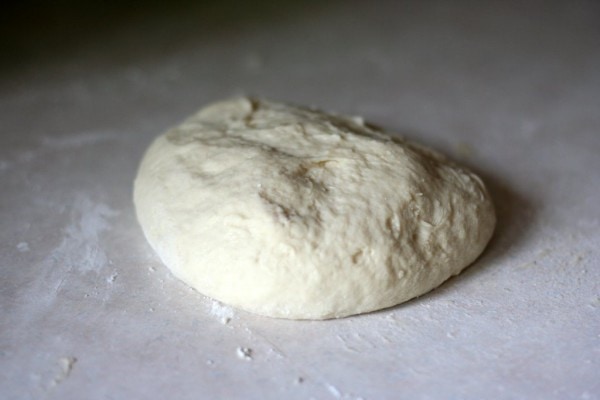 Place the dough back into the mixing bowl, cover it with a wet tea towel, and let it rise for an hour.
Punch the risen dough down and divide it into 24 pieces. Roll each ball into a 6 inch rope.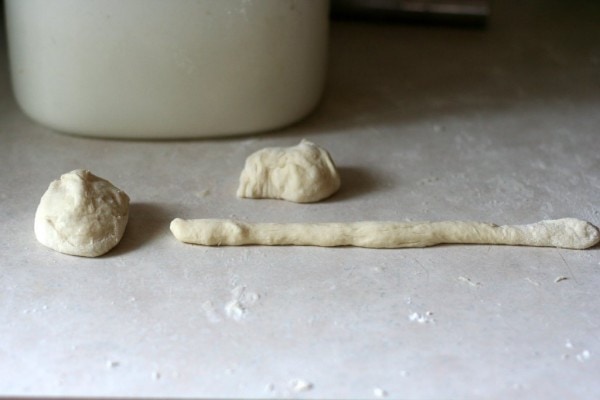 Coil the ropes up, and place 12 into a circle on a greased baking sheet. Repeat with the remaining ropes.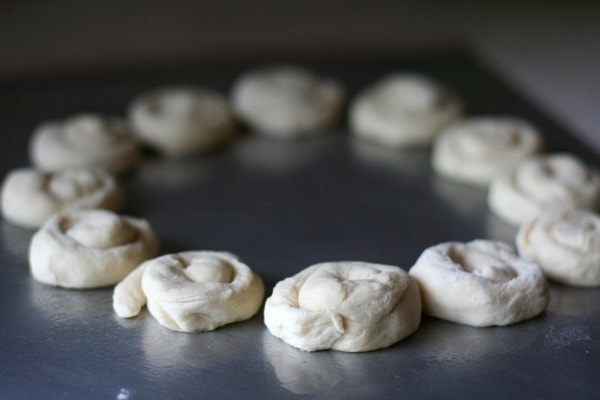 You'll want to leave a little bit of space between the rolls because they'll need room to rise. Cover the rolls with the wet tea towel and let them rise for 30 minutes, at which point they should look like this: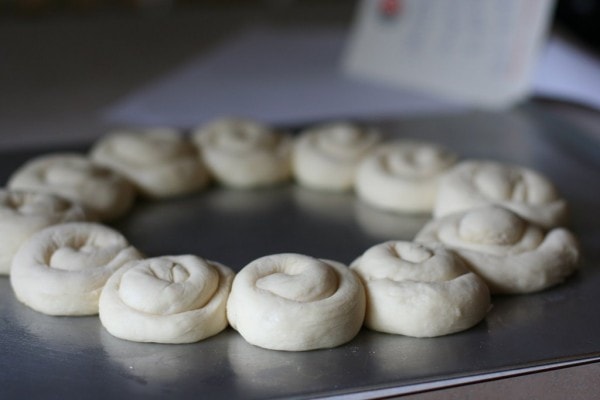 Beat an egg and use a pastry brush to brush the egg over the rolls.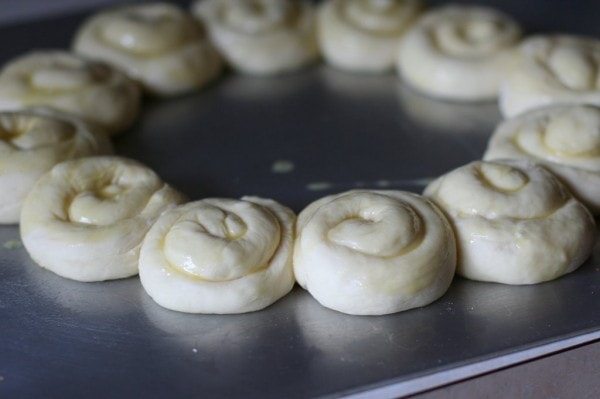 Bake in a preheated 375 ° F oven for 15-20 minutes, or until the rolls are a light golden brown.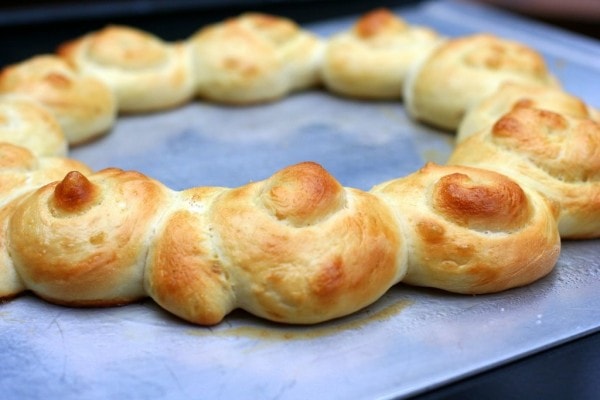 If you choose to place the rolls in rows instead of in a ring, you'd want to reduce the baking time a bit so that you don't overbake your rolls. And if you've opted to make 12 large rolls, you'll probably need to bake them for 20-25 minutes.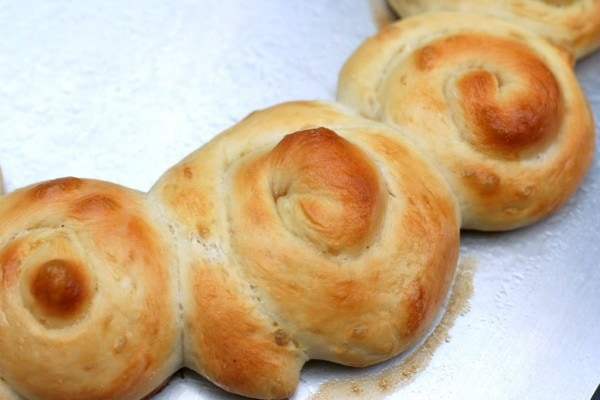 See how yummy they look? You should go give these a try. 😉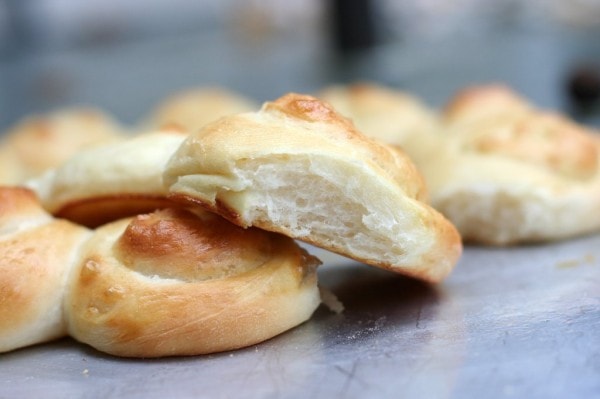 I highly recommend eating them hot from the oven, split open, and spread with a little bit of butter. 😉
Potato Rolls-makes 12 large rolls or 24 small rolls
Printable Potato Roll Recipe
3-1/2 to 4 cups all-purpose flour
1 tablespoon sugar
1 envelope active dry yeast (2 1/4 teaspoons)
3/4 teaspoon salt
3/4 cup water
1/2 cup milk
1/4 cup butter
1/4 cup instant potato flakes or buds*
2 eggs
In large bowl, combine 1 cup flour, sugar, undissolved yeast, and salt. Heat water, milk, and butter until very warm (120 ° F). Stir in potato flakes; let soften 1 minute. Stir into dry ingredients. Stir in 1 egg and beat for several minutes. Add enough remaining flour to make soft dough. Knead on lightly floured surface until smooth and elastic, about 4 to 6 minutes. Place dough in bowl, cover, and let rise 1 hour.
Divide dough into 24 equal pieces. Roll each piece to 6-inch rope. Coil each rope to make "snail" shape. Arrange 12 rolls in a circle on large greased baking sheet with sides barely touching; repeat with remaining rolls. Cover rolls and let rise 30 minutes.
Lightly beat remaining egg; brush over rolls. Bake at 375 ° F for 15 minutes or until done. Remove from sheet; let cool on wire rack.
*To use fresh potato: Follow above directions except decrease water to 1/2 cup and replace potato flakes with 1/3 cup cooked, mashed potato (at room temperature). Stir mashed potato into dough along with egg.
Today's 365 post: Another day, another blanket, another nap
Current Kellogg's $50 giveaway: Weekend Mornings