(Note: The following post, which was in the works a while before my less-than-satisfactory Goodwill experience, may help to explain my surprise at the firm price on the buttonless shorts)
I wrote a while ago about how I was slowly learning the art of haggling, which is not something I'm naturally good at. Well, I recently learned that it can pay off to let the other person go first when you're bargaining.
I mentioned before that I've become a big fan of wearing skirts in the summertime. They're a lot comfier than shorts (at least to me), and they're a much cooler item of clothing than long pants are.
So, I've been poking through the skirts area at Goodwill each week to see if I can find something I like. On a recent trip, I found this Old Navy skirt.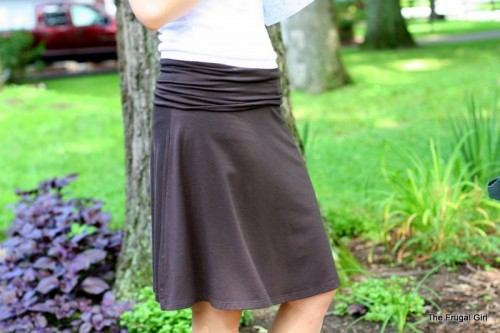 It fit me, was very comfy, and was in good shape except for a place near the hem where it looked like it just needed to be laundered.
Upon further inspection, I found that it was paint, but for some reason, most of it was loosely attached and could be scraped off.
I decided I'd ask at the checkout if they would mark it down. Skirts are normally $4.25, so I was going to offer something like $3.
I pointed out the paint spot, but before I could even mention the price I had in mind, the saleslady said, "Oh, I'll sell it to you for 50 cents."
I swallowed my astonishment, said nothing of my $3 idea, and cheerfully paid for the skirt.
I was able to get most of the paint off and the little that remains doesn't bother me at all, especially when I remember that this purchase only took 50 cents out of my clothing budget.
It's not really occurred to me to let the salesperson suggest a price before, but now I'm thinking that might be the way to go from here on out.
You never know…they might come up with a lower price than I'm expecting, and I could always bargain down from their suggested price if I think it's too high.
Here are some outtakes for your enjoyment, compliments of my kid photographer!