Mmmmmmm….cheesecake. It's Mr. FG's most favorite dessert, and he routinely chooses it as his birthday cake each year.
Incidentally, when my family and I had Mr. FG over to our house for the very first time ( almost 14 years ago) I just happened to make cheesecake, having no idea that it was his favorite.
That was probably a fortuitous start to our relationship. 😉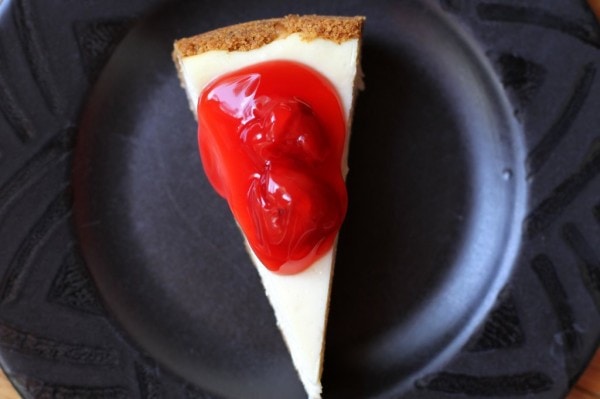 Cheesecake is not the most frugal dessert ever (a chocolate cake is almost always cheaper), but it is really yummy, and a homemade one is bound to be cheaper than a store-bought alternative.
Quite honestly, though, I've never even looked at the price of a frozen or bakery cheesecake, so I'm yapping on a topic I know nothing about (readers, can you help me out? How much does a prepared cheesecake cost?)
Anyways, homemade cheesecake is really not that hard to make, and I actually think it's easier to make than traditional cake because it requires no frosting.
The recipe I'm sharing, from my Better Homes and Gardens cookbook, is for a dense sort of cheesecake, because dense is the way I prefer to have mine (light and fluffy is overrated when it comes to cheesecake, I think.).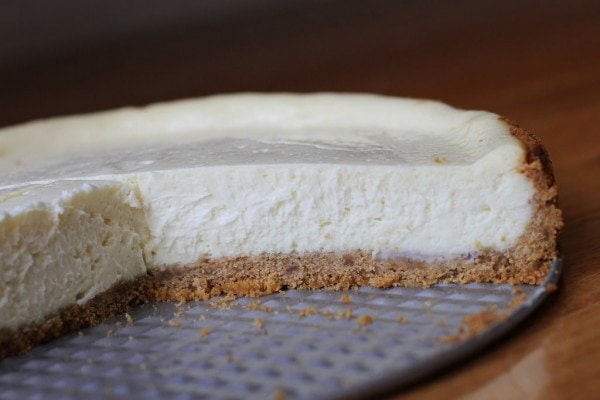 To ensure a dense, creamy cheesecake there are two important things to remember…first, don't overbeat the batter after adding the eggs, and secondly, don't overbake the cheesecake.
The center should be slightly jiggly when you take it out of the oven, and it'll finish firming up as it cools.
To start, mix crushed graham crackers with melted butter. I'm sure I don't have to tell you that it's cheaper to crush your own than it is to buy the pre-crushed graham crackers.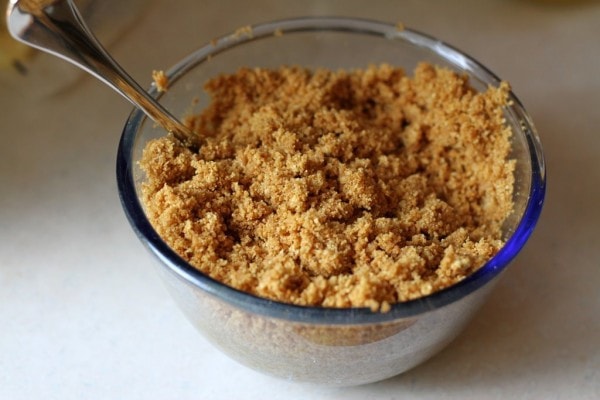 Press the graham cracker mixture over the bottom and about 2 inches up the side of a springform pan.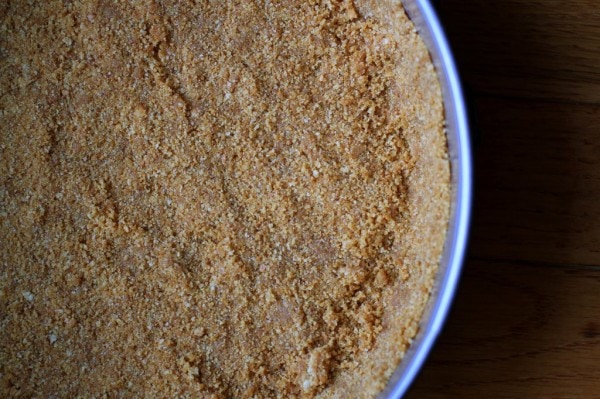 In case you don't know, a springform pan is sort of like a traditional cake pan except that the sides are a ring that can be lifted off of the pan. This makes it much easier to slice the cheesecake.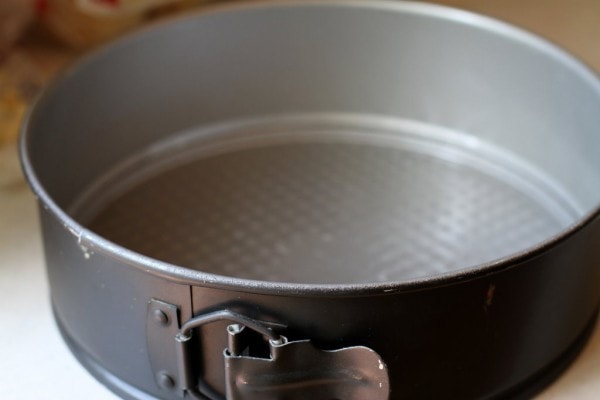 My springform pan is nothing special and it works fine, but if you're interested in snagging a good one, Cook's Illustrated recommends this one.
Hmm…maybe I need to put this on my Christmas list. Or, I could always use some of my Swagbucks for it.
(You can redeem Swagbucks for Amazon gift cards, and you can use those to buy almost any kitchen item under the sun. More info is in this post.)
Anyways! I digress.
It's time to make the cheese part of the cheesecake.
First, combine softened cream cheese (the softened part is really important…don't try this with cold cream cheese!), sugar, flour, and vanilla.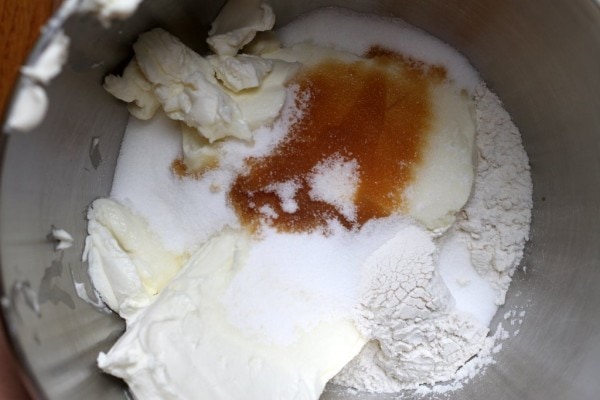 Mix until it's smooth and creamy.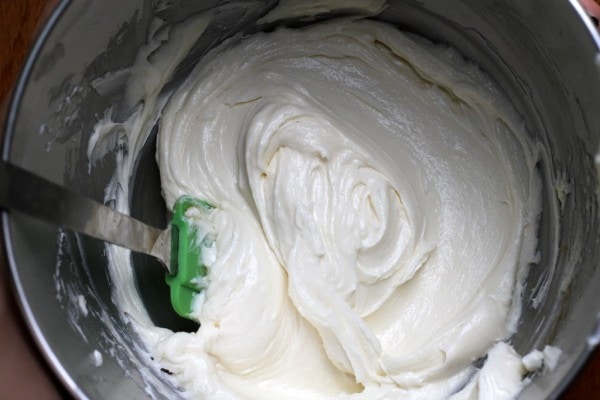 Add 2 eggs and an egg yolk and mix on low just until combined.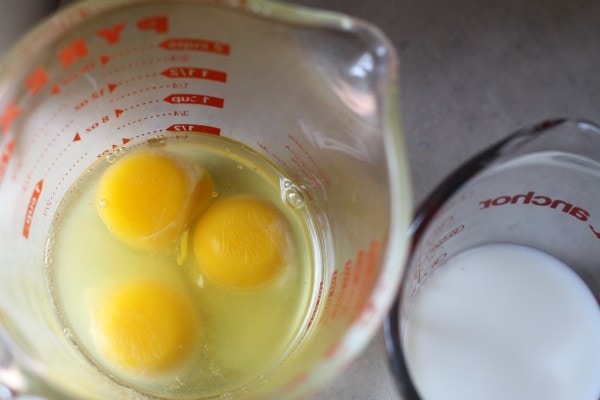 By hand, stir in 1/4 cup of milk.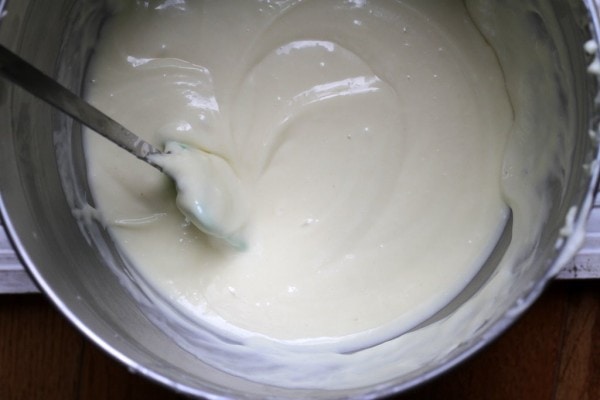 Pour into the graham cracker crust, and use a spatula to make sure the filling is even.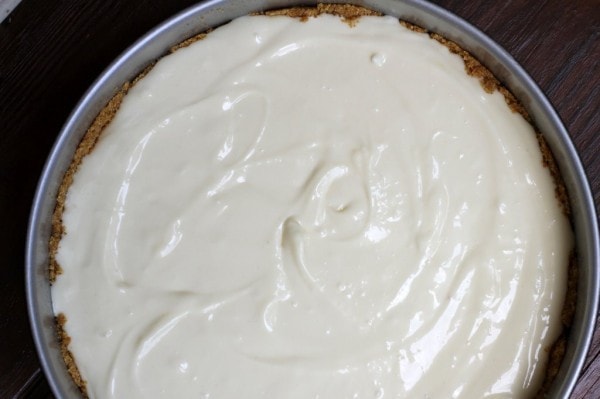 Place the pan into a shallow baking pan. This will catch any filling that leaks out of the springform pan. I forgot to take a picture of this, so here's my finished cheesecake in the shallow pan. Just imagine it unbaked, ok?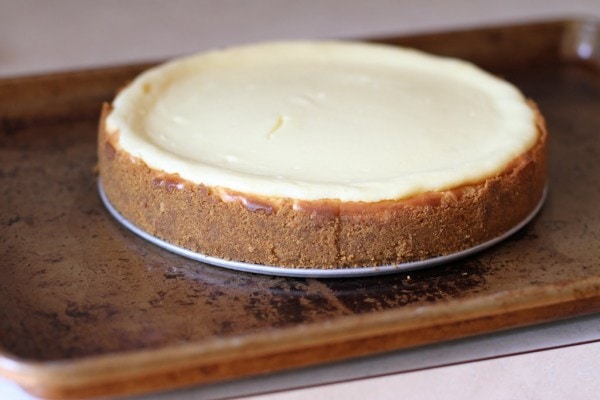 Anyways, bake the cheesecake in a preheated 350 degree oven for 35-40 minutes, or until the center looks almost set when you gently shake the pan.
The cheesecake will look puffy when you take it out of the oven.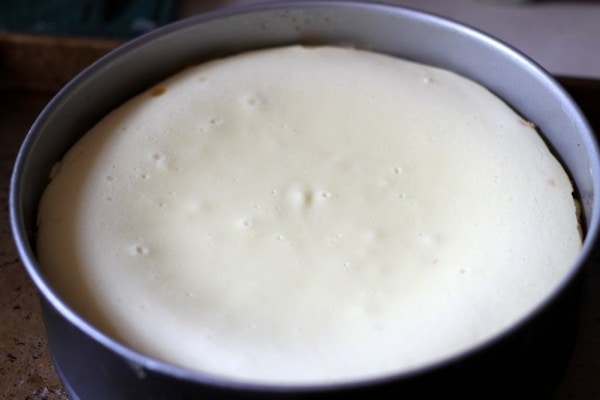 But as it cools, it will flatten out quite a bit. Worry not…this is normal and good (it makes for a nice dense cheesecake).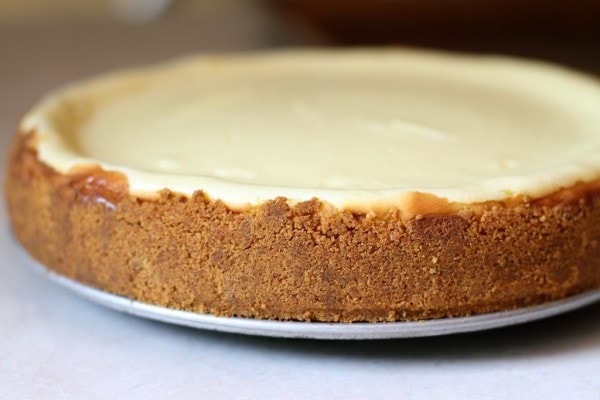 To help prevent cracking, 15 minutes post-oven, you'll want to run a knife around the edge of the pan to loosen the sides from the pan. After another 30 minutes, you can take the sides of the pan off and let the cheesecake cool completely.
Warm cheesecake isn't very good, so be sure to chill your cheesecake for 4 hours or so before you serve it.
I like to eat my cheesecake plain and unadulterated, but my husband and kids like to top it with cherry pie filling.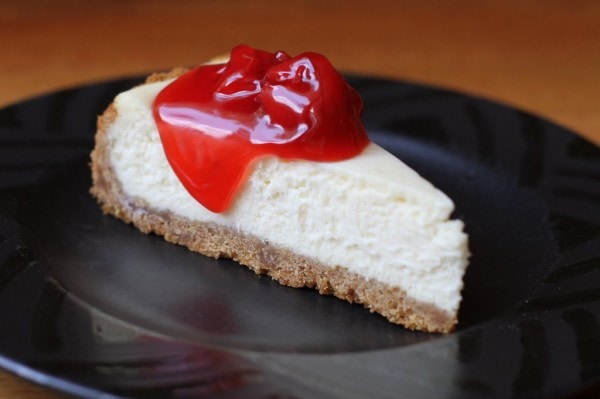 Of course, you can top your cheesecake with anything you like…other flavors of pie filling, fresh fruit, fruit sauce, chocolate, to name a few.
Enjoy!
Cheesecake
Printable Cheesecake Recipe

1 3/4 cups finely crushed graham crackers
1/2 cup melted butter
3 8-ounce packages cream cheese, softened
1 cup sugar
2 tablespoons all-purpose flour
1 teaspoon vanilla
2 eggs
1 egg yolk
1/4 cup milk
For crust, stir melted butter into crushed graham crackers. Press crumb mixture onto bottom and about 2 inches up the sides of an 8 or 9 inch springform pan.
In a mixer bowl, combine cream cheese, sugar, flour, and vanilla. Beat until fluffy. Add eggs and yolk all at once, beating on low speed just until combined. Stir in milk. Pour into crust-lined pan.
Place on a shallow baking pan to catch any leaks. Bake in a 350 F oven for 35-40 minutes or until center appears nearly set when shaken. Remove from oven and cool 15 minutes. Loosen crust from sides of pan. Cool for 30 minutes; remove sides of pan. Cool completely, then chill for at least 4 hours.