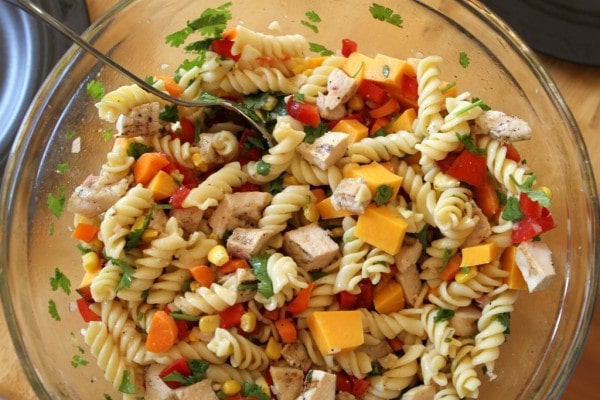 When I put this dish on my menu a few weeks back, a lot of you commented or emailed and asked for the recipe. Since I was making this for the very first time and wasn't sure the recipe would be a winner, I didn't take pictures along the way. So, the only picture I have is the one above.
We thought the pasta salad was good, though, and since so many of you wanted to try it, I'm going to share it today.
I got the recipe from my newspaper (back before I cancelled the subscription!), and they'd adapted it from a Stephen Pyle cookbook. As you can see from all the parenthetical notes, I adapted it further. 😉
Cilantro Chicken Pasta Salad
2 tablespoons chopped cilantro
1 tablespoon chopped thyme (I used 1 teaspoon dried)
2 cloves garlic, minced
2 shallots, minced (I used onion)
1 tablespoon dry white wine
2 tablespoons white whine vinegar
1 tablespoon balsamic vinegar
1/4 cup olive oil plus 3 tablespoons (divided use)
salt and freshly ground black pepper to taste
9 ounces dried pasta, such as penne
1 15 ounce can black beans, rinsed and drained
1/2 medium red bell pepper, seeded and cut into 1/4 inch strips (I chopped mine)
1/2 medium yellow bell pepper, seeded and cut into 1/4 inch strips
1 small carrot, coarsely chopped
5 tomatillos, husked, rinsed, cored, and diced (I skipped these and added avocado instead)
1 tablespoon chopped fresh basil
8 ounces cooked chicken breast, preferably smoked, diced (I grilled mine)
1 cup oven dried tomatoes (can sub. sun-dried tomatoes, softened in hot water)
1 cup frozen corn kernels, thawed
cubed cheese, optional
Combine cilantro, thyme, 1 tablespoon of basil, minced garlic, and shallots in a bowl. Whisk in the wine, both vinegars, and 1/4 cup of olive oil. Season to taste with salt and pepper.
Cook the pasta in salted water until al dente. Drain, and place in large serving bowl. Toss with the remaining 3 tablespoons olive oil and set aside to cool.
When the pasta is cool, add the black beans, vegetables, smoked chicken, and basil. Toss with the vinaigrette and season to taste.
Cover the salad and refrigerate to chill. The original recipe specified a chilling time of 20 minutes, with the instruction to add lemon juice to liven up the flavor if that salad had to sit longer than that. However, I thought the salad tasted better after it had chilled overnight, so next time I make this, I'll combine everything early in the day, or I will at least make the dressing early in the day so that the flavors have time to meld.
______________________________________
If you need more help with avoiding cilantro waste, check out my list of ideas for using up cilantro.