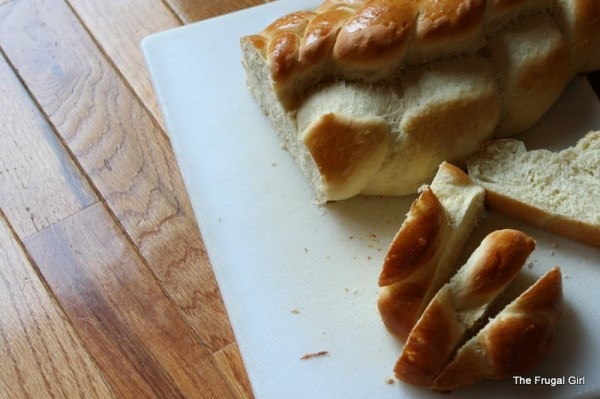 Challah is an eggy, braided bread of Jewish origin. I'm not Jewish, so I make no claim that this is authentic Jewish challah bread…my only Challah-making lessons have come from cookbooks, not from a Jewish grandmother. Those of you who do have challah-making Jewish grandmothers can feel free to correct any inaccuracies in this post. 😉
Authentic challah usually does not contain any dairy products, but mine has some butter in it. The original recipe called for margarine, which is obviously not made from milk, but since I really dislike margarine and since I'm not particularly concerned about being authentic, I use butter. If you are want to go dairy-free, though, you can certainly feel free to use oil or whatever butter substitute product you prefer.
Real challah is made with a slightly complicated braiding technique that involves using six strands of dough. My challah recipe is much simpler…it uses six strands of dough, but you use those six strands to make two separate braids, which are then stacked on top of each other. It's not quite as fancy as the traditional technique, but it looks quite lovely.
Because this dough has a lot of eggs and a fair amount of butter, it makes a soft, fluffy bread. It's good sliced and eaten with butter, but you can also toast it or use it to make French Toast.
To make challah, dissolve the yeast in a cup of warm water.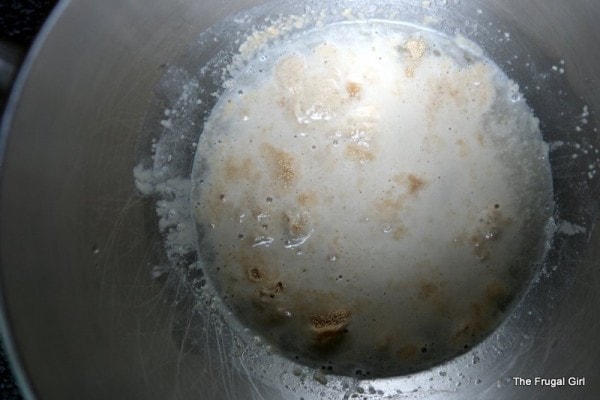 Add sugar, butter, salt, and flour.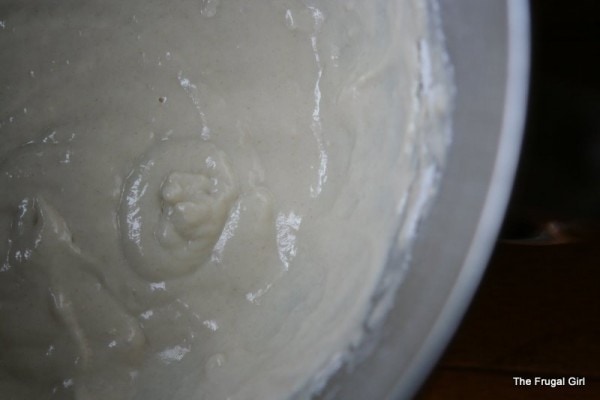 Add three whole eggs, plus an egg white (reserve the yolk for later), and enough flour to make a soft dough.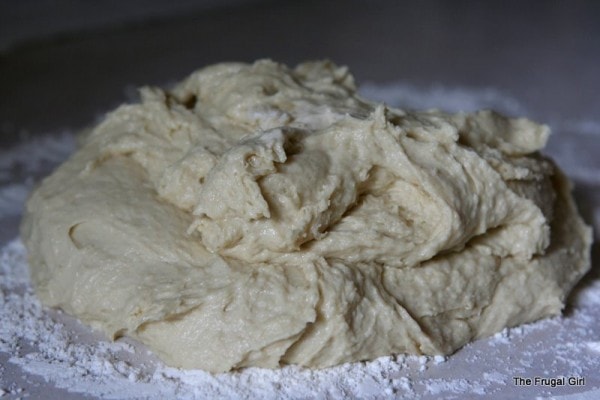 Knead until smooth and elastic.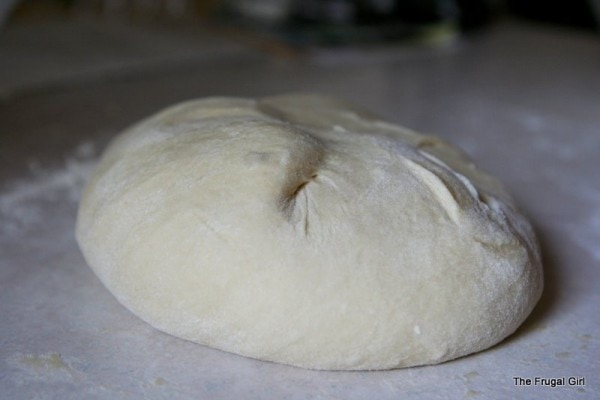 After the dough rises, it's time to do some braiding. Divide the dough in half, and divide each half into two pieces. One should be about twice the size of the other.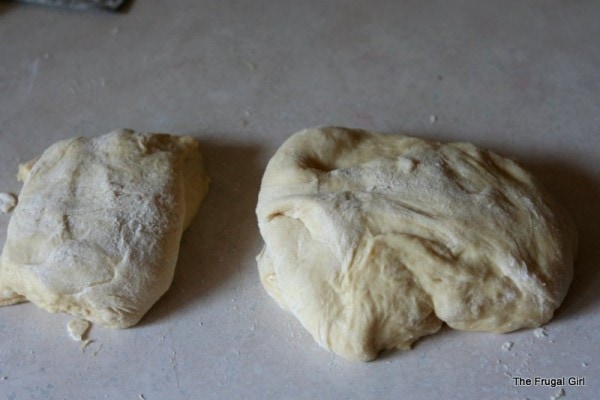 Divide each half into three pieces.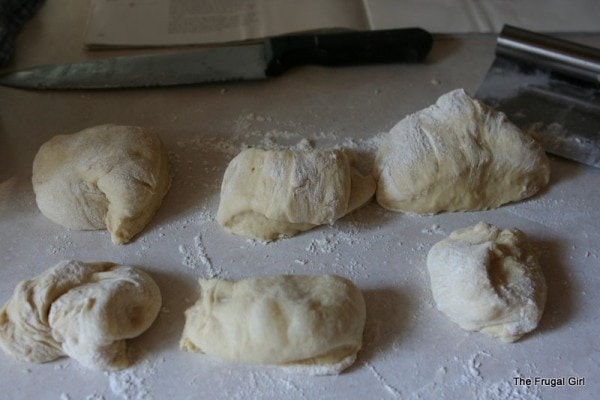 Roll all six pieces into ropes. Braid the three large ropes and the three small ropes.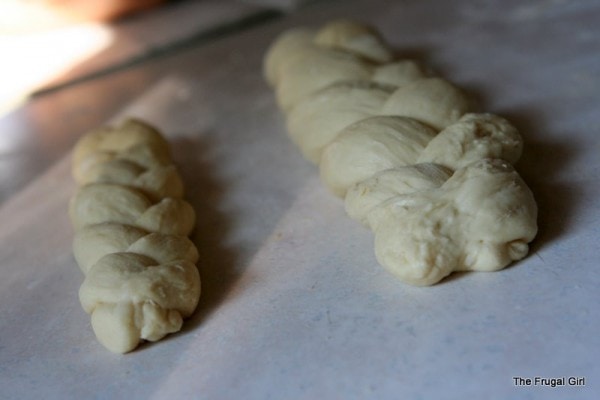 Place the large braid onto a baking sheet and place the smaller braid on top.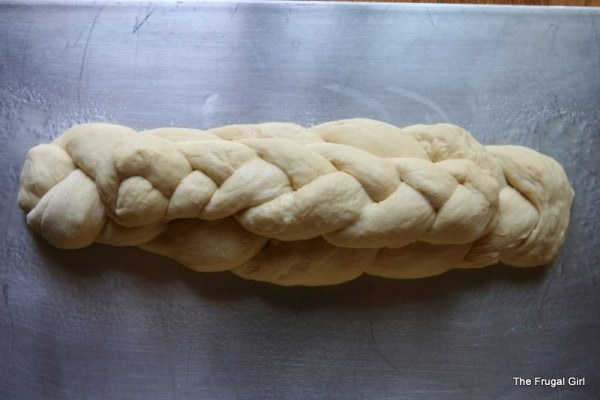 Repeat with the remaining half of the dough, cover the braids and let them rise. Once they're risen, beat the reserved egg yolk and a teaspoon of water, and brush the mixture over the braids.
I added a little too much water to my egg yolk, so my egg wash dripped down and made a mess on my baking sheets.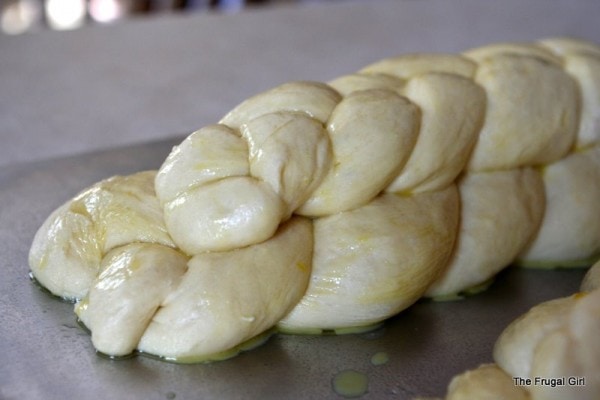 No big deal, though…after baking, my bread looked just fine.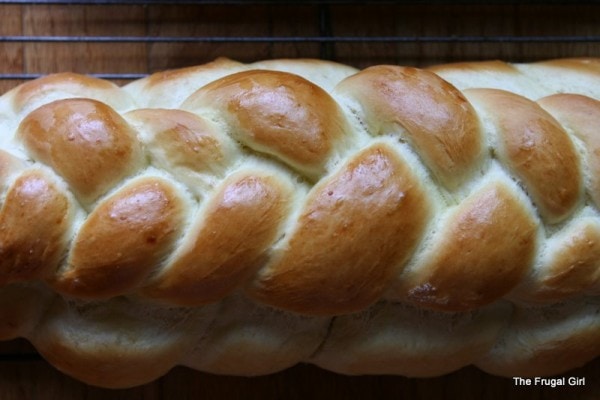 Sometimes, for reasons unknown to me, the top braid slides off to the side a bit.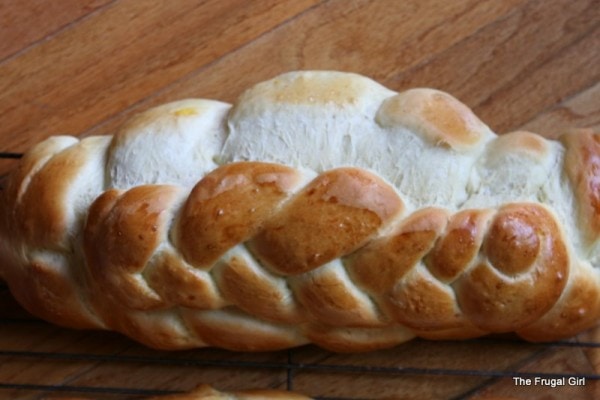 This is purely a cosmetic problem, though. As you can see, the inside of a lopsided loaf is just fine.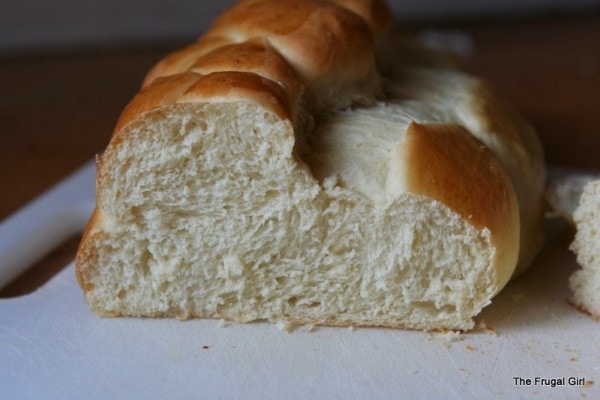 Challah makes 2 loaves
1 cup warm water (105-115 degrees F)
2 pkg. (4 1/2 teaspoons) active dry yeast
2 tablespoons sugar
1/3 cup butter, softened, or melted and cooled
1 1/2 teaspoons salt
5 1/4-5 3/4 cups all purpose flour
4 eggs
1 teaspoon water
Place warm water in mixer bowl; sprinkle in yeast and stir until dissolved. Add sugar, butter, salt, and 1 1/2 cups flour; blend well. Stir in 3 whole eggs, 1 egg white (reserve yolk), and enough flour to make a soft dough.
Turn out onto lightly floured surface and knead until smooth and elastic, about 5-8 minutes. Place in bowl, cover, and let rise 45-60 minutes, or until doubled.
Punch dough down and turn out onto lightly floured surface. Divide dough in half. Divide each half into two pieces, one about 2/3 of the dough and one about 1/3 of the dough. Divide each into three equal pieces (you should have 6 larger pieces and 6 smaller pieces).
Roll the 6 larger pieces into 12 inch ropes and the 6 smaller pieces into 10 inch ropes. Braid three of the large ropes together and place on greased baking sheet. Braid three of the smaller ropes and place on top of the larger braid. Repeat with remaining ropes.
Cover; let rise in warm place until doubled in size, about 30-45 minutes.
Beat reserved egg yolk with 1 teaspoon water; brush over loaves. Bake at 350 for 20-25 minutes, or until browned. Let cool on wire racks.