Kneading bread dough is one of those things that is best taught in person. Unfortunately, most of you don't live near me, and so I can't offer a one-on-one kneading session!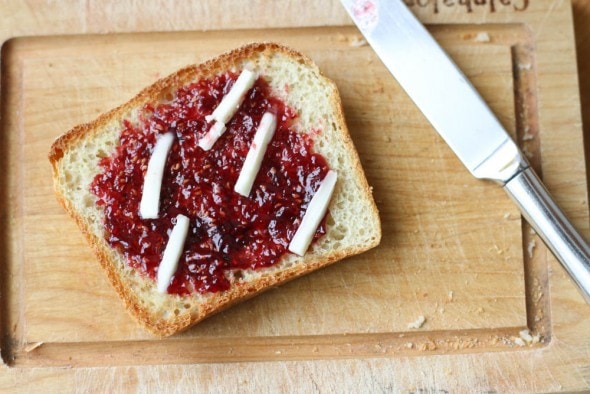 (If you do know someone who bakes, I'd highly recommend hitting up her/him for a kneading lesson).
If I were more technologically advanced, I'd upload a video, because I think that would be more helpful, but pictures are going to have to suffice for now. Props to my husband for taking these (I couldn't do it myself, even with a tripod and timer, because my fingers were too floury!)
Proper bread kneading stretches the proteins in the flour (called gluten). The stretchy dough holds the air bubbles the yeast makes as it ferments, and this causes the dough to rise. If the gluten is not properly developed, the dough will not be strong enough to hold the air bubbles, and the bread will not rise properly.
Probably the most common mistake people make when kneading bread dough is that of adding too much flour. If the dough is too stiff and heavy, the air bubbles will not be able to lift it.
So, you want to have a stretchy, somewhat soft dough when you're done kneading.
However, you also don't want to have the dough sticking to the counter. Thus, it's best to only sprinkle flour on your kneading surface, and not on the dough itself.
The idea is to keep a floured, dry surface on your dough and to keep the inside moist.
Before you turn your dough out on to the counter to knead it, you'll want to spread some flour over your kneading surface, like so.
Turn your bread dough onto the floured surface. If this is your first time kneading, you might want to make your dough a little stiffer than this before you try to knead it. I'm not sure why I left it so soft on this particular day!

I like to use a bench knife(the stainless steel tool you see in these pictures) to help with the early stages of kneading. At first when I knead, I use the bench knife to sort of fold the outsides of the dough towards the middle.

I do this, adding flour as necessary, until the dough looks like this. Then I switch to using just my floured hands. My basic kneading pattern is to fold the dough in half, push it with the heels of my hands, give it a quarter turn, and repeat the process.
Here I'm getting ready to fold it.

I don't fold it all the way over, as you can see.

This is the push…

Getting ready to do the quarter turn…


and now it's turned.


Then the process starts all over again.

Depending on how much you mixed the dough before kneading it, this process can take anywhere from 5-10 minutes. To check if your dough is sufficiently kneaded, give it a quick poke with your finger. If it bounces back, you're done. If it's really slow to bounce back, or the hole doesn't fill in at all, you need to knead some more.
Most bread doughs should look something like this when you're done kneading.

Of course, this is not the only way to knead bread…other bakers have different methods, and if you've found a method that works well for you, you need not feel any pressure to switch to my method. The important thing is that the dough gets pushed and stretched so that the gluten develops.
I'll post an easy bread recipe next week so you can practice your new kneading skills.
Should you decide to try before then, though, I'd just encourage you to not give up if your first attempt at kneading is awkward and messy…it takes some practice to develop a good kneading rhythm, and you won't get good at it if you give up too soon.
And of course, you can feel free to email me or leave a comment if you have a question or run into a problem.