I've never done a post like this before, but I have a bunch of things to say that wouldn't make good stand-alone posts. So, here are several very unrelated things all squeezed into one post.


Celery
Last September, right before we went on vacation, I mentioned that I was freezing some celery(I had to do something with it before we left!). I'd never done that before, and I wasn't sure how it would turn out, because I've heard some frozen celery horror stories before.
I knew it would have to be used in a cooked dish, so I got it out the next time I was making stuffing for chicken. I'm happy to report that it behaved remarkably like fresh celery, and in the end product there was no discernible difference between stuffing made with fresh celery and stuffing made with frozen celery.
I'm really pleased about this because celery is one of those things that's gone bad on me countless times. I'll buy it for a recipe, use a few stalks, and then forget about the rest of them until they are wilty and brown. It's delightful to know that I can freeze and use it just like fresh when I'm making stuffing, soups, and the like. I've also learned that frozen celery(stalks and leaves) are lovely additions to chicken broth, so I think my fridge has seen its last bag of rotten celery.
(and yeah, the celery is frozen in a Halloween bag that I bought on clearance after Halloween…and of course it's been washed a few times. 😉 )
Tea
In response to my whiny post, several readers suggested that I drink some warm beverages. Well, it occurred to me that I have a ridiculous amount of tea sitting up in my cabinet. I keep meaning to drink it, but I never get around to it. So, from now on I'm going to try to drink a cup or two a day. I usually use teabags twice, so even at that rate it will take me a little while to plow through my tea stash.
If I run out of herbal tea before winter is up, I will still not be out of luck because I have a ridiculous amount of regular tea(the orange and black pekoe stuff) to use up(as in, probably more than the herbal tea in the picture). I really need to stop buying tea when I see a good sale. In my defense, I haven't bought a single box since I started on my "no-waste and buy only what I need" mission back in March.
There were lots of other good suggestions and comments on that post(you guys really came out of the woodwork! I don't think I've ever had that many comments on a post before.), and I may devote a post to responding to them next week sometime.
Hot Dog Buns
This one's kind of self-serving, but I was pleased with this and I had to tell someone! Last night, bratwurst were on the menu, but unfortunately, I'd forgotten to buy buns. I really didn't want to go to the grocery store for just a package of buns, so I decided to try making some using my hamburger bun recipe. They weren't perfect(I'll have a better idea how to shape them next time, and I'll also leave out some of the sugar), but they certainly sufficed, and I was pleased at how much they resembled real hot dog buns. And I was especially pleased that I didn't have to bundle up the kids and make a run to the grocery store.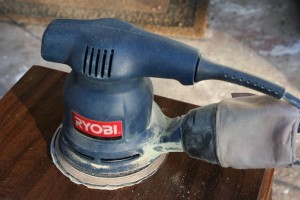 Sanding
Lastly, it actually wasn't TOO cold here today. I think it got up into the 30s and maybe into the low 40s this afternoon in the sun. I decided to take advantage of the weather, so after I got my other work done today, I dug out my sander, ear protectors, and face mask, and tackled the nightstand. I'm happy to report that it's all sanded, and some of it is even primed. It wasn't quite 50 degrees, but the primer seemed to go on ok and it dried fine. Tomorrow is supposed to be even warmer, so if all goes according to plan, the nightstand will be primed, painted, and residing in Zoe's room by tomorrow night.