Today's recipe is not at all healthy.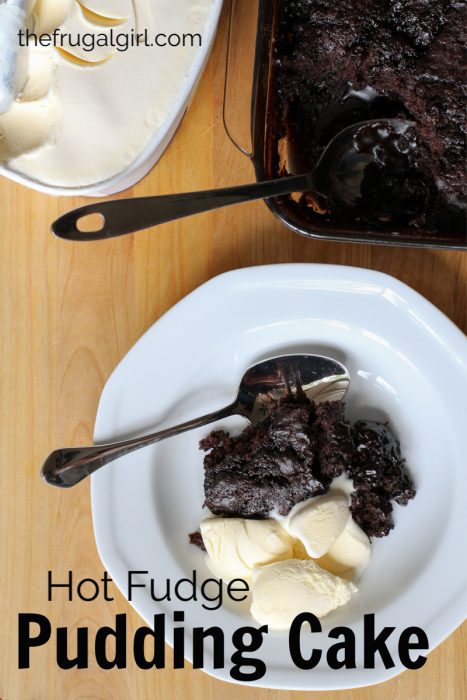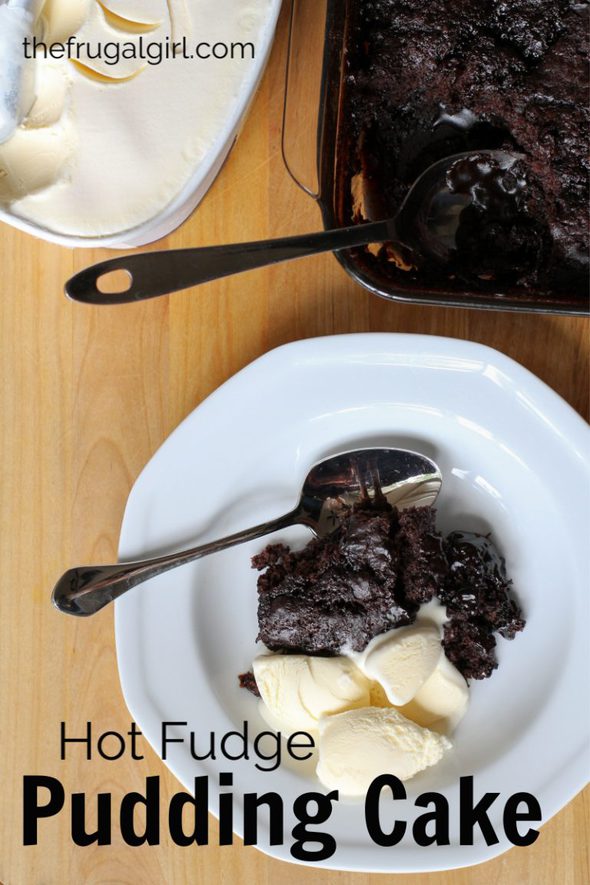 Not in the slightest.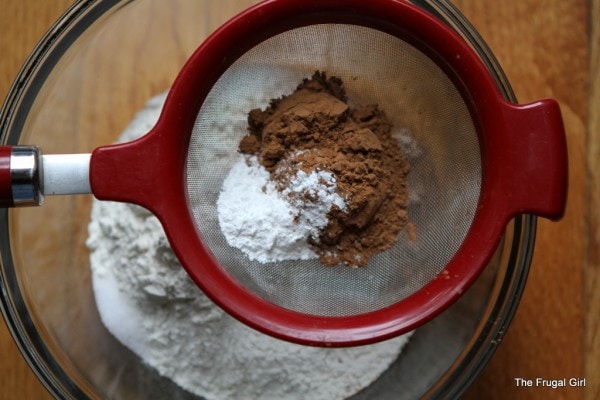 So, if you are the sort of person who shuns all things unhealthy, you can go and bake some whole wheat bread.
Or you can make a spinach salad.
Or a zucchini salad.
But if you like to have some yummy dessert every now and then, make yourself comfortable, because I'm going to show you how to make this: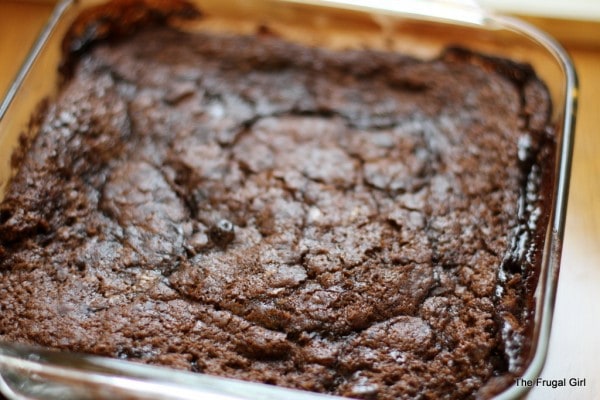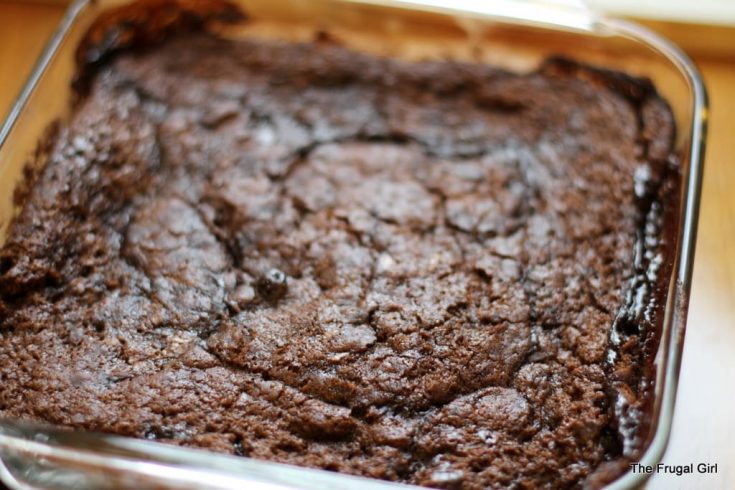 My husband and kids love this dessert, and since I bake desserts fairly infrequently, they're usually over the moon when I serve this.
Not only is this recipe delicious, it's also super-duper easy compared to most cakes.
No frosting is necessary, you don't have to mess with trying to get a cake out of a pan without breaking it, and you don't even have to cream any butter.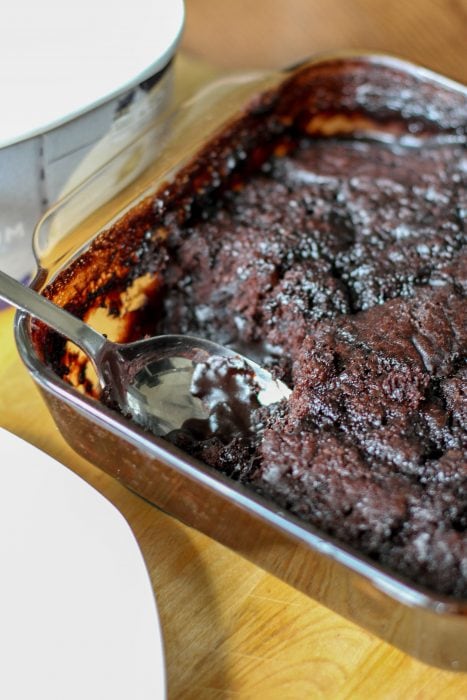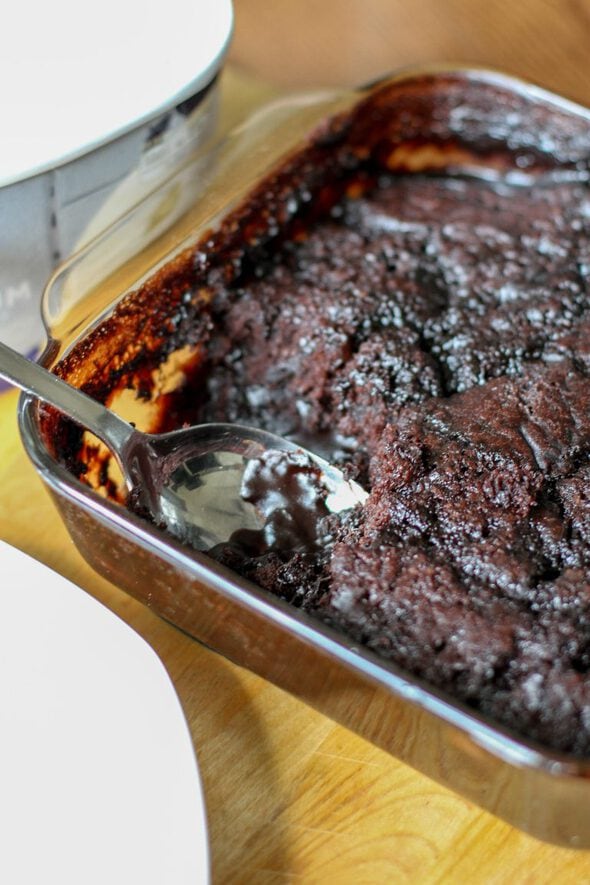 To start, mix the dry ingredients together.
I find that cocoa powder tends to have stubborn lumps in it, as does baking powder, so I always send mine through a sieve first.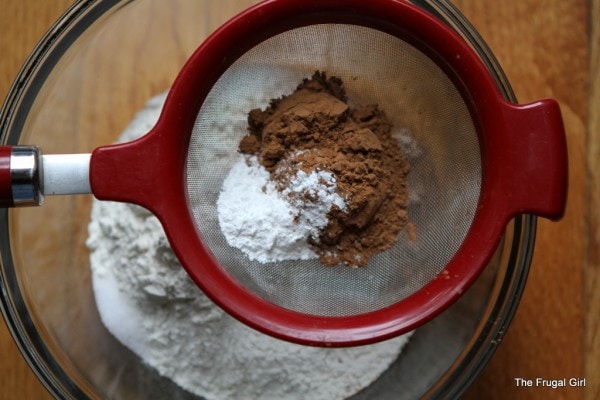 Mix the milk, vanilla, and melted butter together.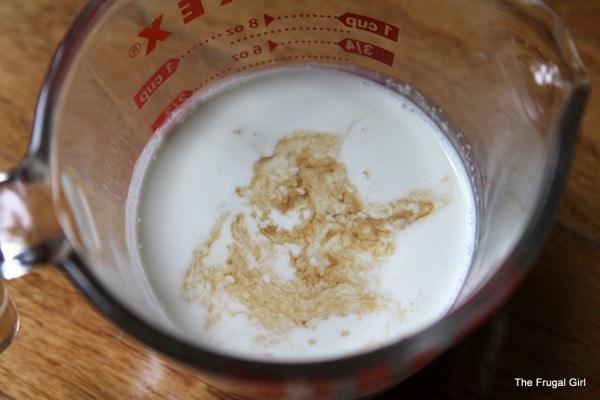 (There's only milk and vanilla in that picture. Could you please just imagine some melted butter? Thanks.)
Gently mix the wet ingredients into the dry ingredients.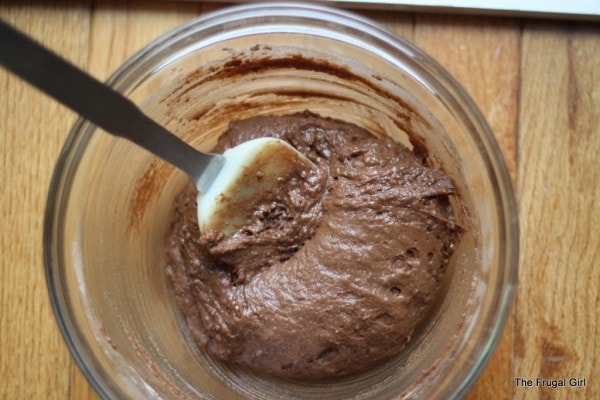 Spread the batter* into an ungreased 8×8 pan.
*Dough? It's sort of stiff to be called batter. Though, I have never heard of cake dough, so we should probably stick to calling it batter.
See? I told you this was easy! You don't even have to grease a pan.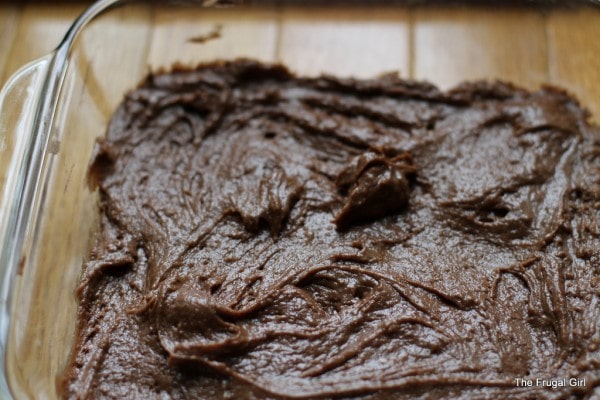 Mix 1/2 cup sugar, 1/2 cup brown sugar, and 4 tablespoons of cocoa powder together.
My brown sugar always has some lumps in it, but I obviously am not too concerned about it.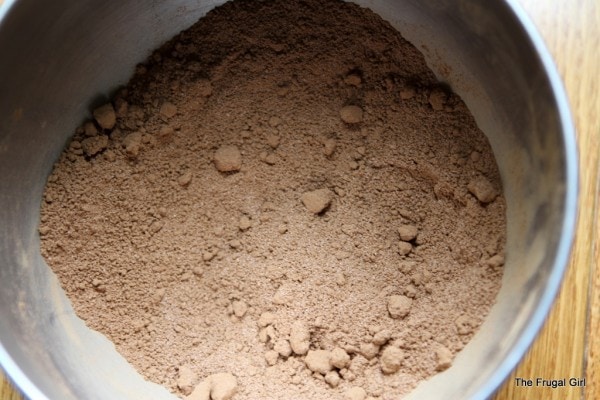 Dump the sugar/cocoa powder mixture over top of the batter.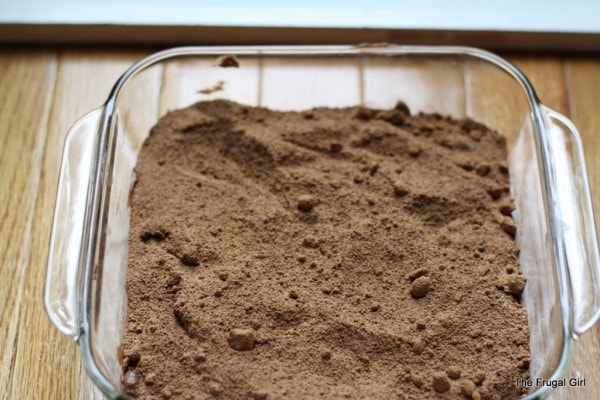 Next, pour 1 1/4 cups of hot water over top of the whole thing.
I know this is weird, but you just have to have faith and do it.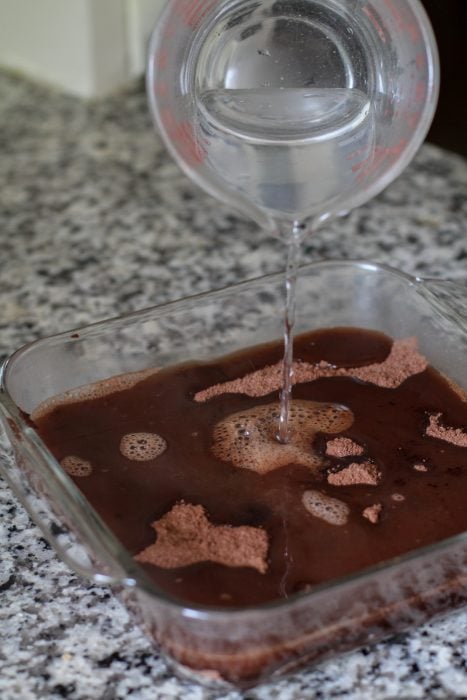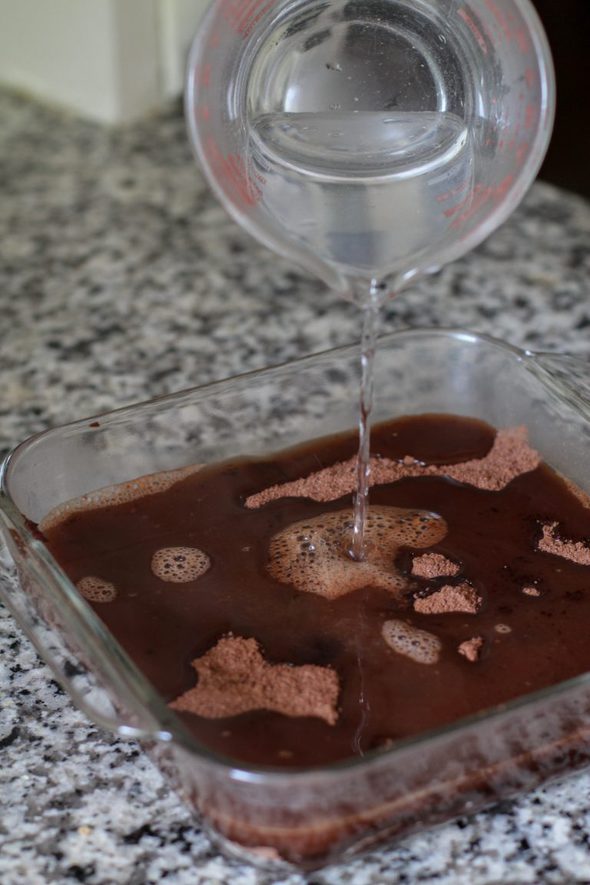 Bake in a preheated 350 degree oven for 40 minutes.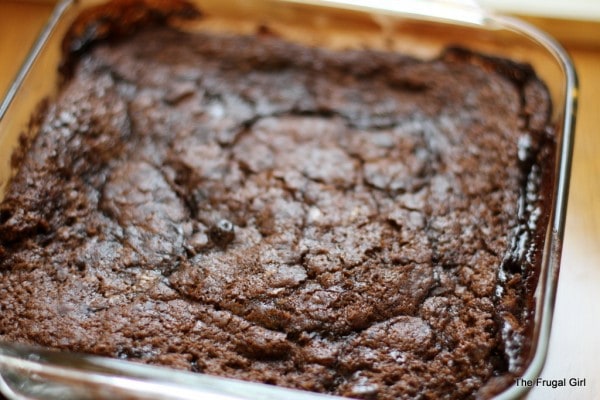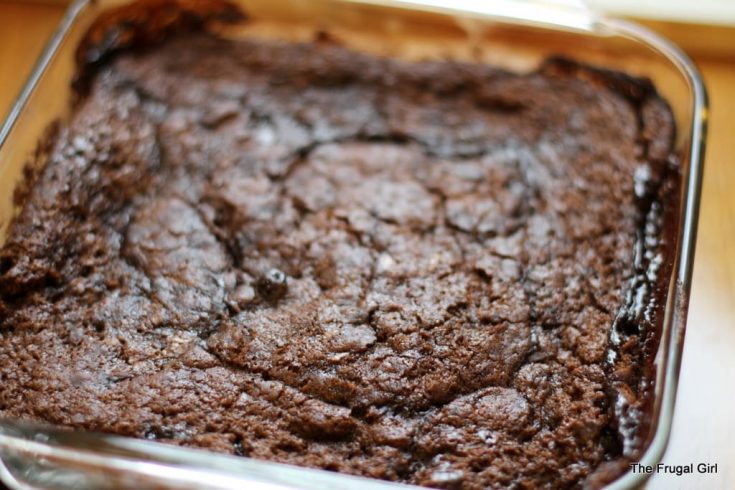 During baking, the cake rises to the top and the liquid settles to the bottom and makes a kind of pudding-y sauce.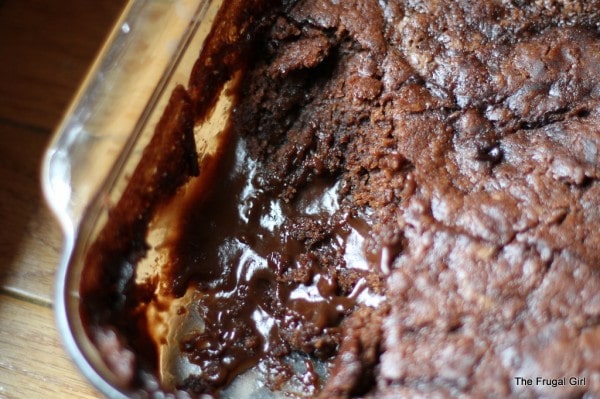 This cake is at its best when it's freshly made (leftovers are not nearly as good!), so I usually like to mix this up and put it into the oven when we sit down for dinner.
That way it comes out of the oven just as we're ready for dessert.
You really should serve this cake with ice cream. The ice cream kind of melts into the sauce and cuts the chocolate flavor just perfectly.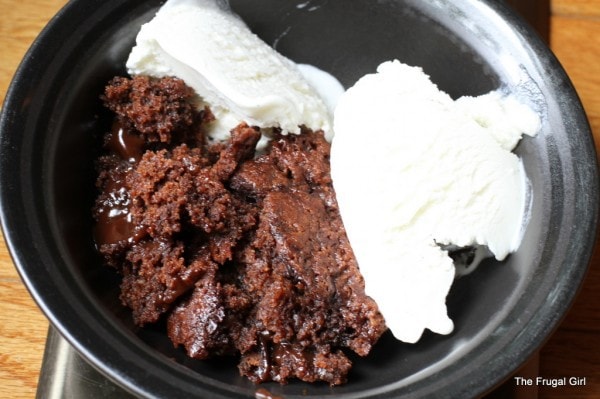 Go make this! Your family (or roommates. or friends.) will love you.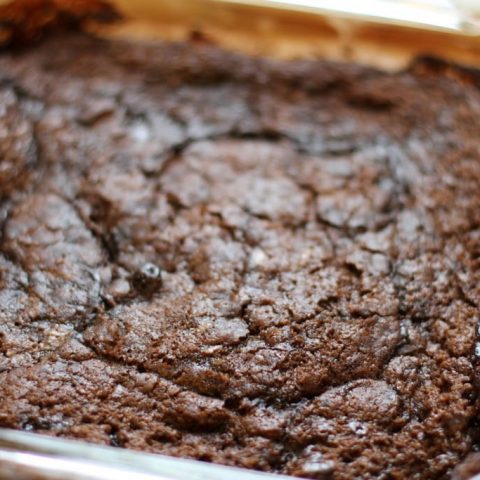 Hot Fudge Pudding Cake
Pour boiling water over the ingredients and this magically turns into a cake with a fudgy chocolate pudding below.
Ingredients
3/4 cup sugar
1 cup flour
3 tablespoons cocoa powder
2 teaspoons baking powder
1/4 teaspoon salt
1/2 cup milk
1/3 cup melted butter
1 1/2 teaspoons vanilla
1/2 cup brown sugar
1/2 cup white sugar
4 tablespoons cocoa powder
1 1/4 cups hot water (I usually boil mine)
Instructions
Heat oven to 350 degrees.
Mix sugar, flour, cocoa powder, baking powder, and salt together in a medium bowl. Combine milk, melted butter and vanilla; add to dry ingredients. Stir gently to combine, then spread into an ungreased 8x8 inch baking pan.
Combine brown sugar, white sugar, and cocoa powder; sprinkle over top of batter.
Pour hot water over top of cake, and bake in preheated 350 degree oven for 40 minutes.
Let cool in pan for 5-10 minutes, then serve in bowls with vanilla ice cream.
Notes
This is best eaten when hot, so I usually put it into the oven when we sit down to eat dinner.
Nutrition Information
Yield

8
Serving Size

1/8 of pan
Amount Per Serving
Calories

317
Total Fat

8g
Saturated Fat

5g
Trans Fat

0g
Unsaturated Fat

2g
Cholesterol

21mg
Sodium

262mg
Carbohydrates

58g
Fiber

1g
Sugar

42g
Protein

3g