I showed you all my English Muffins in my What I've Been Up To post and a LOT of you asked for the recipe. Fortunately for you, I was already planning on posting the recipe, so I've got pictures in hand. Or rather, on my hard drive. 😉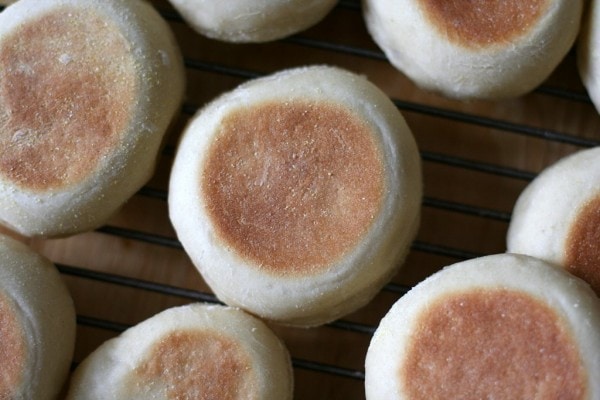 English Muffins aren't actually English…they just got their name because they resemble crumpets, which are indeed from England (I know this tidbit because I read way too many baking cookbooks as a teenager. I lived a wild life in those years. 😉 ).
But, they are yummy nonetheless, and it's kind of fun to make these at home. Homemade English muffins are even more unusual than other types of homemade bread, so if you can manage to get your English-muffin-making skills down pat, you can handily impress your friends and family. 😉
The dough is really not that much different than most bread doughs…it's the cooking method that's odd. These are cooked on a griddle or in a dry frying pan, which means that you don't have to turn on your oven (which is just about perfect at this time of year).
To start, dissolve the yeast in a cup of warm water.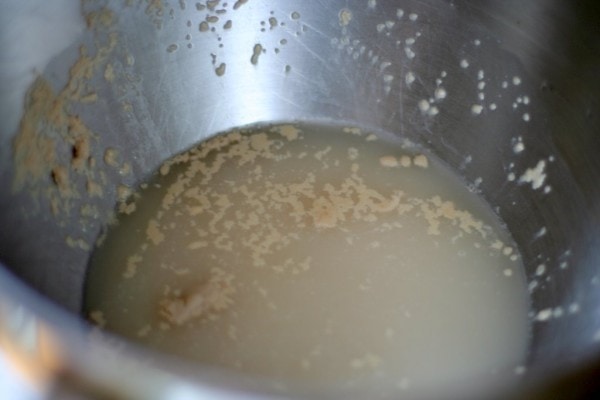 Then heat the milk, sugar, salt, and butter to 110 degrees F. This is cooler than the temperature required for most of the recipes I use, and that's because we're adding the warm liquids to the dissolved yeast instead of to a yeast/flour combo.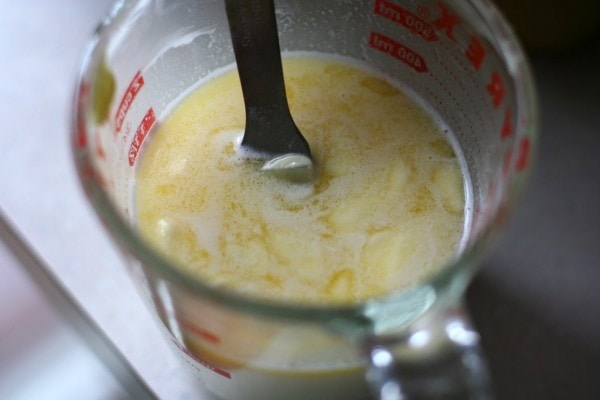 Add the warm liquids to the yeast mixture along with 3 cups of flour. Beat for 3 minutes on medium speed (or mix well by hand). The dough will be more like batter at this point.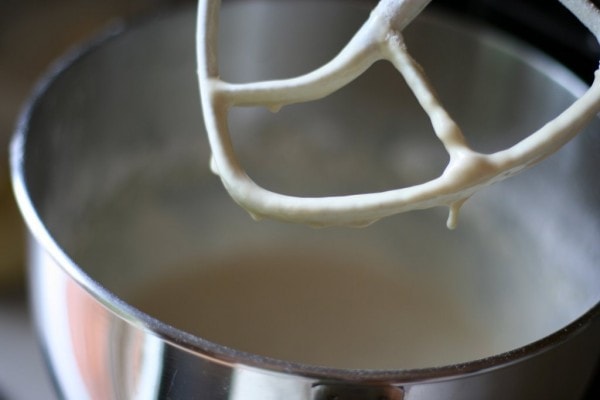 Add enough flour to make a soft dough (don't add too much flour…err on the soft side!). Turn it out onto a floured surface,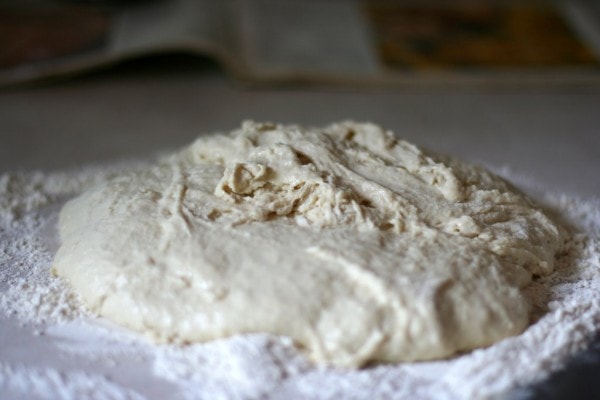 and knead for 3-5 minutes, or dough is smooth and elastic.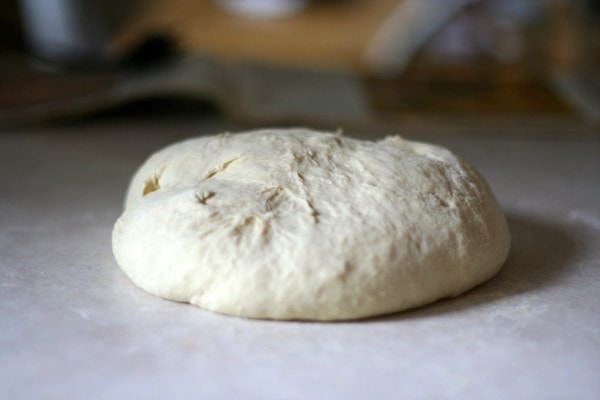 Place the dough into a bowl (I usually just put it back into the messy mixing bowl and call it good.), cover it with a wet tea towel, and let it rise for an hour.
Punch the dough down, and divide it into half. Let the dough rest for 10 minutes or so. This will relax the gluten in the flour and will make the dough much easier to roll out.
Sprinkle your counter generously with cornmeal. Place each dough half on the cornmeal and roll or pat it out into a 1/2 inch thickness.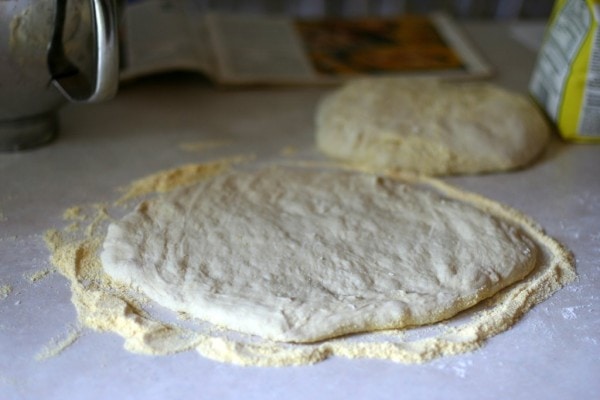 Now you'll need a biscuit cutter or something similar.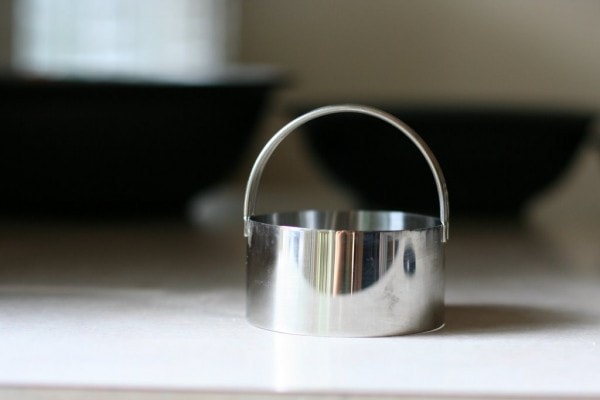 Dip it into flour, and use it to cut rounds out of the dough. I dip it into the flour between each cut. Place the cut muffins onto an ungreased baking sheet. Do. Not. grease the pan. It'll bring you grief later if you do.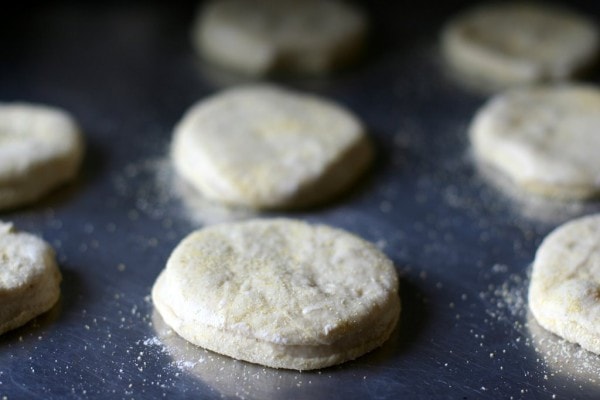 When you're finished cutting out the rounds, you'll be left with some scraps.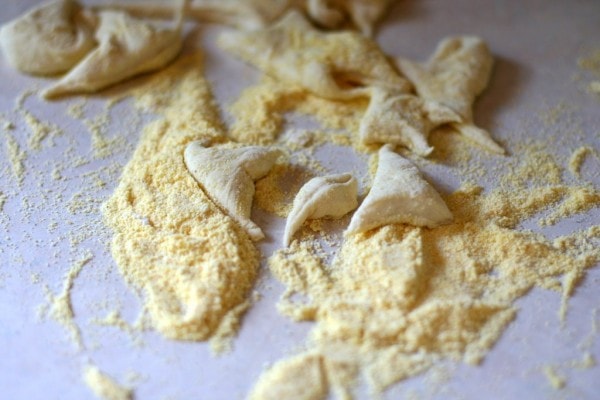 Shake them off, and combine them together to form a ball. Let the ball rest for a few minutes to relax the gluten and then pat out the scrap ball to make more muffins. Your very last muffin will probably look all gnarly like this, but it'll be ok.

Cover your pans of muffins with a dry tea towel. Normally I use wet tea towels to cover dough, but if you use a wet one for English muffins, it'll be really, really hard to transfer them to the griddle. You want to keep them dry. Let the muffins rise for 30 minutes.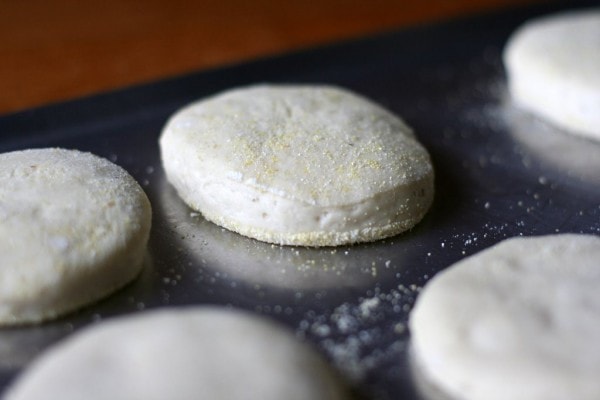 Heat a skillet or griddle to medium hot. Before I got my awesome electric griddle, I used to use multiple skillets on the stove. An electric griddle is SO much easier, though.
Gently place the muffins, cornmeal side down to the griddle. This will not be an impossible task as long as you've (1) covered your counter with cornmeal before rolling the dough out, (2) have not greased the cookie sheet and (3) have not covered them with a wet tea towel. Trust me, skipping those 3 steps will make the transferring stage an exercise in frustration.
Cook the muffins for about 10 minutes on the first side and then flip them over and cook them for another 10 minutes on the reverse side.
The first side will look more flat, like this.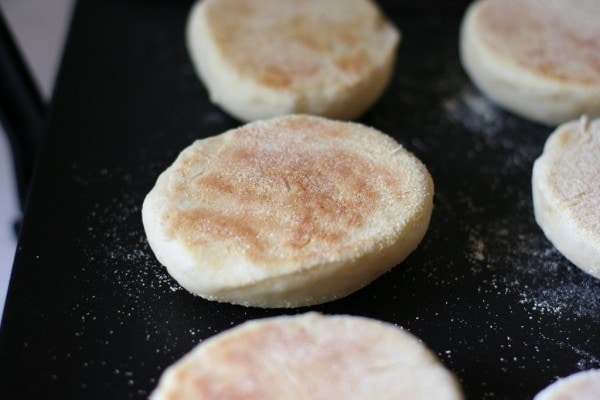 And the second side will have a nice brown circle.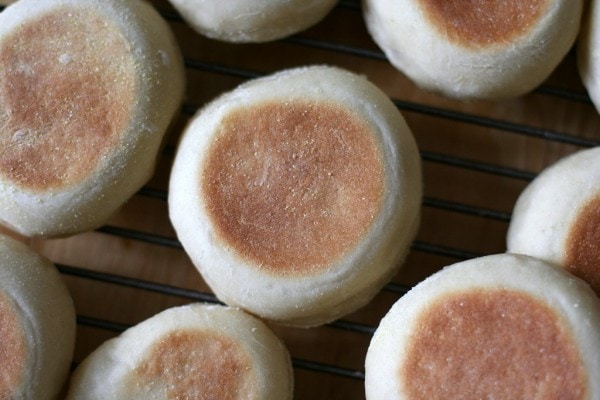 Cool the muffins on a wire rack. To serve, you'll want to split them in half. Simply take a fork and insert it into the side of the muffin, repeating all the way around the muffin.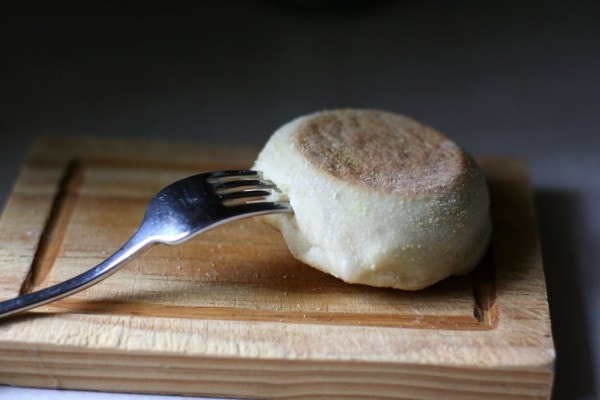 Here's what the inside should look like.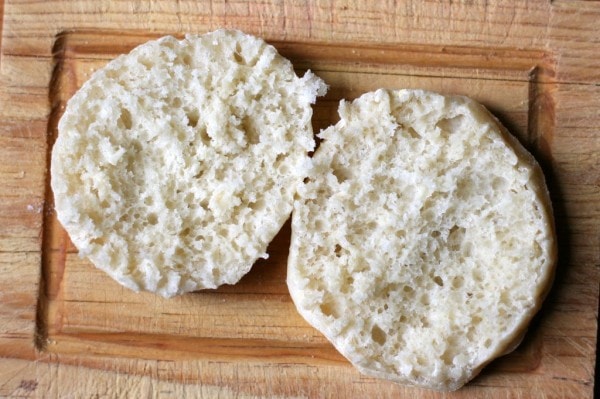 Of course, English muffins are not meant to be eaten all pale like that. You really should toast them first. When I'm serving these to our whole family, I like to place them on a baking sheet and put them under the broiler, as that's a much faster way to toast multiple muffins.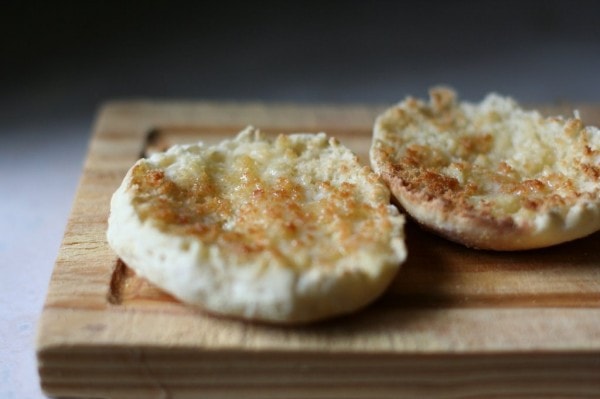 If you prefer flavored English muffins, you can replace some white flour with whole wheat flour, or you can add a teaspoon of cinnamon and 1/2 cup of raisins.
Store any leftover muffins in a plastic bag for no more than a day or two. Since the dough has very little fat and sugar (those are preservatives), the muffins will not stay fresh for longer than that, so freeze them if you're not going to use them up quickly.
Homemade English Muffins
printable English Muffin recipe
Printable English Muffins with step-by-step photos (thanks, Zaheen!)

1 cup warm water (105 F)
1 pkg (2 1/4 teaspoons) active dry yeast
1 cup milk
2 tablespoons sugar
1 1/2 teaspoons salt
3 tablespoons butter
5-6 cups all purpose flour
Dissolve yeast in warm water in a mixing bowl. Combine milk, sugar, salt, and butter, and heat to 110 F. Add to yeast mixture along with 3 cups flour. Beat for 3 minutes. Add enough remaining flour to make a soft dough and turn out onto floured surface. Knead for 3-5 minutes, or until smooth and elastic. Place in a bowl, cover with a wet tea towel, and let rise 1 hour.
Punch dough down, and divide in half. Let dough rest for 10 minutes. On a surface generously sprinkled with cornmeal, pat or roll dough to 1/2 inch thickness. Cut into circles with a floured 3-inch biscuit cutter. Place circles onto ungreased baking sheet. Cover with a dry tea towel and let rise 30 minutes.
Place risen muffins gently onto a medium-hot griddle or skillet and cook for 10 minutes on each side. Cool on a wire rack. Split with a fork and toast before serving.