Every Wednesday (ok, most Wednesdays!) I share a baking recipe. And lots of pictures of said baking recipe. I don't call this Wednesday Baking because I bake solely on Wednesdays…no, my oven gets a workout much more frequently than once a week! Wednesday just happens to be the day I share baking recipes with you. All the past baking posts are archived in the Wednesday Baking category, which can also be found in a tab underneath my blog header.
Almost every year, I make a pan of monkey bread for our Christmas breakfast. And almost every year, I use the same recipe. But this year, I decided to try something slightly more decadent…caramel monkey bread.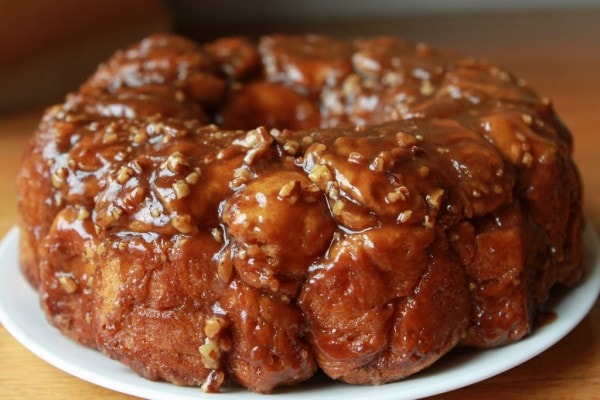 Yum.
I used a recipe from Taste of Home and I could just link you there and be done with it. But in case you need a little more convincing in order to make this yourself, I'm going to do a regular baking post about this recipe.
Also, I modified the recipe slightly in order to make it more morning-friendly. The original recipe called for refrigerating the dough overnight, but then that leaves you making the caramel sauce and shaping the bread, and letting it rise in the morning, and to me, that's no good.
I want to do as little as possible to get this ready in the morning.
So, I changed the recipe so that the buttered, sugared, caramel-sauced bread rises in the fridge overnight so that the only step left for the morning is the baking.
Ok! This particular bread recipe starts out with dissolving yeast in warm water.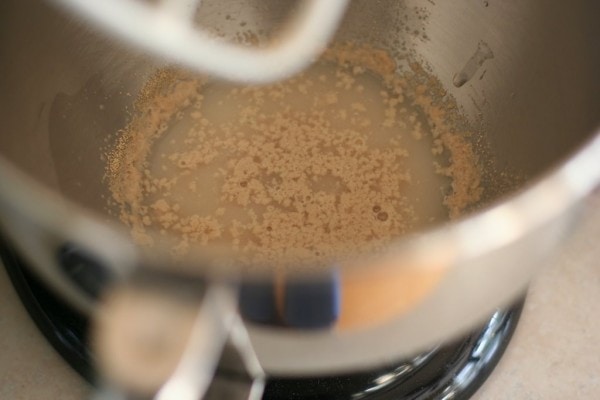 While the yeast is getting comfy, heat the milk, butter, sugar, and salt together.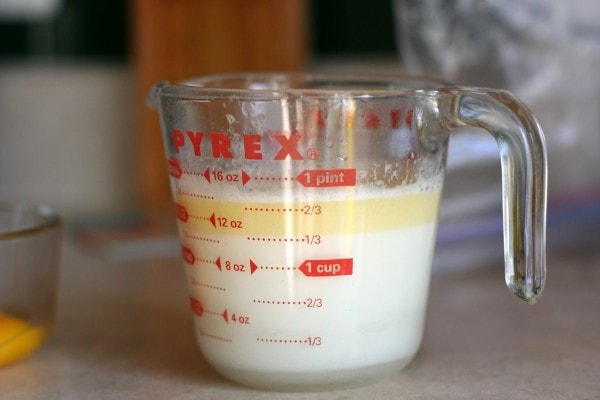 Add the warm milk mixture to the yeast mixture, along with 2 eggs.
I happened to have 3 egg yolks sitting in my fridge because I made an egg white wash for chicken the night before. So, I used those along with a little bit of extra milk (because 3 egg yolks equals 1 1/2 eggs, not 2 eggs).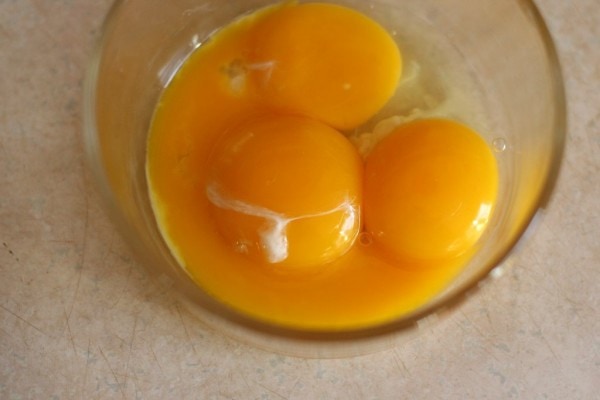 Be not envious of my scratched Formica countertops. I know they are breathtaking to behold. 😉
Where were we?
Oh, right. So, you're adding the eggs and the milk mixture to the dissolved yeast, along with 3 cups of flour.
Beat that all together for about 3 minutes.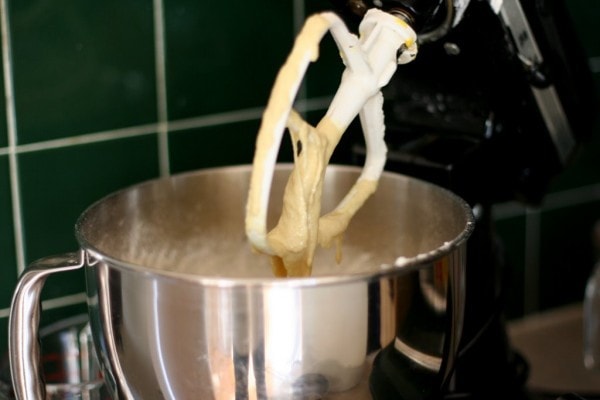 Add enough of the remaining flour to make a soft dough. The recipe calls for 5 cups altogether, but after the initial 3, I only needed another cup and a half or so to make a kneadable dough. Your mileage may vary, depending on how you measure flour, what type of flour you have, and even the atmospheric conditions where you are. Go by look and feel and not by cups.
I was going to be all helpful and take a picture of what the dough should look like when you dump it out onto the counter, but habit took over and I just started kneading. So all I have is a picture of the kneaded dough.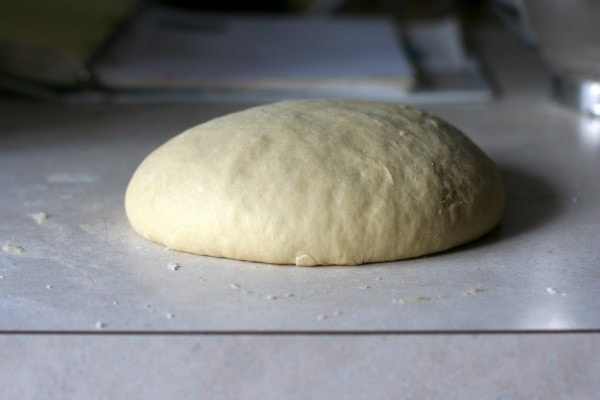 My apologies.
Put the kneaded dough back into the mixing bowl, cover it with a wet tea towel, and let it rise for 45-60 minutes.
When you're ready to shape the dough, you'll need to make the caramel, which is super easy.
Simply combine butter, brown sugar, and half and half (the recipe calls for cream, but I had none. I suppose you could substitute milk and save a few calories, but hello! If you're concerned about 1/4 cup of half and half, why are you even making Caramel Monkey Bread??).
Anyway, cook and stir this over medium heat.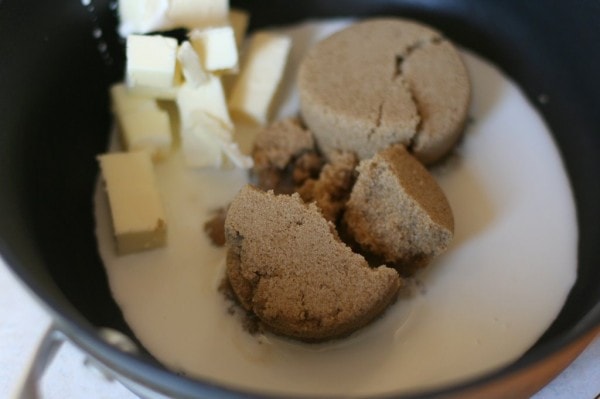 Once the mixture comes to a boil, cook and stir it for 3 minutes, and voila! You will have caramel sauce.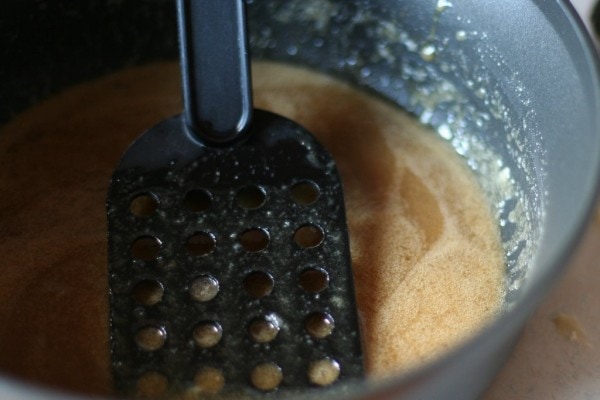 Pour half of the caramel sauce into the bottom of a greased Bundt pan. This needs to be a seamless pan…a springform pan or the type of pan you use for angel food cake will not work (caramel sauce will leak all over your oven!). If you're using pecans, sprinkle half of them over the sauce.
Melt 1/2 cup of butter (see? Using milk in the caramel is pointless!) in a bowl, and in a separate bowl, mix a cup of sugar and a teaspoon of cinnamon.
Divide the dough into 40 pieces, and roll each into a ball.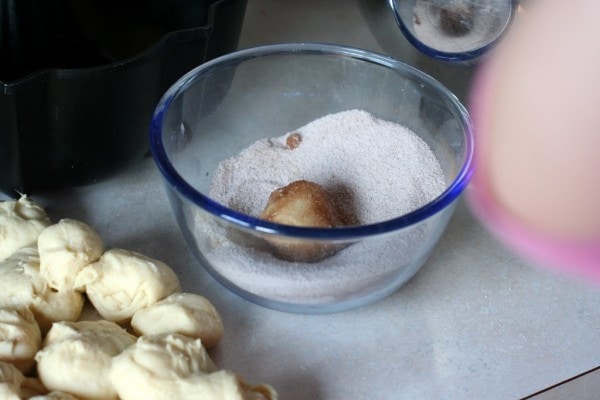 Dip each ball into the butter and then into the cinnamon sugar. Place 20 balls into the prepared bundt pan, and pour the remaining caramel sauce over top (plus the remaining pecans if you're using them).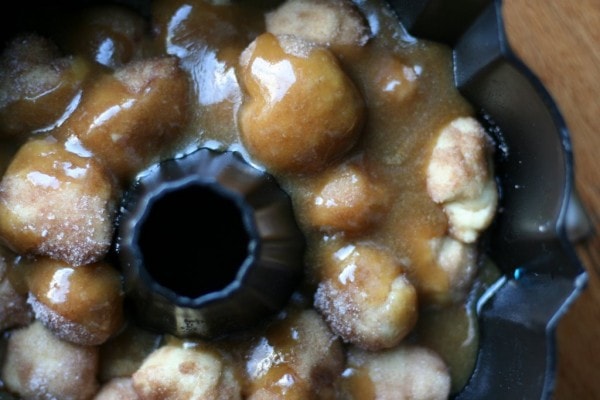 Finish dipping and rolling the remaining 20 balls, and place those in the pan on top of the caramel sauce.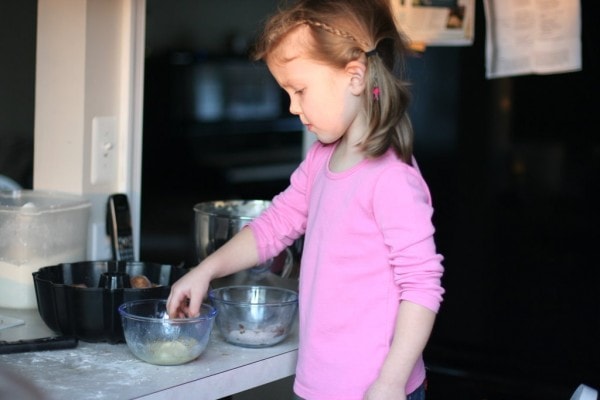 If you've still got any butter, cinnamon sugar, or caramel left, just dump it on top of the dough balls. No sense in wasting it, I say.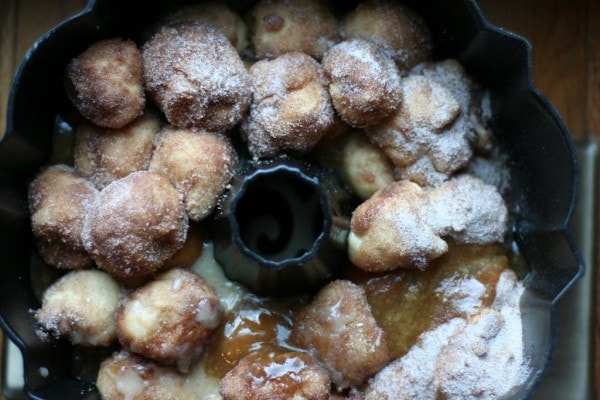 You'll need to cover your pan somehow in order to keep the bread from drying out in the fridge overnight. Plastic wrap works for this, as does a shower cap (assuming you've dedicated one to kitchen duty only!). I had neither of these, though, so I took apart a cereal bag and placed it over my bread.
You can use a dinner plate to keep the bag on top.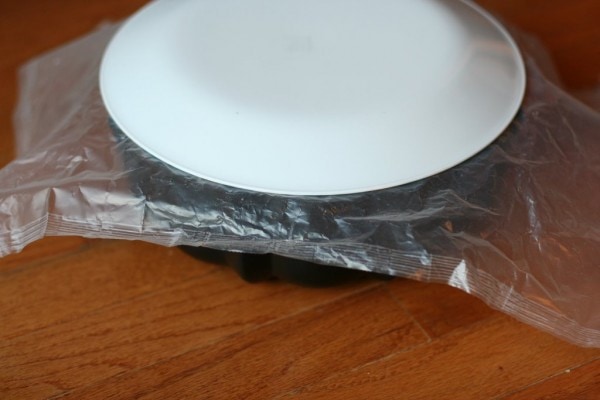 Or if you have a really stretchy rubber band, that works even better.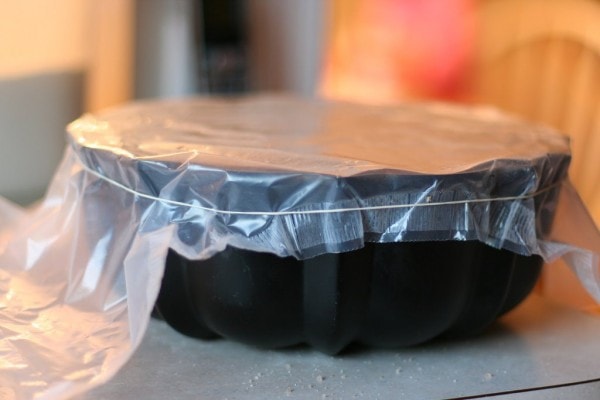 Let the bread sit in the fridge overnight.
In the morning, take it out, loosen the covering (to let some warm air in) and let it sit on the counter for 20 minutes. While the bread is warming up, heat your oven to 350º F.
Place the pan in the oven. In case the caramel sauce leaks over the top edge, I recommend putting a rimmed baking sheet underneath the Bundt pan. Otherwise you risk some serious smoke and stink.
Bake the bread for 40-45 minutes, or until golden brown. Remove from the oven and let the bread sit on a wire rack for 5-10 minutes before inverting onto a serving plate.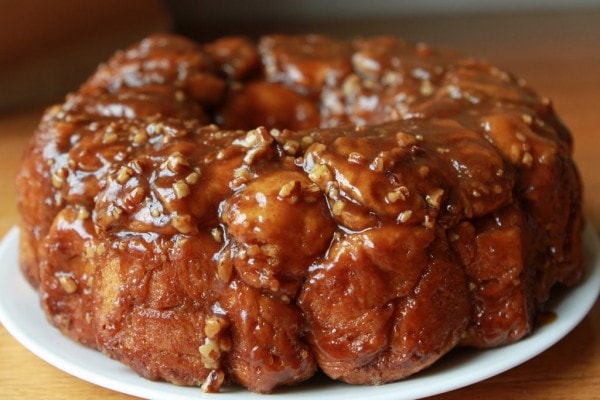 We always eat our bread by pulling pieces off, but you can let the bread cool a bit more and then slice it as you would a pound cake.
Monkey bread is definitely at its best when fresh from the oven, but if you've got leftovers, never fear…they're still quite edible. And if you pop them into the microwave for a few seconds, they're almost as good as fresh.
Caramel Monkey Bread
A printable version is available at Taste of Home
1 package (1/4 ounce) active dry yeast
1/4 cup water (110 ° to 115 °)
1-1/4 cups warm milk (110 ° to 115 °)
1/3 cup butter, melted
1/4 cup sugar
2 eggs
1 teaspoon salt
5 cups all-purpose flour
Caramel
2/3 cup packed brown sugar
1/4 cup butter, cubed
1/4 cup heavy whipping cream
Assembly
3/4 cup chopped pecans
1 cup sugar
1 teaspoon ground cinnamon
1/2 cup butter, melted
In a large mixer bowl, dissolve yeast in warm water. Add the milk, butter, sugar, eggs, salt and 3 cups flour. Beat on medium speed for 3 minutes. Add in enough of the remaining flour to form a soft dough.
Turn onto a floured surface; knead until smooth and elastic, about 3-5 minutes. Place in bowl, cover, and let rise 45-60 minutes, or until doubled.
For caramel, in a small saucepan, bring the brown sugar, butter and cream to a boil. Cook and stir for 3 minutes. Pour half into a greased 10-in. fluted tube pan; sprinkle with half of the pecans.
Punch dough down; shape into 40 balls. In a bowl, combine sugar and cinnamon. Place melted butter in
another bowl. Dip balls in butter, then roll in sugar mixture.
Place 20 balls in the tube pan; top with remaining caramel and pecans. Top with remaining balls. Cover and refrigerate overnight.
In the morning, remove the bread from the fridge, loosen cover, and let stand at room temperature for 20-30 minutes.
Placed a rimmed baking sheet on the lower rack of the oven, and then bake the bread in a preheated 350 °F oven for 40-45 minutes or until golden brown. (Cover loosely with foil if top browns too quickly.) Cool for 10 minutes before inverting onto a serving plate. Serve warm.
Today's 365 post: Now I can sleep in peace