So, the other day I showed you my $3 Goodwill shoes.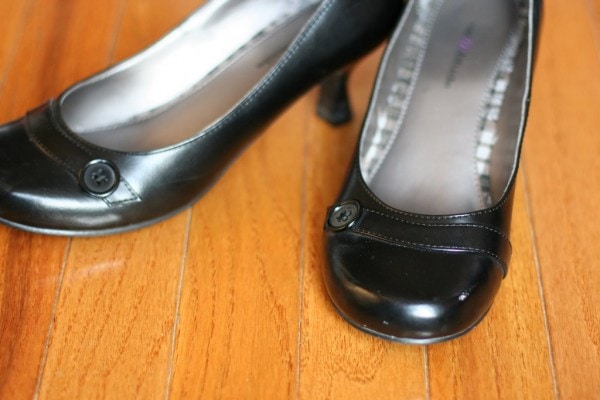 You can see the jaunty heel in this picture, unlike in the other one, though!
Anyhow, that reminded me that I have a few other Goodwill things that I wanted to show you.
First up, a pair of black snow pants that were brand new. They were marked at $10 or so, but they had a tear down the front part of the bib. I pointed this out to the sales clerk, who suggested a price of 50 ¢.
50 ¢???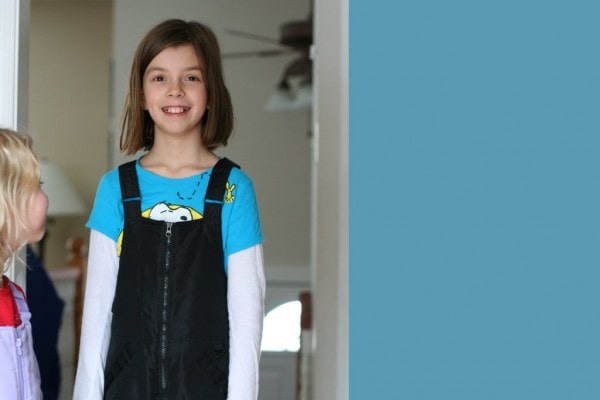 I said something about how that price would work for me (and how!), and paid for them.
This was an excellent find because I had exactly 0 pairs of hand me down snow pants for Lisey, and I'd have had to buy some for her somewhere.
And I'm thinkin' that no matter where I shopped, I'd have ended up paying more than 50 ¢.
On a related note, we're going snow-tubing next week, and this meant that I needed some snow pants. A stop at a regular store turned up nothing (because of course we all want to buy bathing suits in February, not snow pants. It's not like there's snow on the ground or anything).
But, when we stopped in at Goodwill last week, what did I find but a brand new pair of black snow pants for me from Target! Yay!
They were $9, and now I'm all set for snow tubing.
I don't have a picture, though. Can you believe it??
Moving on…
Whenever I see something like this at Goodwill, I take notice.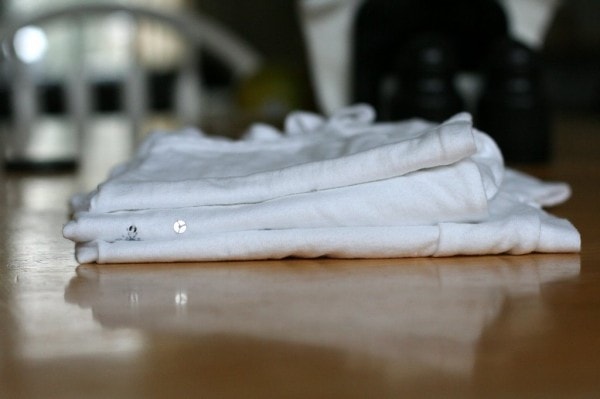 White shirts, if they're in good shape, are a most excellent addition to a hand-me-down wardrobe. It seems that a lot of hand-me-down bags contain skirts, pants, and shorts that are not neutral (plain pairs of jeans don't usually live in hand-me-down bags!).
So, having a number of white shirts on hand is super helpful, because white goes with almost anything. Also, when a kid picks a white shirt out of the drawer, odds are good that the outfit they concoct will not be hard on the eyes.
Always a plus.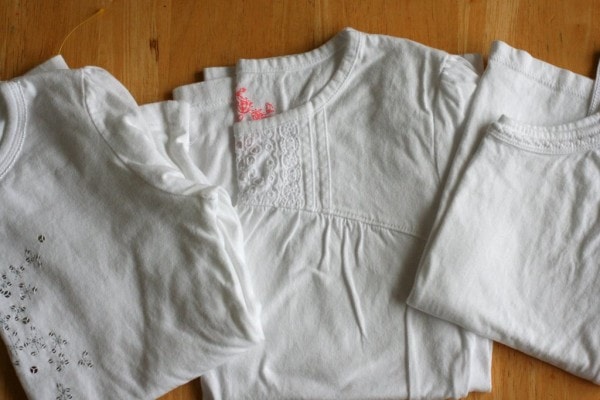 Oddly enough, I found all 3 of these on one day! The star one is long-sleeved and will be for Sonia to grow into. The shirt in the middle should fit Lisey this summer, and the tank on the right will function as an undershirt now (Lisey has a shirt that fits loosely and has a somewhat low neck, so a tank to layer will be perfect) and a tank top in the spring.
These shirts were only $1.25 each, which is a fabulous price for shirts that appear to never have been worn.
Yes, indeed…I love my Goodwill.