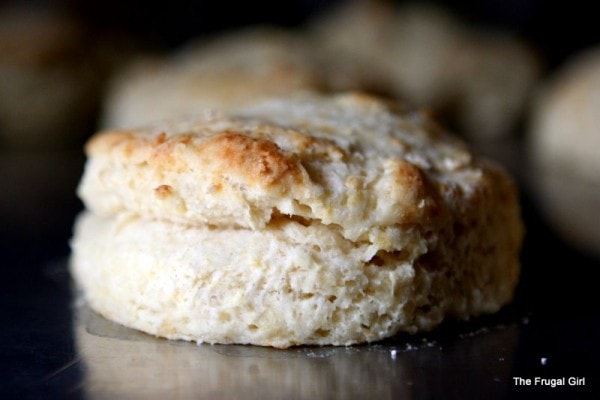 When I put out a call for Wednesday Baking suggestions last week, several of you requested a biscuit recipe. I don't consider myself to be a biscuit-baking-queen (I'm sure there are some Southern cooks who could beat me hands down in a biscuit cook-off!), but I do manage to produce biscuits that please my family's palates. We had these with dinner last night and there were none left.
The recipe is from an old (1970s!) Better Homes and Gardens bread cookbook that I have, and I've adapted it slightly.
One very important thing to keep in mind when baking biscuits is that you do NOT want to mix and knead the dough much at all. If you recall from our lesson on gluten, non-yeast breads are more tender and soft when the gluten is not developed. If you mix and knead biscuit dough with vigor, you will develop lots of gluten and your biscuits will be tough and will not rise properly.
Baking powder is the main leavening in these biscuits, and it is not as powerful as yeast. Yeast can lift a stretchy dough, but baking powder cannot. It also can't lift a dry, dense dough very well, so you want your biscuit dough to be rather soft.
Don't be scared, though. Biscuit baking really isn't that complicated. Here's how to go about it.
Mix some flour, baking powder, baking soda, salt, and sugar together thoroughly. Gluten only develops when flour gets wet, so mix with abandon at this point. 😉 If you don't like sweet biscuits, you can feel free to leave out the sugar completely.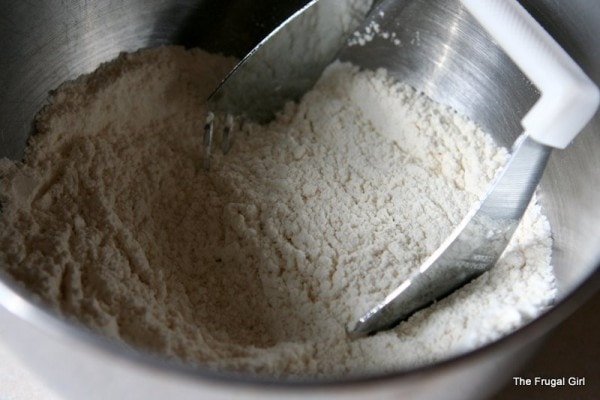 Then cut up 1/3 cup of cold butter into chunks,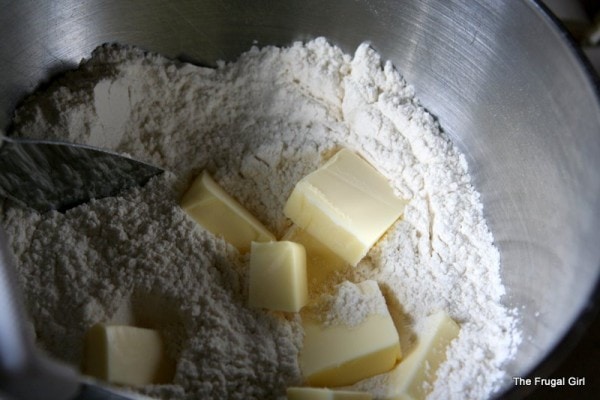 and using a pastry blender, mix the butter into the dry ingredients. After you mix in the butter, there should just be little pebble-like bits of butter in the flour. These will melt during cooking, creating nice little air pockets in the biscuits.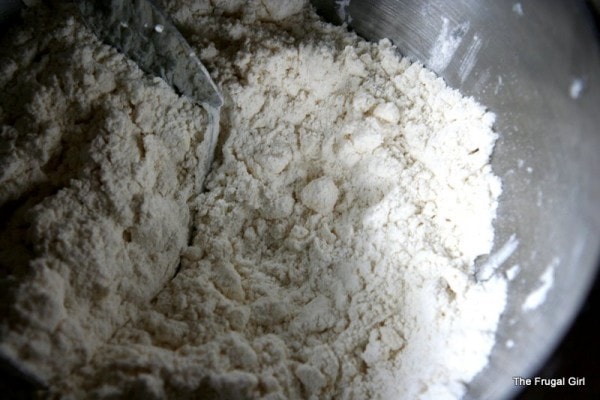 Gently stir in the buttermilk. Though the recipe calls for 3/4 cup, I usually find I need a bit more than that to moisten all the flour.
Turn the dough out onto a very lightly floured surface,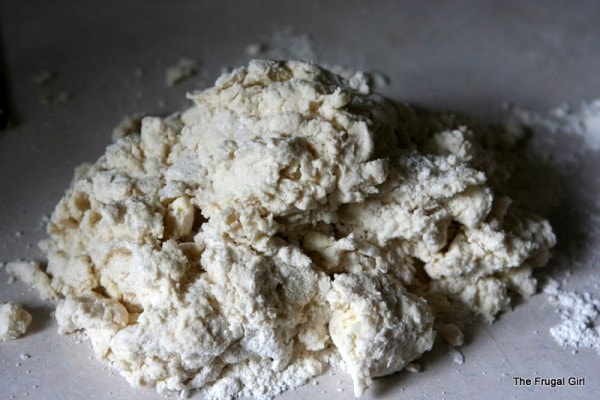 and knead a few times, just to get the dough to all hold together.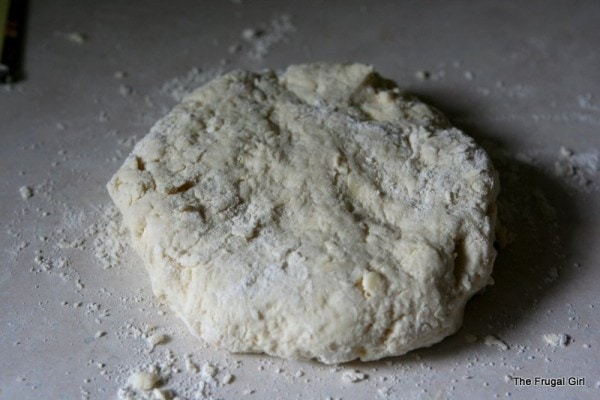 Pat the dough to about 1/2-inch thickness.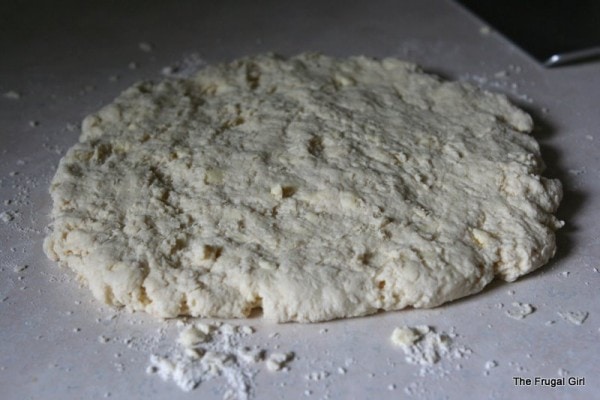 Cut with a 2 1/2 inch biscuit cutter, dipping the cutter into the flour between biscuits. Place on an ungreased baking sheet.
A sharp biscuit cutter will help your biscuits to be a little more fluffy. A dull cutter sort of squishes the dough when you cut out the biscuits. Also, dipping the cutter into flour in between biscuits will help to prevent sticking and squishing.
I have a delightfully sharp one that I got it a set at Christmas a few years ago. Isn't it pretty?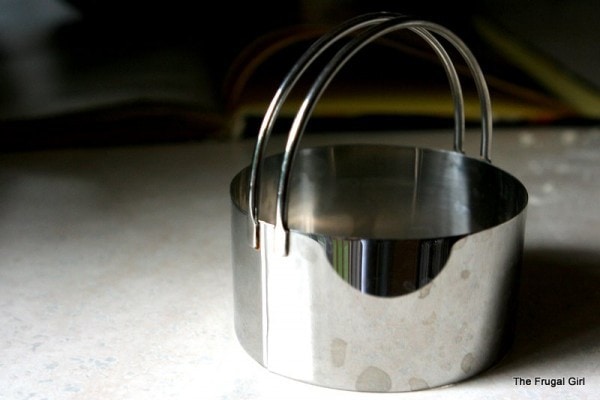 You'll have some scraps left after cutting the biscuits, and you can gently pat those together in order to cut more biscuits. These will be a bit tougher because of the extra handling, but no one at my house seems to mind terribly.
Bake the biscuits at 450 degrees for 10-12 minutes, or until golden brown.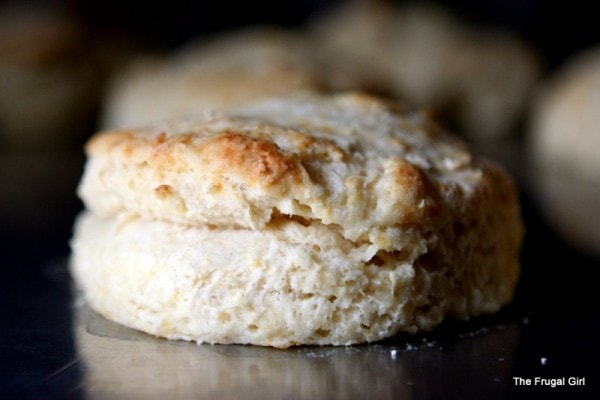 Buttermilk Biscuits (makes 8-10)
2 cups all-purpose flour (you can sub 1/2 cup whole wheat flour if you like)
1 tablespoon baking powder
1/4 teaspoon baking soda
1/2 teaspoon salt
1-2 tablespoons sugar
1/3 cup butter (the recipe calls for shortening, but I like butter better!)
3/4 cup buttermilk, plus a bit more if necessary
Mix dry ingredients together thoroughly. Cut butter into chunks, and using a pastry blender, cut into flour until mixture resembles coarse crumbs. Gently stir in the 3/4 cup buttermilk, adding a little bit more if necessary to hold dough together. Turn dough out onto lightly floured surface, and knead briefly. Roll or pat to 1/2 inch thickness. Cut with 2 1/2 inch biscuit cutter and place on an ungreased baking sheet. Bake in a preheated 450 degree oven for 10-12 minutes, or until golden.