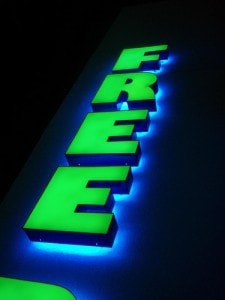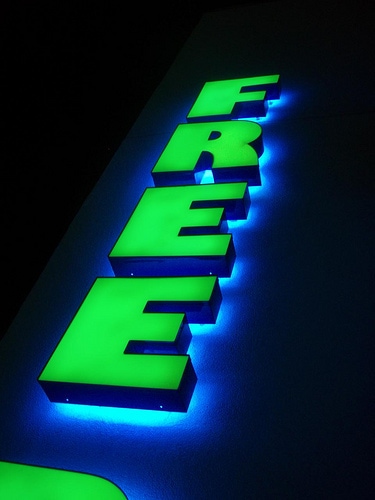 Free samples are all the rage among frugal people, judging by the number of blogs and websites that publish endless lists of these sorts of offers. While I do love to save money, and I love free things as much as the next person, I really cannot get on board with free samples as a effective way of saving money. Here's why.
1. Most free samples give you a miniscule amount of product.
Think of how small a portion of cereal in a sample container is. If you're very fortunate, you might get 1/2 cup of cereal in each sample. The number of sample containers you'd have to obtain in order to get the equivalent of a box of cereal (which can be had for a a couple of dollars, or less if you're a really good shopper) would be enormous.
Finding and filling out enough free sample forms to reach that enormous number would require a lot of time and effort, which leads me to my next objection.
2. Filling out free sample forms is not an efficient use of your time.
If you look at this sort of thing as entertainment, that's one thing, but if you're trying to save money on your groceries, there are many, many other things you could choose to do that would save you more per hour.
For example, instead of signing up for a dozen free snack samples (which would net you a really small amount of food), you could spend a few minutes doing the prep required to make a batch of granola bars.
Or instead of requesting a bunch of cereal samples, you could spend five minutes making a pot of oatmeal, which will feed your family much more effectively than cereal samples will.
Planning a menu would be another good use of your time. If you're constantly tempted to go the take-out/fast food route, having a menu plan in hand could save you hundreds of dollars a month. No free samples will net you that much in savings.
3. Free samples have a a really bad packaging/product ratio.
Not only does each sample come individually wrapped, a lot of times the samples themselves come encased in more packaging.
Some samples are for things that would be individually wrapped anyways, but most samples have a much higher proportion of packaging than their full-size counterparts do. Even worse, it tends to be unrecyclable packaging.
The oatmeal example I mentioned above would not only be a good use of your time, it would produce very little trash. A large cardboard container of oatmeal is recyclable and compostable, and even if it wasn't, it would still produce less waste per serving than a free sample of breakfast food.
In sum, if you truly do want to try a product in order to determine if you want to buy it (this is, after all, the purpose of a sample), then I'd encourage you to go ahead and sign up. But do yourself a favor and look into other more efficient ways to spend your time if you're serious about saving money.
What do you think? Agree? Disagree? Tell me! 😉