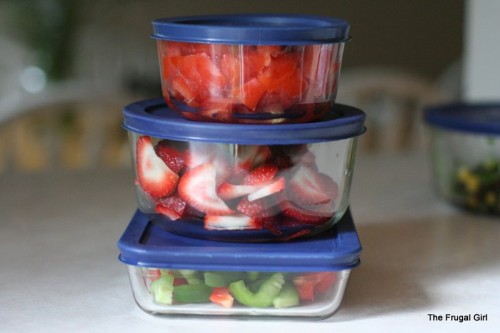 A while back someone asked about the glass food storage containers that I use, so here's a little post devoted to them.
I used to use Rubbermaid plastic containers for my storage purposes, but those have their downsides. The plastic sometimes retains odors, it stains, and I don't feel very good about using it in the microwave (my husband sometimes heats his lunches in the microwave at work) due to leaching and melting problems.
I do still use some plastic containers (I haven't found a glass one big enough to hold my flour!), but I now have a very respectable collection of glass containers for storing most of my food. I can't say enough good things about them.
The glass is very easy to clean, it doesn't stain, it doesn't leach or melt in the microwave, and best of all, it's completely clear. Clear containers, in my opinion, make it much easier to keep track of what leftovers are in the fridge, which in turns helps me to avoid wasting food.
I use these containers for leftovers, of course, but I also use them for packing my husband's lunch. For that purpose, these small ones are really my favorite.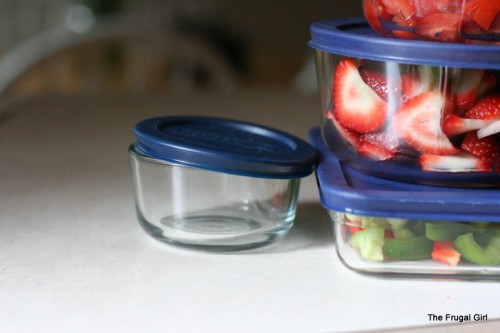 I put yogurt, pudding, crackers, nuts, fruit, veggies, and all sorts of other stuff in the small ones. This is a much better option than using a plastic bag, as it saves money and reduces our trash output.
For items that have more of a rectangular shape (or for M&Ms!), I have two of these.
Another nice thing about those containers is that once the lids are off, they look classy enough to be used as serving dishes. I like to use the round ones when I serve fajitas to company (I don't stress about having nice serving containers when it's just us here!). I can shred cheese and lettuce and chop tomatoes ahead of time, put the lids on, store them in the fridge, and then just take the tops off when it's time to serve dinner. The rectangular containers, though, are probably my favorite.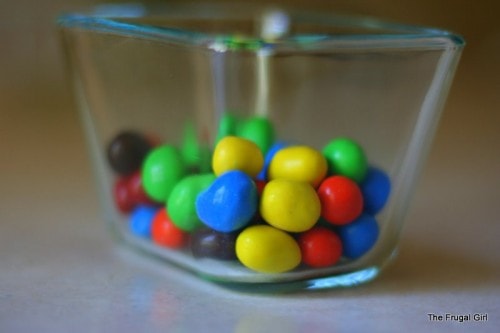 With all due respect to Rubbermaid, this just doesn't have quite the same effect.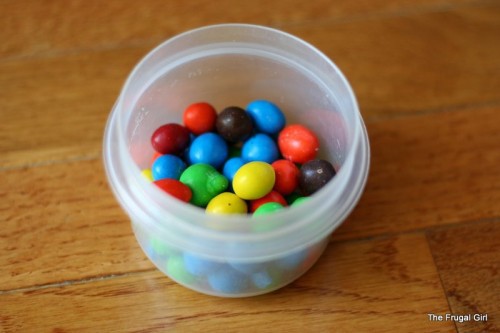 Most of the containers that I have are made by Pyrex, although a few of them are from Anchor Hocking.
The lids on my Anchor Hocking containers are starting to split, though, so I can't really give them a hearty recommendation. I've had the Pyrex ones longer and not a single lid is splitting, so I'd stick with those.
I bought some of my containers as a set, which is a good way to start out.
However, the sets generally do not have enough of the really small containers for my liking, so I've purchased some of those individually.
They're a bit more expensive that way, but I'd rather pay slightly more per container and get only the number I need than to have a big set with more large bowls than I will use.
These are pricier than Rubbermaid, but given their advantages, both practically and aesthetically, I think this is a time where it's worth it to pay a little more.
What do you use to store your food?