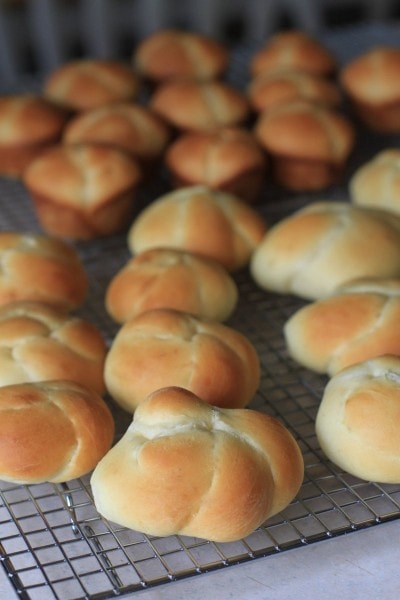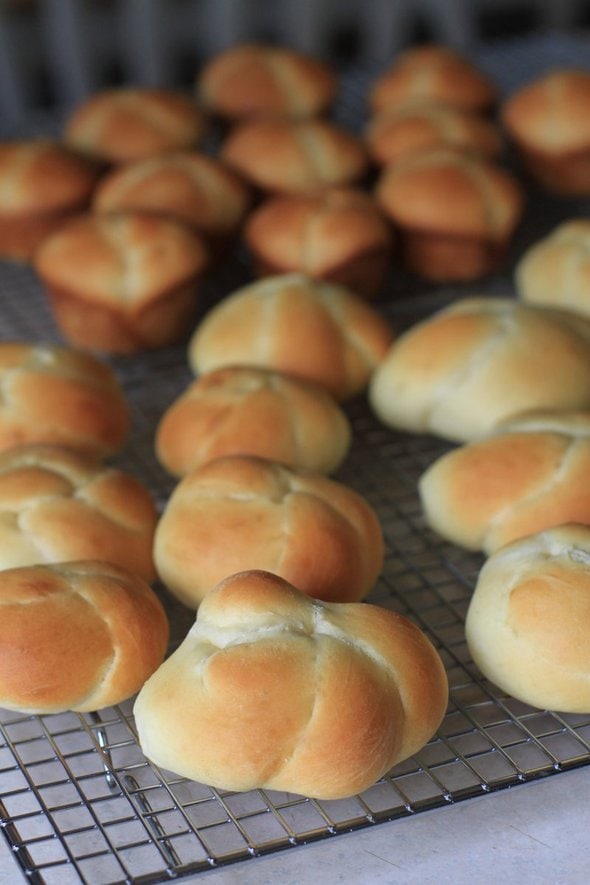 As promised, I've got a very straightforward yeast dough recipe for you today!
Rolls are a great beginner yeast recipe because they are really forgiving.
If you don't get the kneading down quite right, or if your dough isn't quite the proper consistency, odds are that your rolls will still turn out ok. Since they're smaller, they don't require quite such a strong gluten development, and it's also easier to avoid over or underbaking these.
In short, I thought these would be simpler than loaves!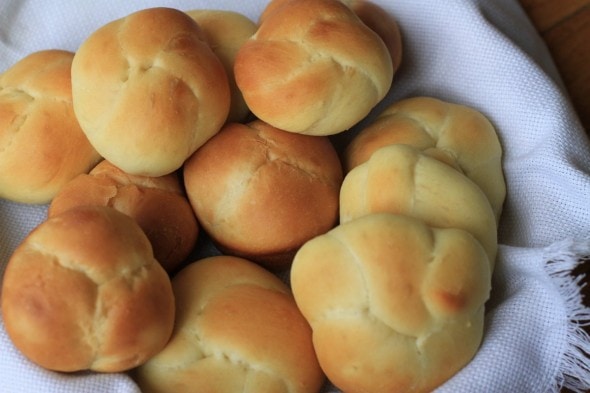 These are the rolls that I'm forever bringing with me when we eat at other people's houses…I think I could probably make them in my sleep by now.
A printable version of this recipe (one picture instead of thirteen!) is here.
Basic Rolls-makes 24 rolls
Ingredients
1 cup milk
1/3 cup sugar
5 tablespoons butter
1 teaspoon salt
2 packages (4 1/2 teaspoons) active dry yeast
4 1/4-4 1/2 cups flour
2 eggs
1. Combine milk, sugar, butter, and salt in glass measuring cup or bowl(if you do it in the measuring cup, you'll save yourself a dish!).

Microwave(or heat on stovetop over medium heat) until the butter is melted and the mixture reaches 120-125 degrees.
2. Combine yeast and 2 cups flour in the bowl of a stand mixer.
3. Add warm milk mixture and eggs and beat on low speed for 2 minutes. Add 1 cup of flour and beat for an additional 2-3 minutes. Mix in as much of the remaining flour as you can by hand(well, that's what the recipe says…I do it in the mixer!). The dough should be relatively thick, like so:
4. Turn dough out onto floured surface,
and knead for 3-5 minutes, or until dough is smooth and elastic.
5. Put the dough in a bowl, cover with a tea towel, and let rise in a warm place for one hour(mine is obviously missing the tea towel!)
Risen dough should look like this:
6. Punch dough down, divide in half, and follow instructions below to shape the rolls (just to be extra clear, each type uses half of the dough, so you can pick up to two shape varieties.)
Cloverleaves: Grease a 12 cup muffin pan. Take half of the dough and divide it into 12 pieces. Cut each of these pieces in three (you will have 36 small pieces).

Roll each piece into a neat ball, and place three into each muffin cup.
Knots Grease a large cookie sheet. Take half of the dough and divide it into twelve pieces. Roll each into a 6 inch strip and tie into a loose knot. Place on greased cookie sheet.
Rosettes Follow instructions for knots, but after tying the knot, tuck one end into the middle of the knot and one end underneath the knot to form a rosette shape.
Below you can see the six inch strip, a knot roll, a rosette in progress(so you can see where to tuck the ends), and a finished rosette.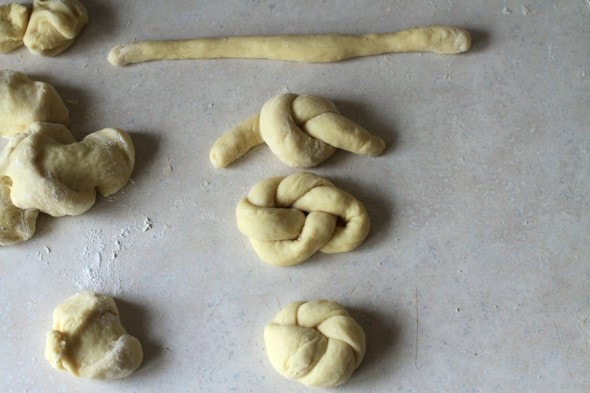 7. Cover rolls and let rise in a warm place until doubled, about 30 minutes.

8. Bake in a preheated 350 degree oven for 12-15 minutes, or until lightly browned. Let cool on wire rack. Serve warm(with butter!).