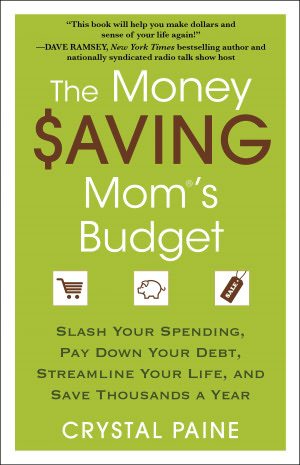 You know about Money Saving Mom, right? You could hardly spend any time in the frugal blogosphere without coming across Crystal's blog!
She's not just blogging anymore, though…she's found the time to write a book.
(considering how I struggled to get my little ebook done, I'm totally impressed).
I digress.
I was recently sent a review copy of Crystal's book so that I could read it and share my thoughts with all of you.
Though I'm not much of a deal shopper, I've been subscribed to Crystal's blog for a long time both because she does have a fair amount of content that's not just deals, and because every now and then, I like to take advantage of a deal/sale she posts. If you're only going to follow one deal/couponing blog, Crystal's is a great choice.
Like her blog, Crystal's book is written in an upbeat, conversational tone. It's definitely not a dry read, which is lovely, because personal finance CAN be a really yawn-inducing topic.
The Money Saving Mom's Budget
is a great book for people who are just starting to work on getting their financial lives in order. The book lays out a year-long plan, which includes setting goals, streamlining your life, setting up a budget, and going cash-only for three months.
The second chapter in the book talks about decluttering and streamlining, which might seem like odd topics for a book about money. But, as Crystal points out (and I agree with her), having a disastrously messy/cluttered home makes it really difficult to stay on top of your finances.
Clutter takes up time and mental energy, and it often eats important papers like, um, bills.
I generally live in a somewhat decluttered state, but this chapter inspired me to tackle some of the clutter clusters in my house (reading my copy is what made me clean up my laundry room, actually!)
The chapter on budgets has a lot of good basics that will be helpful to someone who has never successfully implemented a budget, and her budgeting plan has three one-month stages, so it won't be overwhelming to newbies.
Crystal got her blogging start by writing about coupons and deals, so it's no surprise that she includes two chapters on couponing. But, if you're like me and are just not a couponer, you'll be happy to know that next chapter covers 25 ways to lower your grocery bill without coupons.
The last chapter in the book is about a subject near and dear to my heart: contentment. I wrote a short series on contentment, actually, and apparently Crystal and I share a lot of the same thoughts about contentment.
Who should buy this book?
Because it covers a lot of financial basics, The Money Saving Mom's Budget
will be most helpful for people who are just beginning their journey to healthy financial management. If you've never got enough money, have trouble planning for bills, and can't figure out how to make a budget work for you, you should read this book!
If you've been living a financially responsible life for years (that's my boring story!), though, this book could still be beneficial to you because sometimes, it's just good to be reminded of what we already know. For example, I know that clutter is bad for me, but reading the chapter on decluttering gave me fresh inspiration to tackle my trouble spots.
Oh, and I should tell you that Crystal is donating all of her book profits to Compassion International, so by buying her book, you'll be helping your budget AND helping children in need around the world.
Two of you won't have to buy this book, though. And that's because….
I've got two copies of The Money Saving Mom's Budget to give away to you all!
To enter, simply leave a comment telling me your best tip for someone who's new to responsible financial management.
One comment per person, please. This giveaway is not limited to the U.S., so all of you can enter!
disclosure: I received a free copy of The Money Saving Mom's Budget but was not otherwise compensated for this review. All opinions are my own. Amazon links are affiliate links.
______________________
Today's 365 post: "520 Broken Bones!"
Joshua's 365 post: A Chinese Calendar