Are you tired of reuse ideas that are, well, not useful?
space
reuse, refresh, repurpose, my new 57-page ebook, is filled with 20 useful, practical, manageable ideas that will help you get the most out of your clothes.
space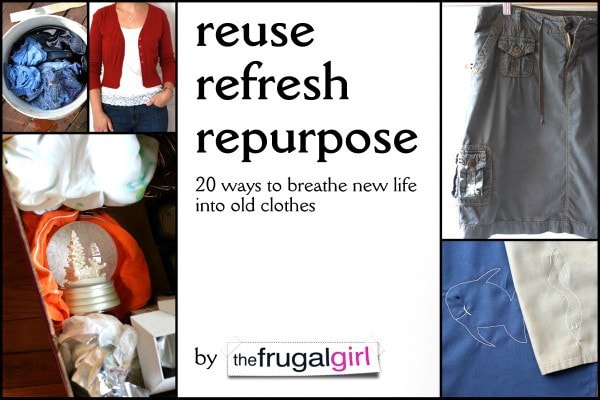 Each idea is thoroughly explained and photographed so that you can actually apply these ideas. You'll learn how to make old clothes look new and how to turn old clothes into something new.
While some of the ideas require sewing skills, many involve only a pair of scissors, and several don't even require any cutting or sewing. There's something here for everyone!
For only $3.99 you can download the book instantly.
If you save even one piece of clothing, your ebook will have more than paid for itself.
Plus, as I'm sure you know, reusing and refreshing old clothing is a delightful thing to do for the planet. So, you'll be saving money and saving the earth.
space
This ebook downloads in a PDF format, so you don't need an e-reader or any fancy gadget to buy it…if you've got a computer, you can read this book.
Still not convinced? Here's what other bloggers are saying about reuse, refresh, repurpose.
"Kristen's "Reuse Refresh Repurpose" is an inspirational collection of crafty yet practical ideas. Written in The Frugal Girl's appealing friendly style, (and including tons of her fantastic photos) this ebook is packed full with ideas for both the beginner and the expert. You will not regret this frugal purchase, as this book holds a wealth of inspiration and information!"
-Katy Wolk-Stanley, The Non-Consumer Advocate
"Kristen's ebook is full of inspiration for taking ordinary old clothing and turning them into something useful and even beautiful. Her ideas range from very practical in the home to creative and beautiful creations for you and your family. There are even a few ideas on how to use old clothing when creating with your little ones. It is full of fresh ideas and a great go-to resource for those fading, tattered and seemingly hopeless old clothes. "
-Erin, Tiny Twist Creative
"Up until now, I've generally only thought to cut my old clothing up for rags. Kristen's new ebook has inspired me! From smocks to totes to stuffed animal accessories, there is something in here for every skill level. I am looking forward to trying these ideas in my own home!"
-Kristen, the Knitting Kninja
Buy it now for $3.99!