Actually, how about the winner first? Maria, commenter 143, is the winner of the $50 Safeway gift card. Congrats, Maria! Enjoy your free groceries. 🙂
And then I just have two sort of quick thoughts I wanted to share about the introversion/mothering topic.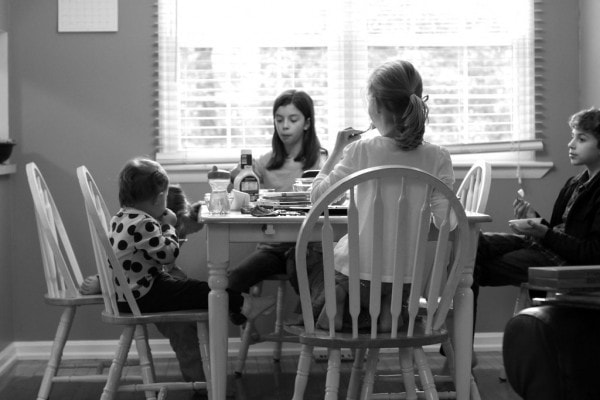 Thought the First
The years of your life with children under the grade school age can be tough, because kids of that age can't understand a need for alone time and as a rule, they aren't really all that fabulous at being independent.
So, for those of you in the throes of life with very small people, it's important to remember that they will NOT be small forever. The infant/toddler/preschooler stages are indeed stages, which means that they have an end.
While I'm not a fan of constantly wishing for the next stage of life (it's better to just focus on the good parts of the stage you're in), on the hard days it is sometimes helpful to remind yourself that one day, your children will all sleep through the night, that they'll be able to get up by themselves, and that they won't need you for every single thing.
Thought the Second
While it's important to know yourself and to know what habits and practices make it easier for you to be patient/kind/cheerful, etc, it's important to not let introversion-care be an idol of sorts in your life.
For instance, it's easy for me to think that I simply can't be kind and patient if I haven't had alone time to recharge.
Sure, it's easier for me to be a kind and patient mom when I've had alone time (and when I've had enough sleep and when there's not too much going on in the schedule and when my children are being good and when I'm healthy and when it's sunny outside…you get the picture!)
The thing is, though, there are going to be plenty of times when situations can't be ideal, and I can't allow, "Oh, I haven't had enough alone time!" to be an excuse. I still need to try to be a kind, patient, involved, and compassionate mom.
For me, that looks like extra prayer (God says he gives grace to the humble, so I try to humble myself and ask!), an effort to love my kids more than I love myself, and reminding myself that my kids' needs are the same whether or not I've had my needs met.
Don't think I do this perfectly, though…the reason I've even thought to share this is that it's an often-present temptation for me, and I give in to it way more often than I'd like.
Ok. I think that's all I have to say about this for now!
And I promise we will be back to frugal talk around here tomorrow. Maybe with a pizza-making tutorial.